The death toll has risen to over 1300 people – a third of which are children – as Pakistan suffers the burden of climate change with extreme floods
Heavy monsoon rains triggering the floods across Pakistan are undoubtedly the result of climate change as the planet heats up and weather extremes are exacerbated, but this is no fault of Pakistan, which has emitted only 0.4% of global carbon emissions since 1959.
When compared with other extremely high emitters like the US, who tallies a carbon emission rate of 21.5% globally, and by China with 16.4%, Pakistan has flooded under, with a death toll already over 1,200 people, including 399 children.
3.3 million people have been affected by the floods so far
Affecting 33 million people, which is around 15% of the country's 220 million population, officials from Pakistan have stated that there has been a 400% increase in average rainfall in areas of Pakistan like Sindh and Balochistan, causing the deadly flooding.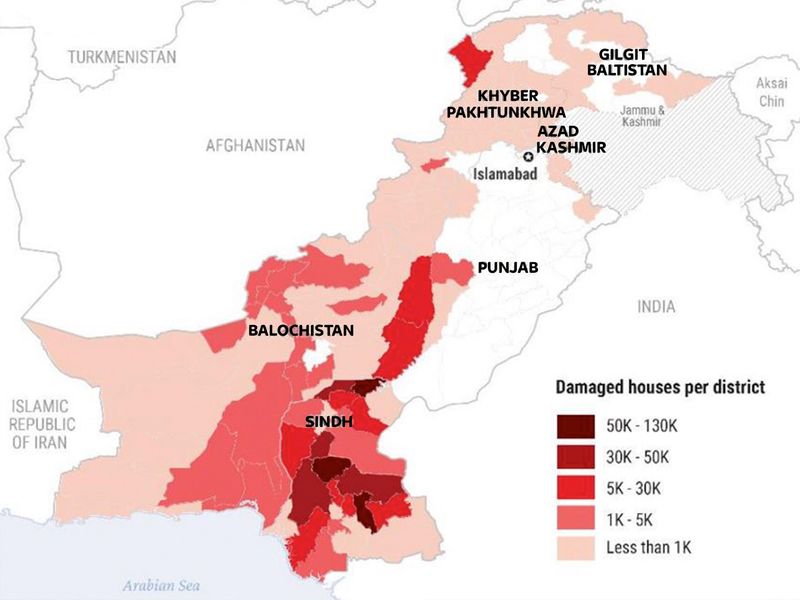 What is causing the floods?
South East Asia has been experiencing much hotter air in one of the worst heat waves it has ever faced. This has resulted in an unusually heavy monsoon season, which can be related to the melting glaciers due to climate change, and worsened by poverty within the population who cannot afford good housing infrastructure.
Pakistan and India have been hit by the worst heatwave ever on record, and since June, multiple cycles of heavy downpours have exacerbated flooding, leaving one third of Pakistan underwater, and rendering families and children most at risk of disease and homelessness.
Pakistan since has received up to 190% more rain than its 30-year average from June to August 2022, which has flooded the country on an average of 390.7mm (15.38 inches) in water.
In Pakistan, July 2022 has been the wettest month on record since 1961, the most important cause being due to the climate crisis.
How have international bodies responded?
Pakistan has so far received financial aid from China, Saudi Arabia, Qatar, Turkey, Uzbekistan, UAE and more.
Additionally, the US has stated that is to provide up to $30m of aid for flood victims, and the U.N. chief has proposed a $160M fundraiser to help Pakistan, too, bringing necessary supplies and food to people in areas most affected by the floods.
So far, thousands of people have been rendered homeless, and hundreds of tent communities have emerged across the country. Over 33,000 patients are currently being treated at 50 different medical encampments, which is likely to increase the risk of disease spreading across the country.
"Let's stop sleepwalking toward the destruction of our planet by climate change"
Calling for increased action on climate change around the world, António Guterres, the Secretary-General of the United Nations stated: "The Pakistani people are facing a monsoon on steroids — the relentless impact of epochal levels of rain and flooding.
Affecting 33 million people, which is around 15% of the country's 220 million population, officials from Pakistan have stated that there has been a 400% increase in average rainfall in areas of Pakistanhttps://t.co/WY2JuQD1Gc

— Open Access Gov (@OpenAccessGov) September 7, 2022
"Let's stop sleepwalking toward the destruction of our planet by climate change. As we continue to see more and more extreme weather events around the world, it is outrageous that climate action is being put on the back burner as global emissions of greenhouse gases are still rising, putting all of us – everywhere – in growing danger."
Editor's Recommended Articles