Kris Bachus and Julie Metta from the HIVA Research Institute of KU Leuven, Belgium, present Pop-Machina, a Horizon 2020 Innovation project that promotes circular maker communities in urban areas
By 2050, more than 80% of Europeans will live in cities. Urban areas are the most important hubs for the European economic development, but also for resource consumption and for waste generation. In the coming decades, cities will face new challenges such as climate change, pollution, and scarcity of resources. To adapt to these challenges, cities will need to be innovative.
The circular economy and the maker movement are two recent concepts, but their implementation is driving the future of European cities. While the Maker movement has a strong potential to advance the circular economy, it suffers from insufficient accessibility due to lack of skills, infrastructure, tools, and methods of engagement. Pop-Machina, a Horizon 2020 project funded by the European Union, is developing new innovative solutions to address these challenges, thus promoting the circular maker movement in European urban areas.
The circular economy
The circular economy is an economic model focusing on minimising, in a sustainable way, firstly, the use of virgin resources, and secondly, the production of waste and pollution of all kinds. It aims to keep and increase material value along the value chain, and to extend product life while decoupling the economy from material use. To adjust to urban consumption trends, cities will need to become hotspots of circularity.
The maker movement
The maker movement consists of a variety of local stakeholders organising initiatives that are part of the supply chain of 'making'. The initiatives often aim to tackle social and environmental issues. The movement is nurtured by both institutions and grassroots initiatives. While the sector of making has a long-standing history (e.g. manufacturing industries, crafts, etc.), the maker movement is a recent phenomenon. The maker movement enables urban regeneration and consolidates the regenerative capacity of cities through five strategies: Make, Share, Learn, Connect and Innovate. Well-known examples of maker movement initiatives are repair cafés and fablabs. The maker movement often contributes to the collaborative economy, where makers' communities share (mostly freely) knowledge, tools, and materials, and collaborate for and during projects.
Understanding circular maker communities and their ecosystem
Pop-Machina is the first project to fully define the maker movement, to develop a database and a typology of maker movement initiatives, and to bring them together in a maker movement city passport for each of the seven pilot cities. The city database and passports were built from a survey, and represented in a multi-layered map, as is shown in figure 1. Pop-Machina discerns what drives the makers and their communities, and what their needs are to further develop their circular activities.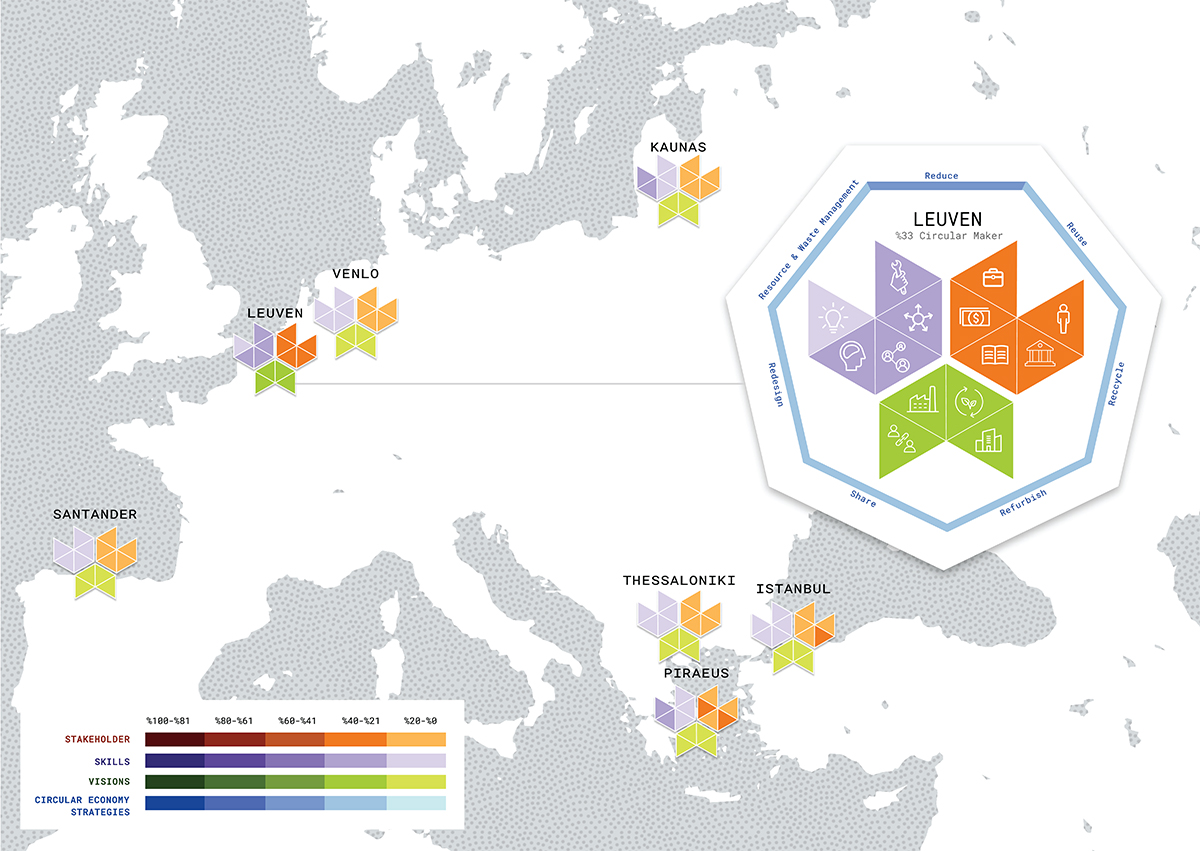 Developing tools and methodologies to empower circular maker communities
Pop-Machina is designing methodologies for building, engaging, and supporting circular maker communities in urban areas. The project is motivating citizens to take part in this movement, by developing a tokenization system based on behavioural insights and blockchain technologies. The Pop-Machina Team is developing and organising training for makers to increase their making skills and provide mechanisms for maker communities to certify the circularity of their products.
An open-source digital platform is being built to connect makers throughout Europe, promoting makers events and news. It will contain the maker movement map (fig. 1) and its underlying database. The platform will also offer capacity building for makers via an exchange platform, and an open learning centre.
Demonstrating maker community practices and makerspaces in seven cities
The Pop-Machina project is not confined to studying the phenomenon of the maker movement, but it explicitly aims at demonstrating and supporting the deployment of circular maker communities, and at dedicating maker spaces in the pilot cities. To support the cities and their makers, Pop-Machina is developing and deploying a Circular Maker Accelerator, a suite of value-adding and demand-driven services for makers. The accelerator is designed to foster entrepreneurship among the circular maker communities, and to lead to innovative business models and plans. The Pop-Machina team is providing evidence-based paths for the commercial uptake of the circular productions.
A more sustainable collaborative Europe
The Pop-Machina project is running until 2023. It involves 23 partner organisations and more than 50 collaborators with a background in various disciplines. The Pop-Machina team will ensure the exploitation and sustainability of its impact beyond the end of the project, as well as their adoption and replication by other cities. Pop-Machina is initiating the European debate with policy-makers, relevant authorities and citizens. Ultimately, Pop-Machina wants to contribute to the acceleration of the transition to a circular economy in European urban districts, by boosting the sustainable and collaborative dimensions of production.
This project has received funding from the European Union's Horizon 2020 Research and Innovation Programme under grant agreement No 821479.
Please note: This is a commercial profile
Editor's Recommended Articles