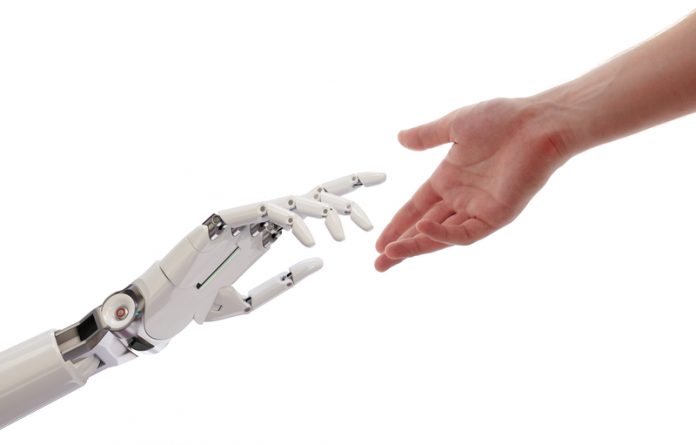 Paul Tomlinson, CEO of IEG4, argues that the public sector stands to benefit most from Artificial Intelligence
A government report published last month: "Growing the artificial intelligence industry in the UK" highlights that increased use of Artificial Intelligence (AI) can bring major social and economic benefits to the UK, offering huge gains in efficiency and performance to most or all industry sectors.
Paul Tomlinson, CEO of IEG4, argues that the public sector stands to benefit most, not just in terms of potential cost savings but improved citizen experience.
Everyone is talking about AI and its uses across multiple industries, not just the public sector. AI and robotics are becoming increasingly commonplace in local government, adopted by forward looking councils today but expected to be widely used in the public sector in the future.
But there is still a tendency to think of AI primarily as a means to improve efficiency and save money – which is of course true – but less is said about its potential to improve the citizen experience.
We need to think of AI like any other technology i.e. "will it solve a current or forthcoming problem in a way that's better than what we are currently doing?" I believe it can, but only if used to its full potential.
We're already seeing costly call centres, with limited operating times, replaced by voice responses in the form of robotics or chatbots, where information is relayed to citizens in whatever language or medium they choose.
Moving beyond the small talk
However, our research suggests that if a chatbot can only answer simple questions providing answers that are already available on a council's home page, it's slower to get to the same information through a chatbot. Answering simple questions such as "when will my bin be collected?" should be a given, but on its own, it isn't enough.
We believe that a chatbot needs to be an extension of an existing digital platform that plugs in to, and integrates with, existing services before it can truly be considered as "intelligent".
A chatbot should, of course, be able to answer simple questions, but it should also be able to answer the top 20 questions per council department (even the hard ones); authenticate the customer prior to providing answers; take payments and support media i.e. photos related to a process or report.
It should also be able to recognise language nuances and pre-empt what might be asked next, learning from each interaction as it goes. And, the customer's personal information should be integrated to allow for greater personalisation of services and predictive forecasting.
Smart bots over chat bots
We know that chatbots, alongside social media, are increasingly becoming a primary source of question and answer process interaction between a citizen and a council. But, for the consumer, this should not be limited to typing questions and receiving simple text back. With the right infrastructure, interaction with a bot can be verbal.
Smart chatbots will learn, deferring unknown questions to a council officer, but then adding the given answer to their increasing knowledge base. Additionally, smart bots will be able to "read" data from back office silo databases, and "tell" the citizen what he or she needs to know.
Local government services often require difficult judgements even in routine processes, for example, the provision of benefits. Dealing with complex cases requires time and skill. Council employees currently spend a lot of time on the mundane elements of their role and processes, giving them less time for considering evidence and thinking through judgements that are not routine. This is where AI can help greatly.
Step up Robotic Processing Automation
The emergence of Robotic Processing Automation (RPA) has the potential to be a game changer for local government. It has been shown to be a highly effective option for carrying out routine tasks with a much greater level of efficiency than a human. RPA is not a robot, but a type of software that is able to interface with computer systems in the same way as a person does – it is able to open and close programs and type, click or move a cursor. This presents huge potential to free up valuable staff time from the mundane, enabling them to focus on the complex decisions and interactions that really need the human touch.
Last year, North Tyneside, in partnership with ENGIE, worked to improve access to revenues and benefits using RPA. A software robot was created and trained to do the repetitive work involved in processing a housing benefit claim. The end result was a reduction in the number of days to process new benefits claims from 36 in 2014 to 25 in 2016.
Richard Abba, Project lead at ENGIE, explained, "RPA is essentially a virtual worker (AI) that has the ability to automate mundane tasks and help staff to be more productive; giving them more time to work on the 'added value' tasks and help their customers.
The robot software enters the data case by case, just like a human operator would, and proceeds with the processing based on business rules. As it is following a process it will do everything it is asked to do, with no mistakes, so there is no possibility of human error, or a process stage being accidently missed out. The robots are 100% accurate."
RPA consistently automates the implementation of decisions based on council rules, just leaving the subjective to interpretation by the council officers. In the future, I believe we'll see RPA become commonplace in every area of processing in the public sector.
What's holding AI back?
Council culture, and the willingness to "let go" of decisions to technology has meant adoption of AI has been slower in the public sector versus the private sector. However, I see this changing as local councils come to see the value of AI for managing the mundane from both an efficiency and cost saving perspective, as well as providing more enriching work for staff and an improved service for citizens.
Editor's Recommended Articles