Professor Ian N Bruce MD FRCP, Professor of Rheumatology at the University of Manchester shares his expertise here on Systemic Lupus Erythematosus (SLE), a chronic multisystem autoimmune condition
In the past 60 years, only one drug has been approved for the treatment of SLE. As a result, there is a huge unmet need to address the poor long-term outcomes and ongoing dependence on chronic steroid therapy in this patient group.
A UK-wide consortium led from The University of Manchester is trying to disentangle the complexity of this condition and to define patient subgroups that will derive particular benefit from treatments which are in routine use or which may have 'failed' in previous clinical trial programmes.
Systemic Lupus Erythematosus (SLE) is a chronic multisystem autoimmune condition that can affect a range of organs and tissues, including the joints, skin, kidneys and brain. SLE affects one in 4,000 individuals in the UK and has a strong (10:1) female: male preponderance. It is also much more common in patients of African, Indo-Asian or Chinese ancestry.
As well as higher rates of mortality, SLE patients also have an excess risk of many long-term complications including premature coronary disease, infections, renal failure, osteoporosis etc. A number of these complications are related to ongoing active disease. Others are associated with chronic exposure to glucocorticoids which remain a frequently employed therapy in SLE.
Current approved treatments for SLE remain limited and include anti­malarial drugs, glucocorticoids and conventional immunosuppressives, most of which are used 'off label'. This is because, since 1959, only one drug (belimumab -Benlysta) has been licenced for the treatment of SLE. Overall, the treatment used is selected based on a doctor's experience and often on a 'trial and error' basis. Standard immunosuppressives such as mycophenolate mofetil (MMF) have had response rates of 50-60% in clinical trials.
Newer biological therapies such as rituximab and belimumab, whilst targeted at specific immune processes, again report response rates in trials of 40-60%. As a result, many patients have persistent 'grumbling disease' due to inflammation not being adequately controlled and require ongoing glucocorticoid therapy; many of the long-term complications in SLE patients are related to these factors.
An MRC-funded UK consortium is helping to address a number of these challenges by taking a novel 'stratified medicine' approach to the treatment of SLE. Following a model established in a number of other conditions, the MAximizing Sle ThERapeutic PotentiaL by Application of Novel and Stratified approaches (MASTERPLANS) consortium is led from the University of Manchester by Professor Ian Bruce, Professor of Rheumatology. The consortium includes nine UK Universities, 10 industry partners with significant input from patient collaborators in association with Lupus UK, the national patient charity for this condition (Figure 1).
To do this, the MASTERPLANS consortium is focused on identifying predictors of response to particular lupus therapies. Working with partners in the pharmaceutical industry, the consortium is re-analysing data from previous lupus clinical trials and also analysing data already available from a number of cohorts studies in the UK and internationally. From these studies, we are beginning to identify factors that predict response or improvement in SLE. An important aim is to determine which factors predict improvement in SLE in general and which are related to a specific treatment regime. A strong team of statisticians and methodologists are working in the consortium to address these challenges.
The other major programme of work is taking advantage of data collected over the past nine years in the British Isles Lupus Assessment Group Biologics Register (BILAG-BR). The BILAG-BR is UK-wide prospective observational cohort study assessing the long-term safety and effectiveness of new treatments in SLE.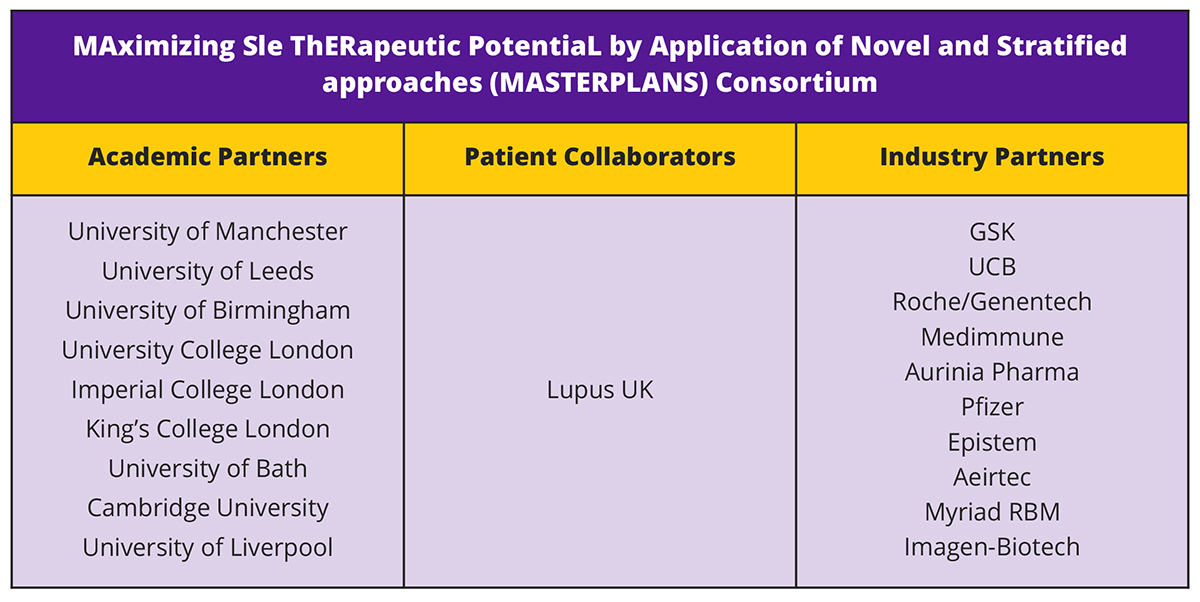 This register has recruited over 1,100 SLE patients with regular follow-up and in whom blood samples have also been collected and stored. These samples will be used to look in detail at how circulating factors 'biomarkers' can improve prediction of response beyond that possible with information routinely collected in clinics.
The results of both work-streams will be combined and used to identify factors for validation in clinical trials towards moving them into the clinic to inform more personalised therapeutic decisions. Through all these studies is a parallel work-strand studying the economic costs of lupus to the health care system, as well as indirect costs of lupus to the individual and society.
This will give clear information on which to base future decision-making and to ascertain whether any innovative biomarker or algorithm improves the cost-effectiveness of caring for SLE patients.
Looking to the future, the MASTERPLANS consortium is actively seeking to work with other groups focused on precision medicine in SLE. As part of our longevity plan, we are also seeking to add partners and datasets to our consortium to explore novel stratification factors for other therapeutic agents.
Disentangling this challenging condition and taking a precision medicine approach to SLE will help us control the disease better, improve survival rates and reduce the overall need for steroid treatment. Such an approach will also be a model for future clinical trial development in SLE and may help repurpose apparently 'failed' treatments. Treating the right patient with the right drug from earlier in their disease course will significantly improve the quality of life for lupus patients whilst also providing financial saving for the healthcare and benefits systems.
Professor Ian N Bruce MD FRCP
Professor of Rheumatology
University of Manchester
ian.bruce@manchester.ac.uk
@Lupusdoc
*Please note: This is a commercial profile
Editor's Recommended Articles