As Artificial Intelligence (AI) becomes more and more integrated into twenty-first century society, researchers have investigated to what extent the general public trust it
New Tokyo based research finds that public trust in AI varies widely depending on the person and application. Researchers at the University of Tokyo have shown how different demographics and ethical scenarios affect attitudes towards artificial intelligence.
The complexity of Artificial Intelligence compared to more familiar technology can seem frightening, unfamiliar technology can breed fear and mistrust. Technology progresses at such a rapid pace that it threatens to move past the laws put in place to regulate it therefore for the study, the team developed an octagonal visual metric similar to that of a rating system, in order to fully understand the intricacies of public opinion on the safety of AI.
How was the study conducted?
There were two questions the team sought to answer through their surveys: how attitudes change depending on the scenario presented to a respondent, and how the demographic of the respondent themselves changed attitudes.
To measure attitudes toward the ethics of AI, the team employed eight themes common to many AI applications that raised ethical questions such as: privacy, accountability, safety and security, transparency and explainability, fairness and non-discrimination, human control of technology, professional responsibility, and promotion of human values which the group deemed the "octagonal measurements."
They used four scenarios, looking at different applications of AI:
AI-generated art
Customer service AI
Autonomous weapons
Crime prediction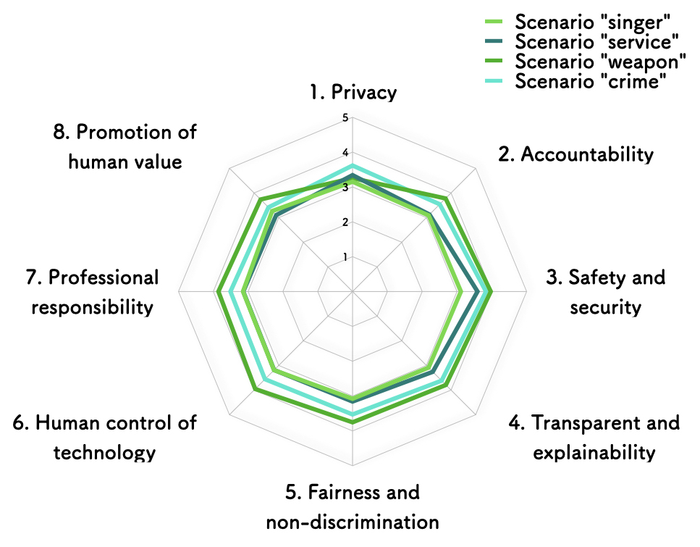 "Prior studies have shown that risk is perceived more negatively by women, older people, and those with more subject knowledge. I was expecting to see something different in this survey given how commonplace AI has become, but surprisingly we saw similar trends here," said Yokoyama.
"Something we saw that was expected, however, was how the different scenarios were perceived, with the idea of AI weapons being met with far more scepticism than the other three scenarios."
Although limited to Japan, the team has already begun gathering data in several other countries for a more comprehensive view of personal relations with AI around the globe. Researchers involved in the study believe that these results could be used in the future creation of a universal scale to measure and compare ethical issues around AI
"There is a huge gap between perception and reality when it comes to AI," said Assistant Professor Tilman Hartwig.
Editor's Recommended Articles