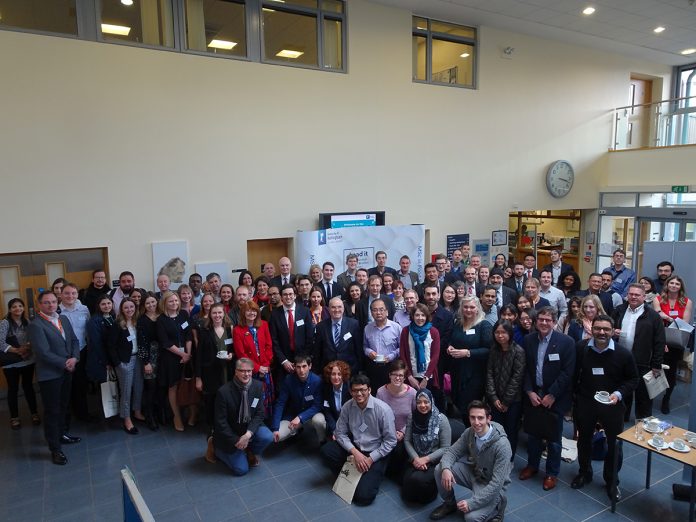 Tim Foster, Professor of Food Structure at the University of Nottingham sheds lights on the role of the UK food manufacturing industry in global food science and innovation
In January 2009, the RSC/IChemE report Food: The Vital Ingredient was launched at Portcullis House and reported on the need for fundamental research within virtual centres of excellence, in order to keep the UK food manufacturing industry at the forefront of global food science and innovation.
The importance of such is evidenced in the fact that the food and drink manufacturing industry is the biggest manufacturing sector in the UK – bigger than the automotive and aerospace industries combined. The food supply chain employs almost 4 million people and generates £112 billion of value to the UK economy each year and contributes £28.8 billion to the economy.
Three centres were funded in 2013 ('EPSRC Centre for Innovative Manufacturing in Food (CIM)', the 'Centre for Sustainable Energy Use in Food Chains' and the 'National Centre of Excellence in Food Engineering'), which collectively have developed 80 researchers (future research leaders), enabled a national network of leading academics to be developed and which have acquired £17 million in additional funding. The funding for these three centres finishes in 2019.
Here a focus will be on the success of the EPSRC CIM, which is led by the University of Nottingham's Biomaterials group and also involves the Centre for Formulation Engineering at the University of Birmingham and Loughborough University's Centre for Sustainable Manufacturing and Recycling Technologies (SMART). It was initially proposed to EPSRC by PepsiCo International, had an additional 13 letters of industrial support and received £5.6 million from EPSRC and £1.1 million of support from the participating universities.
Since its beginning at the end of 2013 to date, it has interacted with over 120 companies, either attending annual research conferences (which have boasted esteemed international speakers), workshops probing new directions such as additive manufacturing (3D printing of food) and food waste valorisation, or secondments of industry staff into the CIM or CIM researchers practicing knowledge exchange in their interactions with industry. It has been involved in the development of the KTN/FDF 'Pre-competitive vision for the UK's Food and Drink Industries' (Dec 2013), and as a result of two CIM run workshops in co-creating funding opportunities of the future, to the IUK/KTN's 'Food Sector R&D Need & Alignment with the 2017 Government Industrial Strategy' (Feb 2018).
Indeed, the outputs of the workshops were shared back in Portcullis House in December 2017 at the Parliamentary and Scientific Committee & All-Party Parliamentary Group for Food and Drink Manufacturing discussion meeting, where a vision for unifying the three centres funded in 2013 was unveiled to make the UK the most efficient converter of biomass to deliver safe food for a healthy nation with the lowest environmental impact.
The scientific barriers to be addressed are:
1. To develop novel processing routes capable of valorising new sources of biomass (including waste re-use) and manufacturing healthy products tailored to the needs of consumers (for example, customisation for nutritional requirements) and;
2. To develop efficient systems that integrate supply chains with manufacturing requiring fewer resources (for example, through the use of smart monitoring).
These would support and play into the five areas identified by the KTN's Food Sector Strategy group (18 companies, six research organisations/institutions, two funding bodies and 10 universities), where there is an excellent UK research and industrial capability and global market potential:
1. Reducing food energy density;
2. Side-stream valorisation;
3. Sustainable new food sources for nutritional foods;
4. Flexible and scalable manufacturing and;
5. Digital manufacturing.
The CIM has delivered against its initial targets, which have been the forerunner to the desired pre-competitive areas and have published over 90 peer-reviewed publications and five patents while developing researcher and academic careers, with two promotions to Professor, three researchers given permanent academic tenure, and post-doctoral and PhD researchers progressing into attractive industry roles. In total, the CIM has developed the careers of over 60 researchers. In doing so it has been used as an umbrella to stimulate further work, leading to an additional £7.5 million of research funding.
Notable additional projects funded/delivered in the timeframe of the CIM are:
'Transforming wet perishable food waste streams for high value human consumption' (TS/K003984/1), with Nottingham working with the University of York and 10 food companies valorising fibre from citrus waste, fine-milled pea vive, BSG aleurone protein and protein separation from out of specification potatoes;
'NewTrition: ReNEWable, sustainable nuTRITION' (2016-2019) funded by Newton-Bhabha (TP/P003826/1), seeing Nottingham working with PepsiCo, Siddarth Starch and the Indian Institute for Food Processing Technology on potato, vegetable, oat, grape, pomegranate and black gram waste;
'Whole systems understanding of unavoidable food supply chain wastes for re-nutrition' (2016-2018) funded by EPSRC (EP/P008771/1) with Loughborough, Nottingham and the University of York working on citrus and pea waste streams, developing waste flow modelling and environmental analysis through LCA to enable socio-techno-economic evaluation through cost-benefit analysis, risk analysis and systemic barriers exploring the gap between concept and final implementation and;
'Formulation for 3D printing: Creating a plug and play platform for a disruptive UK industry' (EP/N024818/1) linking Birmingham with the Institute of Advanced Manufacturing at Nottingham and spanning the food and pharmaceutical industries.
This increased activity in the area of food research has also prompted institutional investment at Nottingham (£20 million) and Birmingham (£12 million), with investments in Future Foods Beacon of Excellence, Food Process Engineering and Healthy Food Manufacturing.
The virtual centre of the future, serving a thriving research and innovation-based community, both industrial and academic, is still needed to build on the foundation laid by the CIM to provide knowledge-based solutions relevant to all businesses in the sector from micro-SMEs to national and multinational providers.
Tim Foster
Professor of Food Structure
University of Nottingham
Tel: +44 (0)115 951 6246
tim.foster@nottingham.ac.uk
www.manufacturingfoodfutures.com
*Please note: this is a commercial profile 
Editor's Recommended Articles