Understanding EV growth and the market surrounding it is key to a successful business in a carbon-neutral world; a new webinar from PatSnap explores how to win this race
From autonomous driving to electric mobility, and climate concerns, radical changes are sweeping through the automotive industry. The EV sector, in particular, is ripe with growth.
Utilizing and understanding a growing industry
Estimations have shown that 1 in 250 cars on the road is electric, which equals a global market share of around 2.2% for electric vehicles.
The EV sector is expected to generate $457.6 billion in revenue by the end of this year (2023) and reach a compound annual growth rate (CAGR) of 17.02% from 2023 to 2027.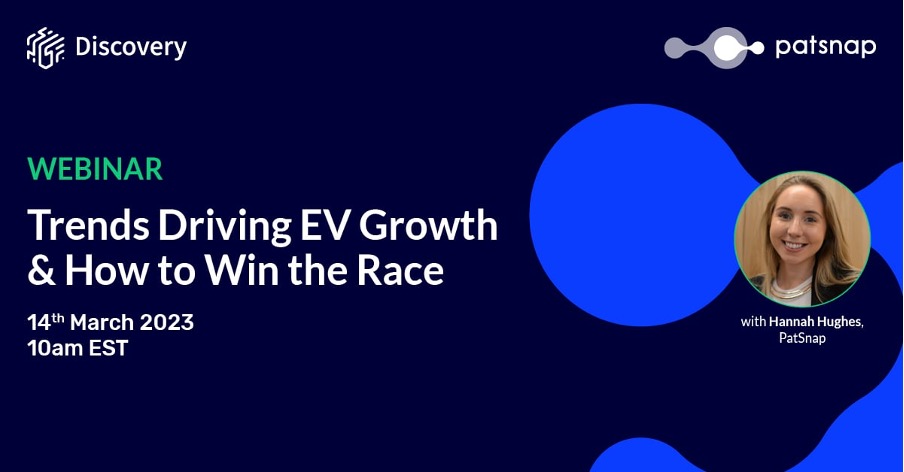 PatSnap and testing EV Growth
For their latest webinar, "Trends Driving EV Growth and How to Win the Race", the PatSnap team will explore:
Investment and IP trends impacting the EV market
Key companies that are driving growth and innovation
Using Discovery to perform competitive landscaping and technological trend analysis
How to use Discovery to assess a company's technological strengths
This interactive webinar will happen on March 14th, 2023, at 10 am EST. The webinar will conclude with a 10-minute Q&A, so come prepared with any and all questions!
Speaker Hannah Hughes, Principal Product Operations, Client Growth at PatSnap
Speaking at the webinar is Hannah Hughes. Hughes notes: "with almost four years of experience at PatSnap, I have had the opportunity to work in a variety of multi-disciplinary roles that have honed my skills and helped me grow both professionally and personally. I started off my career as a workflow consultant in our Toronto office, working with a variety of clients worldwide, helping them solve critical issues through the capability of the amazing PatSnap solution."
Secure your spot at the Webinar here.  If you're interested in keeping track of new developments in the EV space, try PatSnap's Discovery platform for free here.
Editor's Recommended Articles