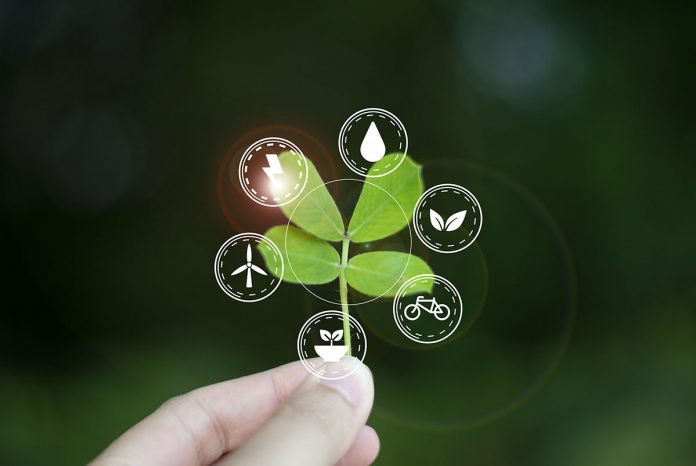 While public sector organisations are exploring ways to meet their sustainability commitments, there's often one obvious area that is overlooked: Varnish Software's Lars Larsson explains why websites hold the key to green government
In 2020, sustainability is something all of us are thinking about. Whether we're considering a new levy on single-use plastics or musing over the latest speech from young activist Greta Thunberg, the environment and our impact on it is on our minds.
If the annual meeting of the World Economic Forum in Davos earlier this year – where fellow Swede Ms Thunberg was a prominent voice – taught us anything, it's that there is appetite for change in most parts of the world. But the criticism – rightly or wrongly – levied at conversations in Davos, is that they rarely extend beyond the bubble of the global elites and too often do not translate to meaningful action taken.
I suspect this is starting to change. With new levels of pressure, from investors and consumers on the corporate side, and constituents and NGOs in the public sector, the status quo will not hold for long.
For public sector organisations, sustainability is a key concern today – notably if part of their role involves creating or enforcing sustainability initiatives. Central and local governments are facing increased pressure to be more sustainable and set a good example to both the general public and the private sector.
Digital footprint
Criticism of public sector sustainability has been directed at everything from the use of paper-based direct mail to ministerial cars. However, one area that is often overlooked when it comes to sustainability is ICT, and specifically an organisation's website.
Many public sector organisations operate extensive websites that seek to provide a wealth of information to the general public. This large web footprint relies on a bank of servers that, while we may not think about, use significant amounts of energy and have associated carbon emissions.
The data centres that power the digital world around us are estimated to create as much as 3.5% of global carbon emissions today – surpassing aviation and shipping – but such an alarming statistic is little known and oft-forgotten when it comes to developing sustainability strategies.
As we move towards an ever-more connected world, we'll see an increase in smartphone penetration and a greater number of public sector services and applications go digital-first, all supported by the roll-out of ultra-fast, next-generation 5G connectivity. More digital activity will mean more clicks and page views and more carbon-fuelled data centre power.
Powering down
As a leading provider of caching technology, Varnish Software has worked extensively with the public sector, helping organisations around the world to realise significant web performance gains, such as decreased page load times – which stops constituents abandoning their search for information, be it refuse collection schedules or changes to tax rates.
Caching content ensures that it doesn't have to be reproduced every time a visitor to a website asks for it – which usually involves a request being made and information being fetched and produced from numerous different systems. The caching software, on the other hand, stores all of these digital objects and fires out copies when requests are made.
One major advantage, and for some the key reason for deploying this technology, is a reduction in the amount of computing power demanded of servers. This, in turn, cuts energy expenditure – and, crucially, CO2 emissions.
Where once public sector websites may have been relatively basic – essentially providing a directory to signpost to services or third parties, they are increasingly full of rich content, helping users to understand complex issues, access resources, and solve problems themselves.
But high-resolution imagery, videos, and more complicated web pages mean users have more data to download from servers to access that content. If their internet connection is slow or intermittent this can prevent them from accessing vital information and resorting to other means of finding it – putting increased pressure on less well-resourced areas of operations such as general enquiries switchboards who often can't deliver the same level of service the website is designed to. Deploying a smart content delivery network, equipped with caching technology can significantly reduce this burden. It ensures better overall web performance – meaning users are able to access what they are looking for, and crucially, it also dramatically reduces the power required and emissions generated by accessing this content.
A better future
Good news for the environment, but also for the website user. Faster response times contribute to a better user experience, and a better user experience reduces churn and promotes user engagement and page views.
Addressing this issue not only demonstrates a commitment to environmental stewardship, but it also sets a good example to the private sector and encourages them to follow suit.
As a global population, we (and our planet) are benefitting from a growing awareness and understanding of the consequences of our actions. Flying, driving, heating our homes and buying new clothes have all received attention, and now it's time the same level of scrutiny was paid to our actions in the online world.
Unlike re-engineering whole new aircraft, rethinking the approach to content delivery is a low-cost, straightforward process which has immediate impact. Caching software can be easily incorporated into content delivery networks – including those that operate on a huge, global scale, such as OTT video platforms. Being technology-agnostic, this software works with pretty much every other web technology and can cache virtually all types of content.
As the public sector begins to feel the full force of digital transformation, and increasing volumes of their operations become self-service, enabled by integrated digital systems, the need for caching technology grows. As our towns and cities become ever smarter, with connectivity and automation driving forward a new digital era for the public sector, it is paramount that we address the energy consumption and associated carbon emissions that come with powering this new digital infrastructure.
Deploying caching software as part of your content delivery network may be a small step for public sector organisations, but it's one that signals a significant step towards a greener, more sustainable future.
Please note: This is a commercial profile
Editor's Recommended Articles