Eric Coronel, Director of Sustainability at the American Peanut Council – a U.S. Sustainability Alliance member, highlights a uniting point for U.S. peanut sustainability
Surveys show that consumers want to know where and how their food is grown (1); they also believe that their food purchases have an impact on the environment (2). American peanut farmers, found in just thirteen southern U.S. states (Figure 1), have a compelling story that will resonate with consumers when they are deciding what food to buy. And a new initiative from the American Peanut Council, a non-profit, membership organisation that represents all segments of the U.S. peanut industry, will help ensure they have the data to support peanut sustainability.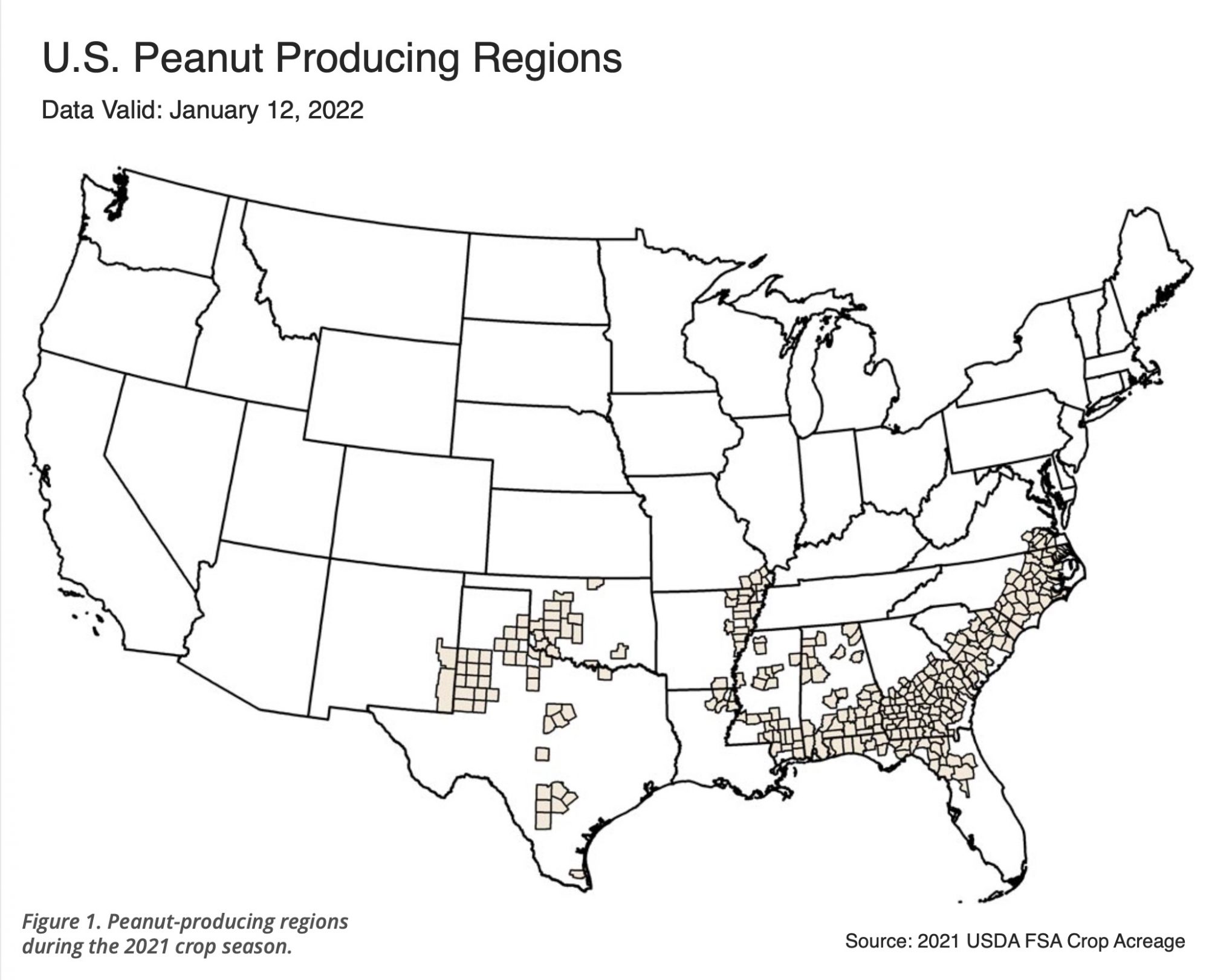 Look to the past to plan for the future
Long-term crop sustainability data is critical in understanding the past environmental performance to chart a better future. For that reason, the American Peanut Council joined Field to Market: The Alliance for Sustainable AgricultureTM(3) to request the addition of peanuts to its assessment program more than five years ago. Field to Market publishes its National Indicators Report (4) every five years, which helps quantify how efficient U.S. peanut farmers have been for the past forty years (Figure 2) and highlights opportunities for improvement. For example, the 2021 National Indicators Report shows that from 1980 to 2020, total yearly U.S. peanut production increased by 166% without significant increases in peanut acreage. In the early 1980s, a peanut farmer could expect to produce 2,500 pounds of peanuts per acre. Due to improved peanut varieties and research and education efforts, peanut farmers can now produce over 4,000 pounds per acre, contributing substantially to the food security of millions of families in the U.S. and worldwide. Greenhouse gas (GHG) emissions from peanut production have decreased per pound of peanut and per acre during the study period. The last forty years have seen a 42% reduction in emissions per pound of peanuts. Even more impressively, GHG emissions per acre have decreased by 17%, reflecting a reduced application of inputs and not just an increase in yield. Another metric that has seen major improvement is the water usage needed for peanut production. The most recent estimate shows that only 3.2 gallons are required to produce one ounce (approx. 28 g) of shelled peanuts (hulls removed) (5), while other snack nuts use 23 to 28 gallons of water per ounce of shelled nut.
Continuous improvement through collaboration
Collaboration plays an essential role in improved environmental performance. The most remarkable example of the U.S. peanut industry coming together was mapping the peanut genome (6), a project funded with grants from peanut farmers, shellers, food manufacturers, and allied industries from 2012 to 2017 (7). This work has already yielded good results; for example, promising peanut varieties, bred to be more naturally resistant to disease, will reach farmers' fields in the next few seasons (8) and contribute to reducing the number of crop protection applications. Progress has also been made in drought-tolerant peanut varieties. The industry is optimistic that the hundreds of researchers dedicating their lives to peanut research and education will discover even more innovations to reduce the environmental impact of peanut production.
In 2021, the peanut industry came together again to fund an effort to document, track, and help improve the sustainability of U.S. peanut production, starting at the field level with the farmers themselves. The Sustainable U.S. Peanuts initiative, managed by the American Peanut Council, serves as the umbrella for sustainability-related efforts (9). As well as providing information for buyers, manufacturers, and consumers looking into peanut sustainability, it aims to help peanut growers estimate and understand their environmental footprint and share ways to reduce it over time.
The first significant deliverable is a grower platform, adapted for peanuts in collaboration with the cotton industry. This is a natural partnership, as the majority of peanut farmers grow cotton in rotation. This innovative platform enables farmers to demonstrate all the good farm management practices they already implement and learn which additional practices might benefit them. The grower platform also collects information to calculate eight environmental metrics at the field level (10); these metrics, developed by Field to Market, are embedded into the grower platform. For example, producers will get estimates of field-level soil erosion based on their local conditions and crop rotations with other crops, which might help them make changes to protect their soils.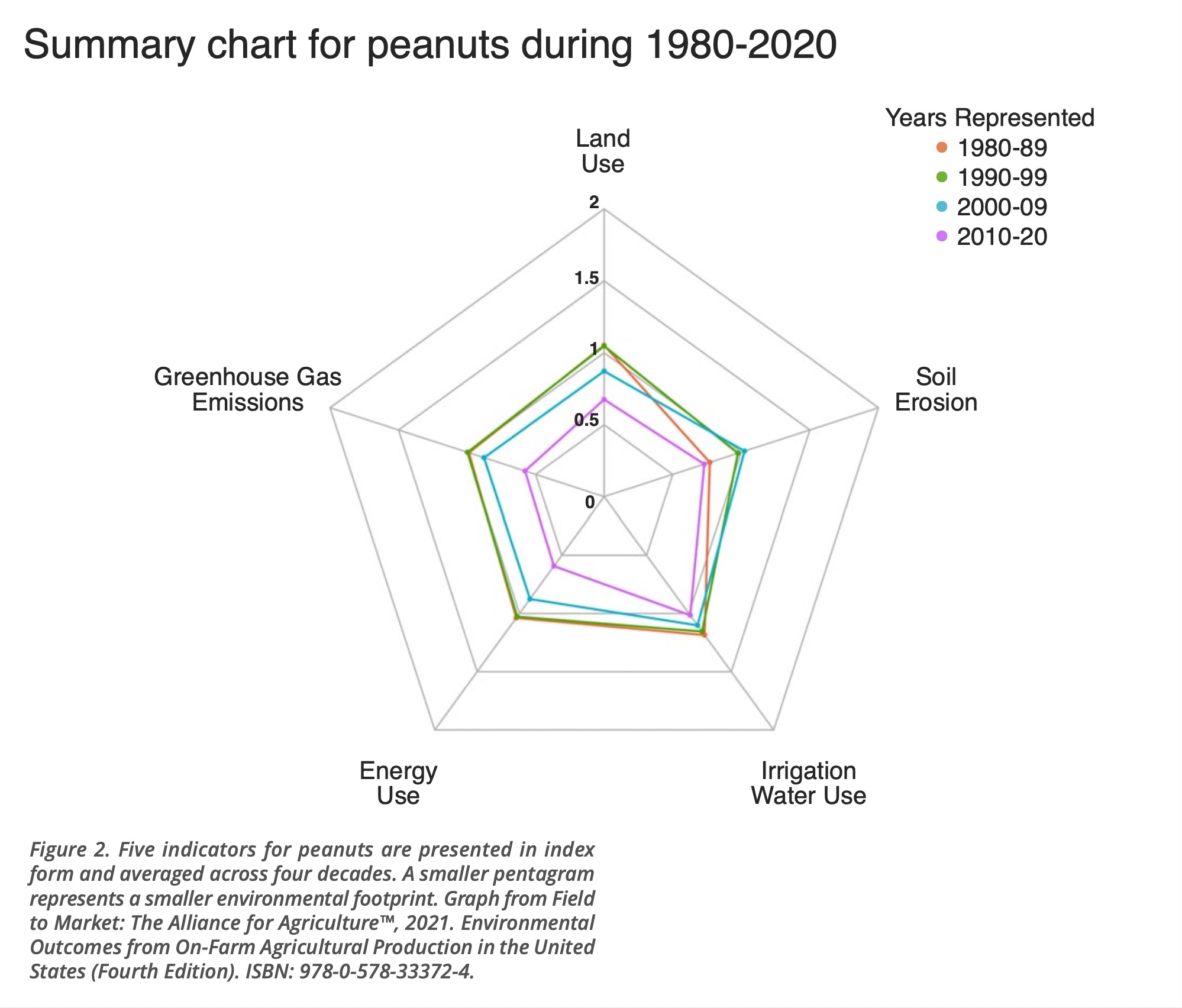 Consumers are demanding more information about their food
The pilot year of the initiative, which enrolled sixty-nine growers across the U.S., representing 2.5% of 2021 peanut acres, already offered many insights into the type of practices growers implement to keep inputs low. For instance, like other legumes, the peanut has the ability to capture nitrogen from the atmosphere through a beneficial relationship with soil bacteria, avoiding the need to apply expensive nitrogen fertilizer in several regions. Ninety-four percent of the growers in the initiative indicated that they either apply soil inoculants at planting or monitor the number of nitrogen-fixing nodules in the peanut root system to ensure that the plants have sufficient nitrogen throughout the growing season.
As consumers demand more information about the food they eat, the peanut industry needs to provide transparent messages backed by aggregated farmer data to offer insights into how efficient peanut production is. The Sustainable U.S. Peanuts Initiative will help them do this, ensuring a sustainable future where American peanut growers continue to provide a safe, nutritious, and resource-efficient crop every season.
References
Maeve Webster. What do consumers want to know about their
food? https://co-nxt.com/blog/what-do-consumers-want-to-know-about-their-food/
International Food Information Council Food & Health Survey. 2022. https://foodinsight.org/2022-food-and-health-survey/
Field to Market: The Alliance for Sustainable Agriculture:
https://fieldtomarket.org/the-alliance/
Field to Market: The Alliance for Sustainable Agriculture, 2021. Environmental Outcomes from On-Farm Agricultural Production in the United States (Fourth Edition). https://fieldtomarket.org/ national-indicators-report/cite-this-report/
National Peanut Board. New Data Confirms Peanuts are More Water Efficient Than Ever. https://www.nationalpeanutboard.org/news/new-data-confirms-peanuts-are-more-water-efficient-than-ever.htm
Bertioli, D.J., Jenkins, J., Clevenger, J. et al. The Genome Sequence of Segmental Allotetraploid Peanut Arachis hypogaea. Nat Genet 51, 877–884. 2019.
The Peanut Research Foundation. Peanut Genome Initiative. Research Final Report to the U.S. Peanut Industry. 2017. https://peanutbase.org/files/IPGC/PGI_final_report_2017.pdf
Chu, Ye, et al. Registration of Two Peanut Recombinant Inbred Lines (TifGP–5 and TifGP–6) Resistant to Late Leaf Spot Disease. Journal of Plant Registrations. 2022.
American Peanut Council. Sustainable U.S. Peanuts Initiative. https://sustainableuspeanuts.org/
Field to Market: The Alliance for Sustainable Agriculture. Sustainability Metrics Overview Documentation. https://fieldtomarket.org/media/2022/03/FTM_Metrics-Documentation-v2.1.pdf