Here, we decode the emergency Cobra meeting on 12 March and interview several people about the Boris response to COVID-19
On 11 March, Dr Tedros Adhanom of the WHO stated that COVID-19 is now a pandemic:
"This is not a decision we took lightly.
"Almost 125,000 cases have now been reported to WHO, from 118 countries and territories. In the past two weeks, the number of cases reported outside China has increased almost 13-fold, and the number of affected countries has almost tripled."
However, his message came tinged with a warning to several unnamed countries, who are "not approaching this threat with the level of political commitment needed to control it."
This message came with a clear purpose, as Dr Tedros emphatically explained that countries should not "give up" and should "double down" on containment instead of moving to mitigation.
We are all in this together! #COVID19

— Tedros Adhanom Ghebreyesus (@DrTedros) March 12, 2020
On 12 March, there was an emergency Cobra meeting in the UK. Prime Minister Boris Johnson met with senior health leaders in the country, members of his Cabinet and security officials to plan the next move for the fight against COVID-19.
What is the plan for COVID-19 in the UK?
Sir Patrick Vallance, Chief Scientific Advisor to the Prime Minister, defends keeping schools open by saying that 60% of the population need to catch COVID-19 to create "herd immunity in the UK". He further hit back that the new advice to self-isolate with one symptom (7 days of isolation, for a new cough, fever or difficulty breathing) is a major change.
Currently, large gatherings have not been banned and schools remain open.
In yesterday's press briefing, PM Johnson said: "It is going to spread further and I must level with you, I must level with the British public, many more families are going to lose loved ones before their time."
This chilling statement reverberated across communities in the UK. With no sign that this virus is going to get better before it gets worse, the protection of vulnerable populations and preserving the capability of the NHS are becoming key public concerns.
The government is clearly moving from its optimistic "business as usual" stance
He explained that with a relatively low number of cases in comparison to other EU countries, we do not need to close schools or ban large gatherings. Discussing the possibility, the PM said: "The scientific advice is this has little effect on the spread – but it does place a burden on other public services."
"I urge them not to call 111 but to use the internet for information if they can."
"We have to deploy these at the right time to maximise their effect. The most important task will be to protect our elderly and most vulnerable people during the peak weeks."
The PM further encouraged medically capable retirees to help man the NHS, re-asserted the "vital" necessity of washing your hands, advised against over-70s going on cruises and schoolchildren going on trips.
Again, we are currently in the eye of the storm: "The most dangerous period is not now, but some weeks away, depending on how fast it spreads."
The UK is now in the "Delay" phase of COVID-19, which means that it is looking to control the peak outbreak but that it sees the inevitability of that happening.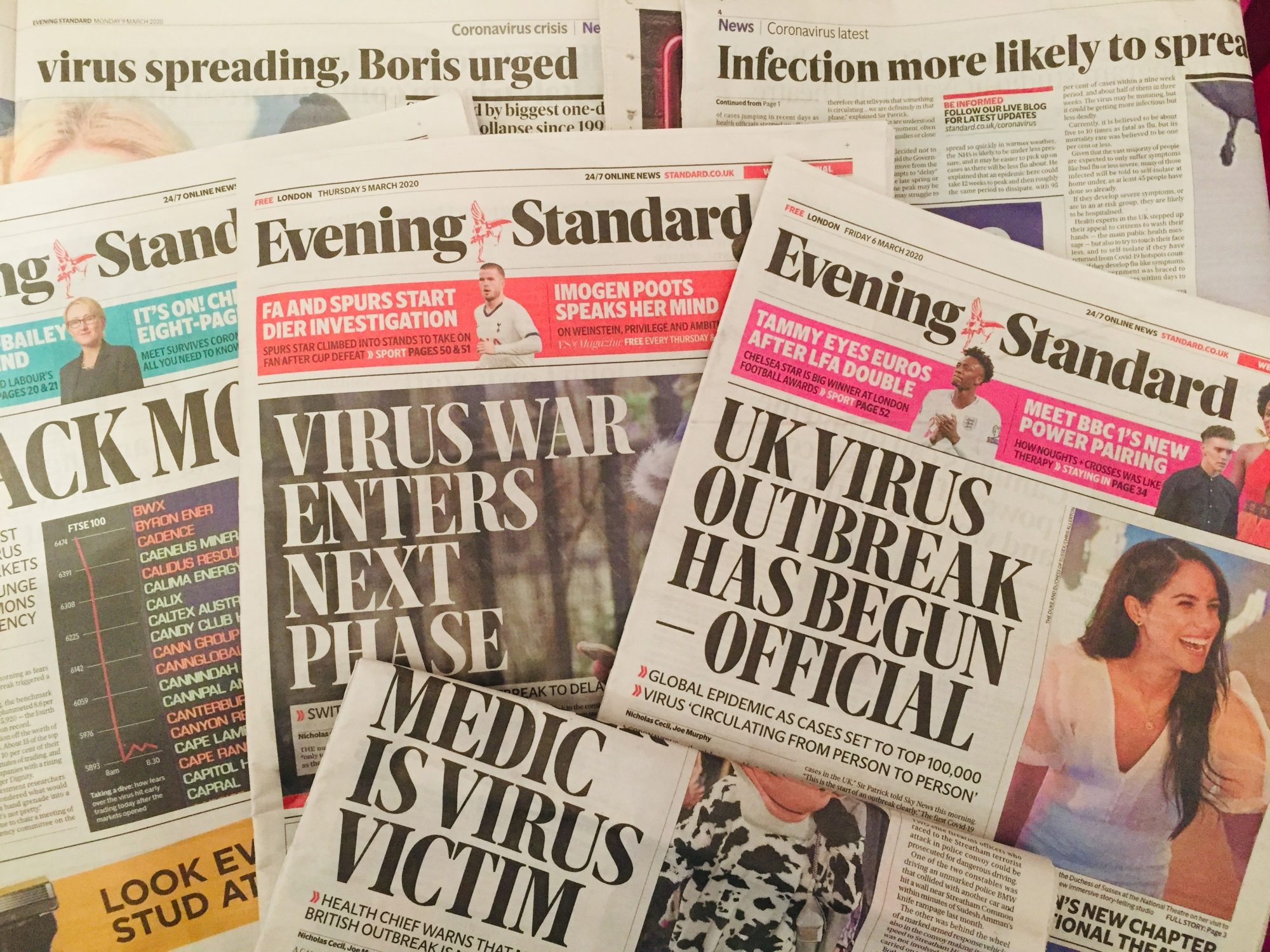 What do real people think of the emergency COVID-19 measures?
Today (13 March) we interviewed six individuals to understand the real-world reaction to the sobering briefing held by PM Johnson, after the emergency Cobra meeting.
Interviewee 1
This individual has an autoimmune disease but stated that she is not currently on any medication that supresses her immune system, so she experiences no extra risk than anyone else. She is currently waiting for remote working systems to be activated at her workplace.
"They're not very extensive are they? Am I worried? I don't know. For other peoples' safety, yes, for the vulnerable community. Not really my own but it's just common sense, isn't it?"
She also reflected on the implausibility of controlling how children wash their hands, and was concerned about the financial situation of single parents if schools were closed.
Interviewee 2
This man spoke to us with an undertone of weariness, and mentioned that he has a 3-year old daughter. He barely supressed his surprise at the "inaction", pointing out that schools should all be shut, similar to what Ireland have done for COVID-19. He sees no reason why the UK is waiting.
"I think they should nip it in the bud but I think we're past that now. I think they're not doing enough, we should be closing stuff down. It's going to spiral out of control."
Interviewee 3
This woman has a 93-year-old grandma and takes a train to get to her workplace, everyday. She touched on the vulnerability of her grandma coupled with a fierce independence that puts her at risk, stating that the whole family is worried that she won't protect herself.
"I think Boris Johnson needs to take more action. We should be taking stronger measures, because if we're only four weeks away from what Italy are suffering, surely we should be taking things more seriously."
Interviewee 4
This individual was calm but reflected on the UK in comparison to other EU countries. They do not politically support the Prime Minister, but suggest that the science is solid. However, this interviewee seemed to have an existential dilemma about this decision, suggesting that we cannot know the weight of our actions until much later.
"I could see the logic behind it from their perspective. The health secretary and everything explained why they're doing it. Compared to the rest of the world, not doing that is quite worrying. It makes you feel like you're gambling."
Interviewee 5
Our youngest interviewee is 21 and believes that the UK is unnecessarily lagging behind what other countries are doing. We asked him about the new measures explained last night and his response was scathing:
"What new measures, there aren't any. I guess you have to trust what they're saying, because obviously they go to the scientists, but I think there's just not enough clarity on why they've decided things. To all of us it just looks like they've done nothing."
Interviewee 6
Our final interviewee broke the fourth wall to talk to us about the shift in political strategy, which he felt was lagging behind where it should be.
"The government is clearly moving from its optimistic "business as usual" stance of the last couple of weeks to warning that it will very shortly be anything but. Talking in terms of months rather than weeks and signalling that more drastic measures, e.g. whole households being asked to stay home, are coming. In that respect, it is perhaps catching up with public opinion, which as anyone who has seen empty supermarket shelves can tell you, seems to be very far from "keep calm and carry on".
"In some ways, events have already got ahead of the government, with the Premier League suspending competition, ending those large gatherings voluntarily even before ministers decided to act."
What comes after the emergency Cobra meeting?
Dr Tedros, in his briefing to global press on Thursday, reminded the world:
"This is a controllable pandemic. Countries that decide to give up on fundamental public health measures may end up with a larger problem, and a heavier burden on the health system that requires more severe measures to control."
Editor's Recommended Articles