Sectors such as construction are still not able to carry out the necessary measures to fight climate change, will implementing AI-based tech help change this?
Today, although some sectors are becoming more and more aware of the fact that climate change is a reality, no drastic and immediate measures are being taken to reduce its effects. More specifically, sectors such as construction are still not able to carry out the necessary measures to fight climate change. In this article, we will discuss some possible solutions that would decrease the impact of construction activities on the environment.
The environmental impact of the construction industry
The construction sector is one of the most polluting sectors. In Europe, buildings are responsible for 36% of the CO2 emissions generated during their construction, use, renovation and demolition and up to 40% of the total final energy consumption. To decrease the environmental impact of the construction industry, national and international plans have been designed to achieve zero net energy consumption in new residential buildings by 2050.
However, the main objective seems overly ambitious, and some questions arise. Are these plans realistic? Are these types of buildings currently being built? Does the sector have the necessary tools to carry them out?
Nowadays, only a few residential buildings are complying with these requirements. One of the reasons for this might be that designing and creating buildings with a low environmental impact and zero-energy consumption results in a very complicated and costly task, as it requires a highly skilled workforce trained in materials, standards, and a complex technology that is difficult to learn and its integration might not work with the tools that are usually used in the sector.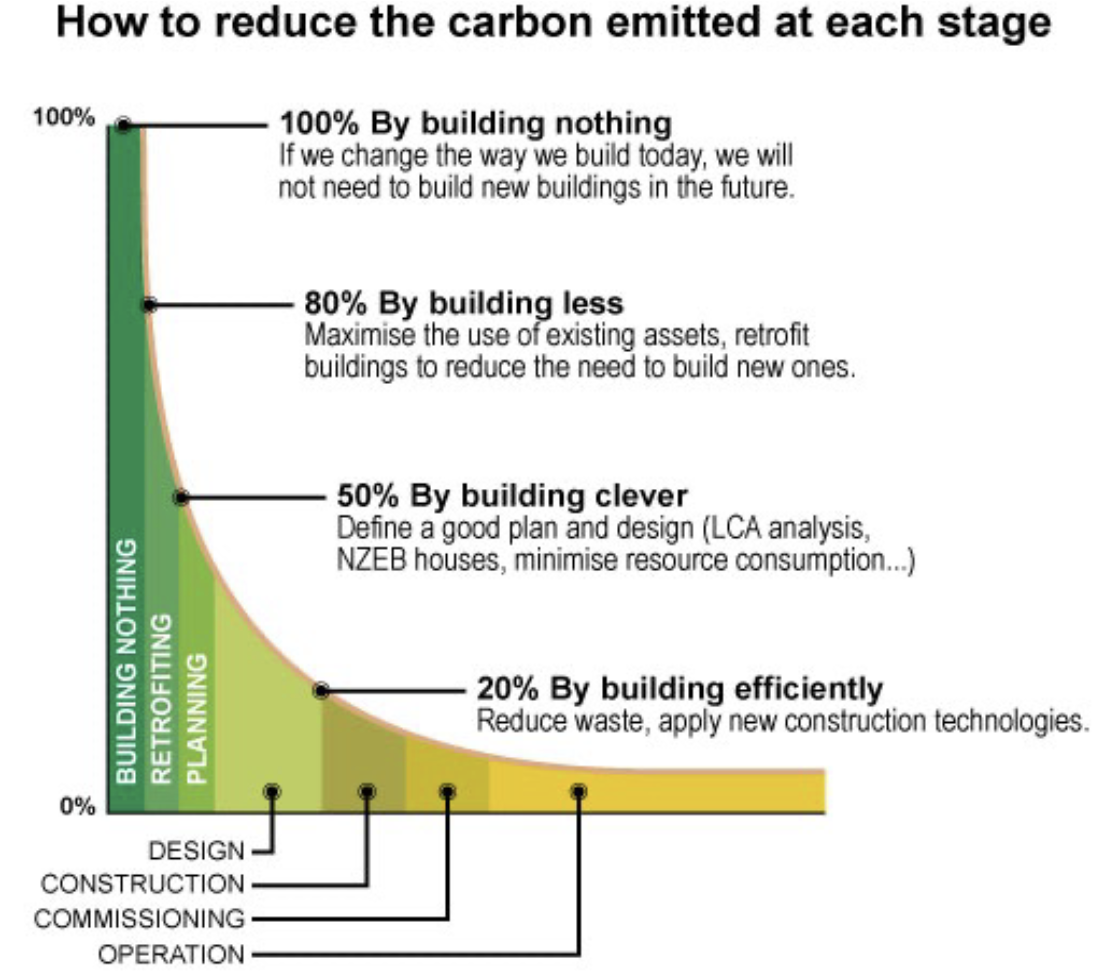 From the technological, economic, and organisational point of view, this innovation represents an important challenge for all the actors involved in the process (administrations, manufacturers, installers, promoters, construction firms, architects, engineers, and the construction workers themselves).
Subsequently, we will discuss certain trends that may be vital for this sector to start creating zero-energy consumption buildings on a large scale and with low environmental impact.
AI-based technology for building design
The following graph shows how optimal planning and design allow to reduce of up to 50% of the carbon dioxide emitted by a building. However, as mentioned previously, designing an optimal building can be a difficult and time-consuming task.
When it comes to designing a building with almost zero-energy consumption and low environmental impact, we will see that the possibilities of designs are endless due to the many factors involved, such as its variety and the way that they interact with each other in a dynamic way. In addition, each design has its own location, geometry, and its own environment.
It is important to bear in mind that it is a multi-objective problem. Reducing the carbon footprint and achieving a zero net or almost zero-energy consumption is enough, but they must also comply with indoor environmental quality conditions (lighting, noise, humidity), as well as fitting any budget and meeting all regulations and customer requirements, etc. Therefore, reaching the optimal value for each variable becomes a very difficult task for a person to solve through the traditional methodology, thus one of the solutions to this type of problem is to implement the use of technology based on Artificial Intelligence.
At Lurtis we are developing AI4e3nvelope, a BIM-connected platform that assists architects during the design process to propose buildings with net zero energy consumption and low environmental impact. This is a project in collaboration with ABIO Research Group and the Centre for Computer Simulation (Grant PLEC2021-007962 funded by MCIN/AEI/ 10.13039/501100011033 and, as appropriate, by "ERDF A way of making Europe", by the "European Union" or by the "European Union NextGenerationEU/PRTR").
AI4e3nvelope uses Machine Learning, Heuristic Optimisation, Energy Efficiency Simulators, and Life Cycle Analysis. Besides, it has been designed to be easy to use and it will offer design ideas, both in very preliminary phases and in phases in which the design needs to be more defined.
This means that if the basic geometry of the building is already defined, the tool proposes (according to the objectives mentioned above), the most suitable materials for the different construction systems, and it selects the best alternatives for windows, doors, and other elements, including active thermal systems such as ventilation, cooling, and heating.
If the building is not yet defined and we only have the plot, this intelligent solution also analyses and optimises the shape, orientation, and distribution of the building on the plot.
For each design generated by this technology, analysis and evaluation of the behaviour are provided according to the different quality objectives: energy consumption, interior comfort, environmental impact, cost, etc.
Off-site construction and other trends
To decrease the impact of construction on the environment, besides having a good design, it is essential to carry out good planning and better control of waste materials. Thus, we considered that one of the trends that will have the greatest impact is industrialised construction.
Moreover, there are also many more trends and new methodologies that are being investigated and currently being applied, such as the use of natural and recyclable building materials, new ways of rehabilitating buildings as an alternative to build less, etc.
It is about time that all agents take a firm step to fight climate change. From Lurtis we are already making this possible by developing this technology, so what step are you going to take?
Please Note: This is a Commercial Profile

This work is licensed under a
Creative Commons Attribution-NonCommercial-NoDerivatives 4.0 International License
.
Editor's Recommended Articles