With the UK's economic growth critically dependent on our transportation infrastructure, it has never been more important for organisations working in parallel to collaborate effectively if they are to maintain existing networks, implement improvements and deliver major projects and upgrades successfully
Our transportation networks – especially those in major cities – consist of a complex interconnected web of trains, buses, tubes, bikes, cars and more. Any bottlenecks caused by planned works have the potential to result in widespread delays, frustrated citizens and businesses losing money.
Nationwide collaborative schemes
As such, failing to collaborate efficiently can have a significant impact at national, regional and local levels. A good example is HS2, the largest infrastructure project in Europe essential to help rebalance and grow the UK economy. The enormous project involves a significant ecosystem of stakeholders including other major transport organisations. For instance, Network Rail will need to provide connectivity between existing and new rail infrastructure where required.
The project, however, stretches beyond rail. Highways England's strategic road network will support the railway construction from a logistics perspective and provide the connectivity to the major stations planned along the route, thus helping to ensure the success of the project in boosting the economy far beyond the communities that intersect with the route.
Other national agencies that have local assets located within the HS2 railway corridor need to understand the construction programme both spatially and over time to mitigate conflicts arising within their own overlapping schemes. The same holds true for organisations such as the local authorities that intersect with the route.
Failure to do so will result in disruption and a greater cumulative impact on our everyday lives. Without this understanding local areas may miss their opportunity to fully leverage the economic benefits that can be realised by fully adopting the new railway capacity into their own transport networks.
Taking data-driven collaboration to regions
The need for collaboration extends far beyond key national infrastructure projects. A prime example is Transport for West Midlands (TfWM) which will be responsible for facilitating the success of the 2020 City of Culture initiative and the 2022 Commonwealth Games. As a forward-thinking organisation, TfWM has identified a major clash of overlapping projects at one of the UK's most heavily used and strategic motorway junctions.
Junction 6 on the M42 is due for major improvement works commissioned by Highways England as highlighted in the agency's national maps containing information around upcoming schemes of work. At the same time, the HS2 route will tunnel under the same junction. All this major infrastructure activity will be underway during the course of the Commonwealth Games, which will see a significant influx of spectators looking to use the junction and local transport networks to gain access to the venues nearby.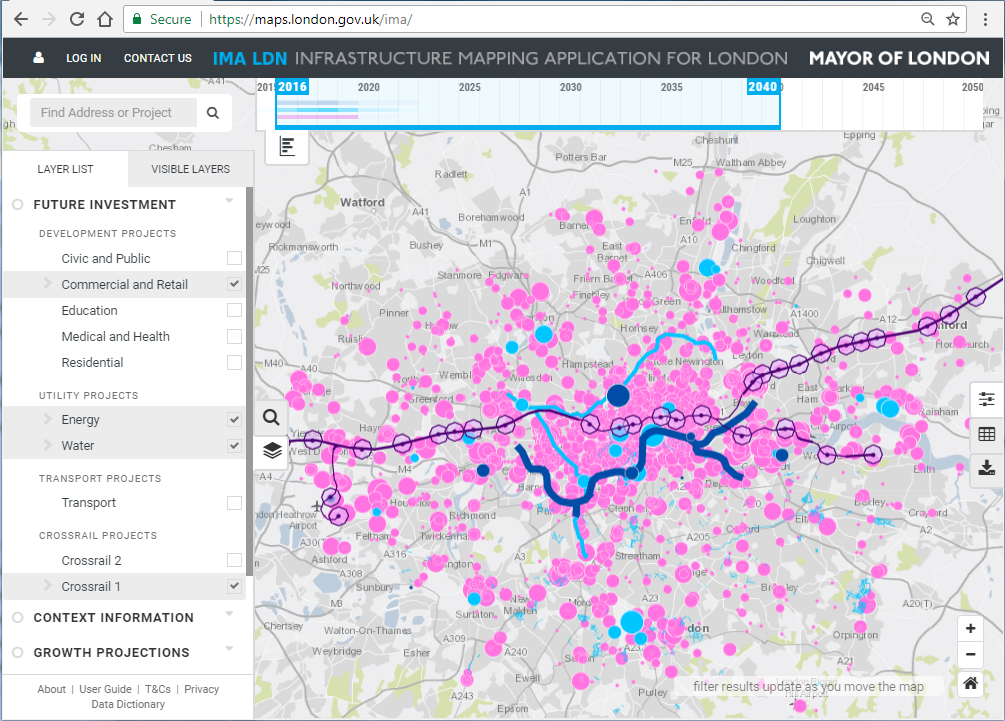 The junction is also a key access point for Jaguar Land Rover, whose export business is critically dependent upon this route, with any disruption resulting in delays costing the business millions. Clearly, data-driven collaboration across many stakeholders is critical for TfWM to visualise the bigger picture and spot the perfect storm looming on the horizon, in order to plan, co-ordinate and mitigate the situation now to avoid negative human and financial impacts to this region.
From a regional perspective, and to illustrate that the need for data-driven collaboration isn't just limited to the public sector. Schemes such as Highways England's Lower Thames Crossing and other schemes will require data-driven collaborative relationships between Highways England as the client and its contracting supply chain as the scheme passes through planning, design, construction, handover and eventual operation stages.
Then there is the Greater London Authority Infrastructure Mapping Application, which is being used in conjunction with utilities and developers to understand what their project pipelines are looking like over the next 20/30 years. When it comes to ensuring efficiency and minimising disruption, this insight is proving invaluable.
However, many projects are still often planned without wider traffic ramifications in mind, even though there is a viable solution. The collection and analysis of real-time data enables those involved in transport planning and management to gain a new level of insight into the impact and success of projects, especially during the early planning phases, and help avoid a return to the slow lane.
Stuck in a jam
A strong example of using data to streamline projects comes from Transport for London, which is using a system called London Works to co-ordinate in excess of 500,000 roadworks that happen in the capital annually. The application is used by over 200 organisations to collaborate, plan and co-ordinate the delivery of works to help keep London's traffic flowing by minimising the impact of congestion where possible.
According to data collected by traffic information supplier Inrix, traffic congestion cost UK motorists over £37.7 billion in 2017, with drivers spending an average of 31 hours a year in congestion during peak hours. Across the UK's ten most congested cities, which included the likes of London, Manchester and Newcastle, the economic impact totalled £11.8 billion.
Furthermore, a report from the Centre for Economics and Business Research (CEBR) last year suggested that congestion will cost the British economy more than £300 billion by 2030, all of which highlight a clear need to embrace data analytics in order to minimise road disruption.
Taking a collaborative, data-driven and strategic approach will ensure that roadworks have the lowest impact possible on the road network. This, in turn, will enable local authorities to work more efficiently and will also benefit local businesses as people spend less time sitting in their cars.
Driving the discussion
What underpins this necessity for multiple organisations to successfully execute schemes and operational activities is data, and large amounts of it. The vast majority, if not all of this data, can be related to location. Geography is the single common denominator that can accurately present the data in a meaningful common visual framework, enabling organisations to simply combine disparate data.
The ability to simply visualise this data in a common framework through time and space is immensely powerful in highlighting potential conflicts and enabling opportunities to synchronise activities that otherwise would not be possible.
Ultimately, there is a clear opportunity for local authorities and national agencies alike to leverage the power of data-driven collaboration, thereby enabling them to plan, monitor, and manage our transportation networks more effectively. Indeed, there are already plenty of examples of organisations doing exactly that.
Crossrail is just one of them. During the construction phase, Its intelligent maps enabled hundreds of internal staff and tens of thousands of contractors and stakeholders to gain access to spatial, contractual, project and asset information associated along the railway. This approach unlocked significant efficiency gains by improving the quality of background mapping and reduced the need for time-consuming data management. It provided substantial cost savings as well as helped improve communication with external audiences.
We are already seeing the impact of data-driven collaboration on streamlining the UK's transportation networks, but there is still plenty more that can be done to improve efficiency across both organisations and internal departments.
As a growing number of organisations embrace this way of working and use data analytics to shape the planning and construction phases of projects, the UK will quickly find its transport infrastructure moving from standstills, to the fast lane.
Craig Hayes
Customer Success Manager
Government at Esri UK
Editor's Recommended Articles