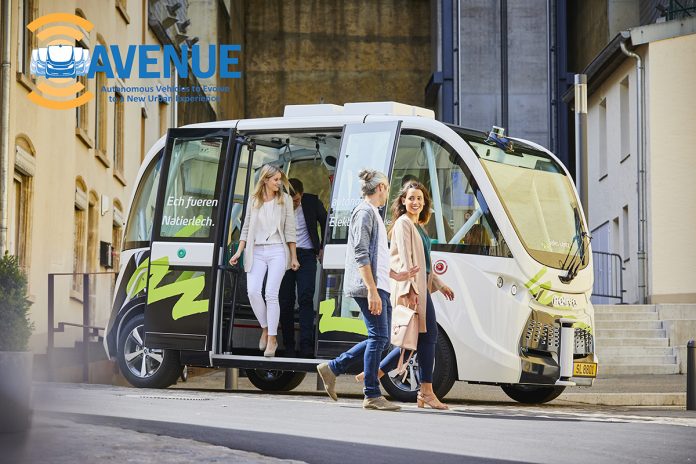 The AVENUE H2020 project aims to design future public transportation services with autonomous vehicles, a less costly, greener solution for suburban areas, as we discover here
No timetables. No fixed stops. No waiting FOR ages in the rain. The AVENUE H2020 project (1) is designing and operating world-first trials of public transport services with small fleets of autonomous electric buses that collect users on-demand, provide door-to-door transportation and are integrated with existing public transportation services.
The use of autonomous vehicles in public transportation provides a less costly, greener solution for suburban areas, where conventional public transport­ation services are not viable and, therefore, not offered.
The European Union (EU)-funded AVENUE, a four year project which started in May 2018 and coordinated by the University of Geneva, is operating small fleets of autonomous buses in low- to medium-demand areas of four European cities, in Copenhagen, operated by Holo, in Geneva operated by TPG and in Luxembourg operated by Sales-Lentz and in Lyon operated by Keolis.
The project's objectives are, first, to demonstrate that autonomous buses are a promising solution for public transportation in urban and suburban environments, second, to identify the barriers and obstacles in the deployment of autonomous vehicles in shared public transportation, third, to propose and validate new, innovative and disruptive transport services and finally, to provide recommend­ations and guidelines to all actors, from government to manufactures for future large-scale adoption and deployment of autonomous buses in public transportation.
From the first day of the project in May 2018, all sites were operating an autonomous vehicle service with one or more mini-buses. After a year, all four demonstrators were up and running and new services are now under development to bring them up to the next level. Today, the vehicles involved cover fixed routes, but by the end of 2019, on-demand services will be offered in selected routes.
However, the road to the deployment of autonomous vehicles for public transportation is filled with obstacles and barriers. On one hand, the technology still needs to improve and provide solutions to many issues related to autonomous driving in complex road situations. On the other hand, regulatory restrictions do not allow the full exploitation of autonomous vehicle capabilities on the road and in some cases, block the further research and development of efficient solutions.
On the road and passenger safety first!
The absence of a human driver puts a heavy burden on the autonomous bus in terms of the safety and security of passengers and other road users. Not only must the autonomous driver negotiate different types of traffic on the road, but also protect the bus passengers from sudden breaks and provide assistance when needed.
In the AVENUE project, our partner NAVYA, is developing and testing under real traffic conditions, new driving methods that can adapt the autonomous driver behaviour to road conditions, becoming, for example, more assertive when entering a roundabout, while remaining reserved in the presence of pedestrians. Other partners, CEESAR and AVL, are evaluating risks for passengers and road users to propose improvements and measures for increasing the safety of the vehicles, while Siemens is studying the issues related to the safety and usage of services for passengers and road users with special needs.
Door to door, on-demand, personalised services
AVENUE is preparing to test a world-first on-demand, door-to-door commercial service of autonomous, shared public transportation, extending the existing public transport service. Via a set of mobile services, developed by our partner MobileThinking, users will be able to call a bus at a specific time and place to reach the nearest stop of the backbone system or move around their own neighbourhood, making use of other innovative in- and out-of-vehicles services, ranging from ticketing, to "follow my kid".
The intelligent planner and fleet coordinator system, developed by Bestmile, will allow trip optimisation and coordination of the vehicle fleet, guaranteeing a high-quality level of service with minimal delays.
Social and business development
Of major importance for the deployment of autonomous vehicles for public transportation are the questions related to business development and social impact, studied by HSPF and ECP. The cost of operating an autonomous bus is just a fraction of that operated by a human-driven bus (most of the cost relates to the driver).
The ease of use, minimal cost and high availability of transport means has the potential to drastically change the passenger behaviour, pushing them to use the service for travelling short distances for which up to now, were not even considering taking a bus. On the other hand, traditional ticketing methods are no longer suitable for on-demand services. Therefore, AVENUE targets to propose new models and recommendations in response to these new challenges.
Barriers and obstacles
Deploying autonomous vehicles on public roads is not a simple task. We have a large number of regulatory barriers to overcome (under strict law, no vehicle can operate without a driver in any European country!), while we need to convince the regulators and citizens when it comes to security for autonomous vehicles. While the State of Geneva is looking at the legal framework that needs to be changed and how to push changes with the political authorities, CERTH, VIF and UniGe are exploring the cybersecurity issues that can compromise the deployment of the autonomous vehicles.
The road ahead
We strongly believe public transportation will be the first business where autonomous vehicles will be mass deployed. The advantages, business opportunities and potential are tremendous. AVENUE aims to open the way; change how we travel in the city and make the use of public transportation a new experience for the passengers.
This project has received funding from the European Union's Horizon 2020 research and innovation program under grant agreement No. 769033.
*Please note: This is a commercial profile
Editor's Recommended Articles