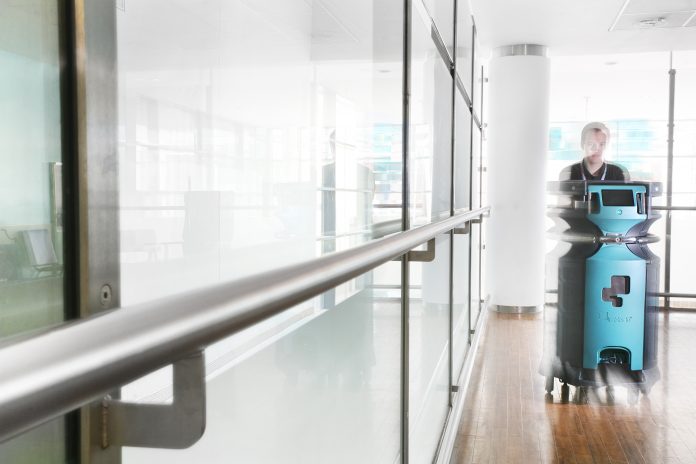 Tautvydas Karitonas, Head of Research and Development at Inivos, provides insight on how businesses can ensure that when their employees return to work, their work environment is COVID-secure
After being told that they can start transitioning their employees back to work over the next few months, many businesses are preparing to do just that. But how can they ensure that they are meeting any government guidelines and making their workplaces COVID-secure to ensure the safety of employees?
Keep your distance
Outside the workplace, individuals maintaining a distance of two metres or more is one of the most effective ways of reducing the spread of the coronavirus.
However: for many workplaces, particularly those in major cities or towns, space is at a premium – which makes social distancing measures more difficult to uphold.
There are options available to suit all kinds of organisations, including the repositioning of working equipment and the installation of dividers, expanded work-from-home policies and the use of remote-working shift patterns, phasing the return of furloughed employees – or a combination of these solutions.
Although it is imperative that companies do find a way to provide sufficient space between individuals, this measure alone is not enough to ensure an environment is COVID-secure and minimises risk to the workforce.
Assess your work environments and make a plan
In order to make your environment COVID-secure, it's important that the business' premises is thoroughly assessed to understand the potential risk, and the course of action that should be implemented.
Communal spaces in work environments could pose a big threat to the health of workers, with communal facilities accessed by a large number of workers every day, such as bathrooms, kitchens and doorways. It's important that all of these areas along with functional areas of the work environment are acknowledged when decontaminating a workplace.
Workplace Infection Prevention Assessment tools, such as the one launched by Inivos this week, can help businesses understand which areas of their workplace could pose a risk of viral or bacterial transmission. Once this has been identified this tool can also demonstrate exactly what is needed to minimise these risks.
Businesses should also consider implementing policies where staff are provided with PPE and hand-hygiene kits for their commute to and from the workplace, in order to minimise risk of infection and give workers peace of mind.
Take an evidence-based approach 
A further way that businesses can ensure that they are allowing their employees back into a COVID-secure environment is by ensuring that businesses are proactively decontaminating the workplace. Many organisations will be considering upgrading their manual deep-clean (cleaning by hand) to 'fogging'.
But both practices can result in viral traces being left behind in the work environment by human error or improper technique. Executed by unexperienced and untrained businesses set up in response to the pandemic, so-called 'fogging' can even leave traces of harmful chemicals behind in the workplace.
To ensure your decontamination will deliver on its services, look for a company that will explain their technology to you, outline how their active ingredients are disposed of or will breakdown, and share peer-reviewed evidence on their efficacy.
Hydrogen peroxide vapour (HPV) and ultraviolet-C (UV-C) light decontamination are both good options, demonstrated to reduce micro-organisms much more resistant than COVID-19 to safe levels.
Both work by destroying the fat and protein outer layer of the virus, before destroying the genetic material within and are already regularly used by more than a third of NHS Trusts to combat infection concerns including COVID-19, MRSA and C.difficile.
Looking to the future
This pandemic has taken all industries by surprise and created unprecedented difficulties. COVID-19 has raised the profile and importance of improving infection prevention and control practices, and it's crucial that business leaders carefully consider their direction of future travel.
As the country moves on from the pandemic, it is vital that businesses develop robust COVID-security policies that ensure spaces are free from harmful bacteria and are safe environments for staff and customers to be in.
Only then can businesses guarantee the health of both their business and the workforce that makes it special.
Editor's Recommended Articles