IM&M showcase their set of suite tools that are available for Landlords/Facilities Manager's and Occupiers to control how their buildings are being used
One of the biggest lessons we have learnt so far during the COVID-19 crisis is how quickly we can – when the governments and organisations are in unison – have a dramatic effect on the environment.
Since the shutdown of most forms of travel and buildings has taken place, the CO2 being emitted into the planet has fallen dramatically. The air is cleaner, and there are many images and scenery pictures that have not been seen for decades.
Building emissions
As we know buildings account for 40% of greenhouse gas emissions (GHG), making buildings one of the world's biggest pollutants. Since most commercial buildings have been shut down or set to low usage this has contributed to a considerable improvement in air quality.
At IM&M we believe that this improvement could and should be continued post lockdown. We have been advocating for many years that if you can control the buildings emissions then we all help to "save the planet one building at a time".
IM&M suite of tools
The IM&M suite of tools has been developed to allow Landlords/Facilities Manager's and Occupiers to control how their buildings are being used. Using the right technology allows this to happen seamlessly and instantaneously, thus allowing a number of key benefits to be enjoyed:
Better ROI
Lower operational costs for running the building
Reduced carbon emissions
Greater energy efficiencies
Better Occupancy levels
Occupants enjoy wellbeing benefits
Ability to provide and receive better services
It makes sound commercial sense to act before we go back to our old ways – implementing smart technologies now can be done cost-effectively and with minimum disruption – given that most buildings are empty and may continue to be empty for some time.
Cost-effective and environmentally friendly
It makes environmental sense to do this as well. We all want to live in a better environment, and we can all play our part, with buildings doing their fair share. More importantly, if we do this right, not only does it have environmental and wellbeing advantages, it can also be used to reduce your operational costs for running the building.
IM&M believe that there are four fundamental requirements to make this happen. They are all interlinked and making an improvement in one area will lead to gains in another. As shown in the diagram below we believe that a continuous improvement cycle based around these four elements will help organisations achieve the benefits outlined above.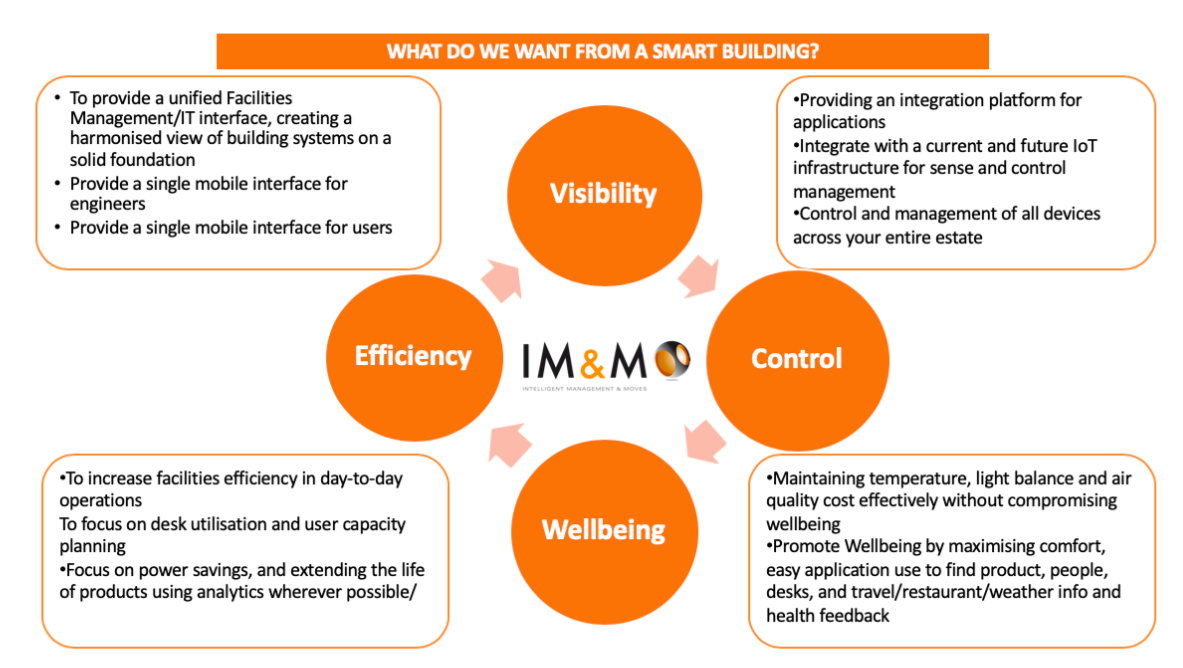 Without a strategy and focus on where to start the journey, it will be almost impossible to achieve any long-term success. However, the current COVID-19 crisis has taught us that it is possible to improve the environment very quickly when everyone is forced to act in unison.
Wellbeing
So, pick a starting point – for example, the wellbeing of the occupants – by reducing your power consumption it will, in turn, reduce your greenhouse gas (GHG) emissions, saving you money and increasing your wellbeing status, which in turn will have a positive impact on the people occupying the building.
Do not try and do everything at once, pick one area like wellness and focus on that, get it right, realise the savings and benefits then move onto the next focus area. Eventually, you will have created an intelligent building that adapts to you and your employee's needs, is environmentally and people-friendly, and can adapt and change to any challenges your organisation faces.
As we have said wellness is an integral part of what we desire from an intelligent building, but an intelligent building is so much more.
Intelligent building
The diagram below shows our four steps to realising an intelligent building. Start with the foundation products to get visibility and control. Once you have visibility and control move onto services and application integration to help drive down costs. Integrate the building management system into your dashboard and control the individual solutions centrally, finally bring in any other third-party systems to create a comprehensive intelligent building solution.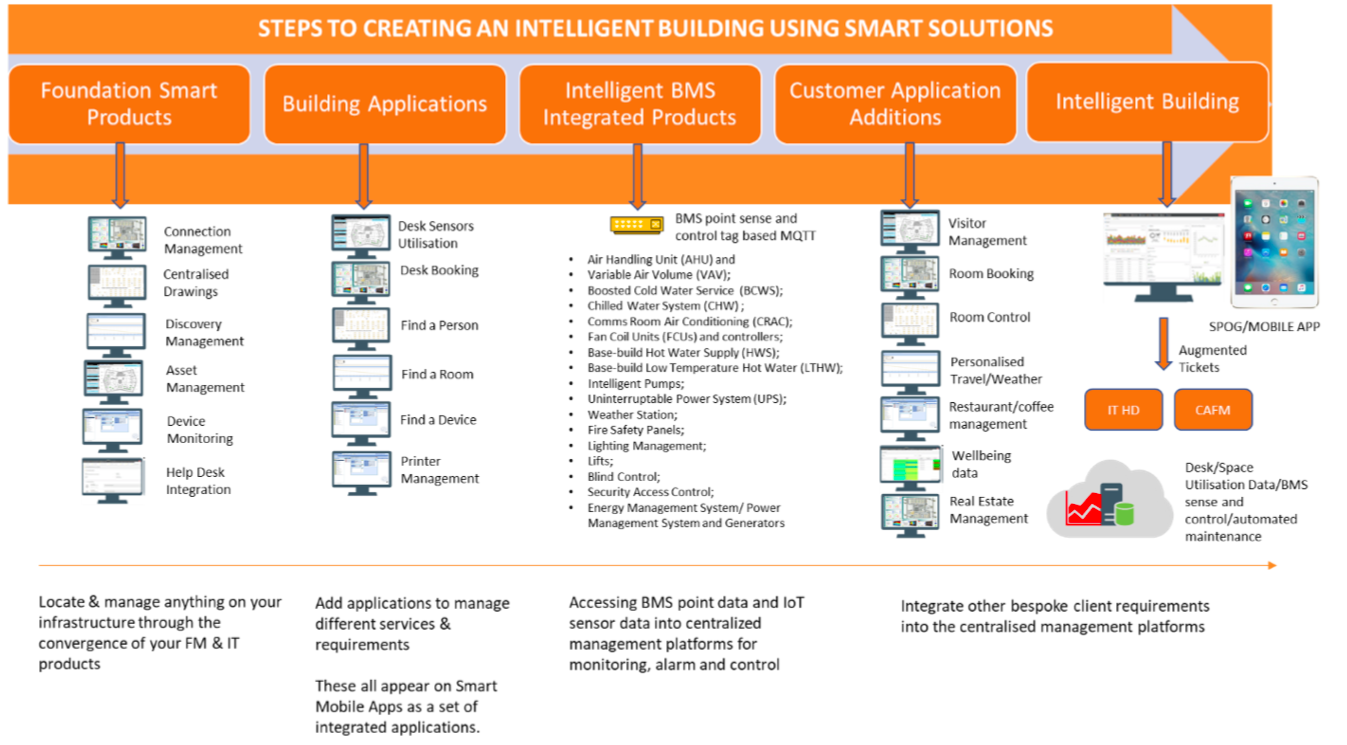 Currently, buildings are designed and built as cheaply as possible as functional vessels in which to put people. At IM&M we want to make sure that throughout the life of a building they are cost-effective and work for the people in them. We want to reduce costs and increase efficiencies, drive down your carbon footprint and create spaces where people want to work.
If like us you want to help save the planet, reduce your operational costs and make your environment people-friendly, contact us now to find out how.
Go to www.immsuite.com or email info@immsuite.com for more information
Editor's Recommended Articles