Tim Weil, CEO, explains how Navenio technology can be employed to support healthcare teams
As the world continues to battle COVID-19, technology is being utilised to support healthcare teams, patients and their families. With digital initiatives pushed higher up the agenda, for example, 99% of GPs now using remote consultation platforms, it's clear that technology has provided invaluable support throughout the pandemic, and it is now here to stay. On top of this, recent Government funding and initiatives such as the Artificial Intelligence in Health and Care Award, and The First 100 Playbook, highlight the importance the UK has placed on transforming the sector and ensuring that it meets the NHS' Long Term Plan.
With hospitals and healthcare teams now looking to overcome the lasting impact of the pandemic, as well as prepare for a future wave, indoor location technology is helping teams to get back to capacity, operate efficiently and safely while also prioritising patient care. This technology is supporting teams in a variety of areas and reimagining the way that hospitals and healthcare settings operate.
Navenio has been unlocking significant improvements in the efficiency and workflow of staff and teams through automation that is carefully driven from real-world best practices. Underpinned by award-winning University of Oxford science, Navenio has pioneered easy-to-deploy, accurate, scalable and robust indoor location-based solutions that work where GPS does not, enabled simply by using sensors in smartphones, with no need for investment in new infrastructure.
Extending the use of technology
Porters, cleaners, and radiology teams have all benefited from indoor-location technology, but this list is not exhaustive, with the benefits extending to many different teams. Security, catering, waste management, allied health professionals and many more workgroups can all change the way they operate and enable 'right person, right place, right time' solutions that can help healthcare organisations work together more seamlessly. In parallel, the technology can be used for real-time asset tracking – using the teams going about their day-to-day roles to 'discover' assets via their smartphones.
Teams with daily tasks to undertake can harness the data to provide more efficient services, improving response times and offering better care. For example, the Navenio Intelligent Workforce Solution has had a dramatic effect on efficiency and productivity in UK hospitals, and the same impact is expected for other use cases. It has so far proven to double the amount of work completed, offering teams 30% increased capacity on top of 40% faster response times, which has led to better patient care and safety, particularly during the pandemic.
Mobile teams working across vast building sites can easily respond to tasks based on where they are and who is available. This helps to solve issues much more quickly and ensure that teams can respond promptly. In the case of asset tracking, the same logic can be applied and the location of devices within a hospital setting can be found and used to save time and unnecessary costs. The virtual maps that are created for indoor-location technology to work, have the ability to re-energise buildings of any type, making them not only a more efficient workspace but safer environments too. This can be done without the implementation of traditional location infrastructures like beacons or RFID, and allows data to be harnessed to inform and prioritise workload.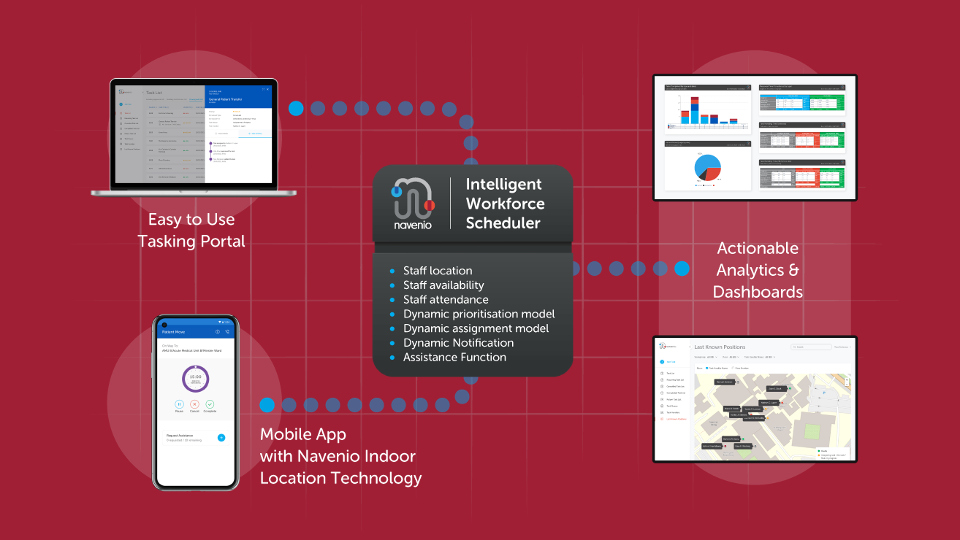 Tackling the pandemic
The need to understand the movements of people within an indoor setting became a matter of life or death when the pandemic hit. The risk of cross-contamination was high and risked spreading the virus from designated 'red' zones to 'green' zones. With porters and cleaners previously having to make long trips across hospital buildings, technology has gone a long way in alleviating unnecessary contact, minimising the risk of contamination and prioritising patient care.
The Navenio app works by allowing any authorised member of staff to add tasks to the web-based Tasking Portal. These tasks are then automatically scheduled and allocated to the most appropriate person using the location-powered scheduling system of the right person, right time, right place. This automation optimises resources and workflow, whilst Navenio's analytics allow managers to gain deep insight into what has happened and where workflow can be improved.
This type of technology is designed to improve service levels for patients by creating faster response times and can be utilised across various healthcare sites. It allows teams to reach their full potential and has also kept them safe during the pandemic. At Navenio, we've seen that through improving the performance of logistics teams, hundreds of hours of clinical time per site per week can be released, and used to deliver better care and improve patient outcomes.
Future of the indoor world
The future for the way we navigate buildings such as hospitals looks very promising, as we've already seen the adoption of technology accelerated during the pandemic. Utilising technology that can enhance strategy and improve team efficiency will also improve the patient experience.
Healthcare teams have been put under immense pressure during the pandemic so far and individual location and contact between people have never been more important. As the NHS continues to battle the virus and prepares for the potential of another wave, indoor-location technology will continue to provide support to teams and allow for efficient, productive, and safe indoor environments for all.
Navenio has been recognised as part of initiatives that are underpinned by long term commitment to health tech, such as the NHSX AI in Health and Care Award, and the DIT's digital health campaign, The First 100 Playbook. With strong backing behind them, the possibility is vast for the wide range of different innovators who continue to support healthcare teams through the pandemic and beyond.
To hear more about Navenio and the work we are doing to improve the efficiency and workflow of staff and teams through automation, don't hesitate to get in touch with us here.
Please note: This is a commercial profile
Editor's Recommended Articles