VolkerSmart Technologies is supporting innovative and new EV charging solutions to help move the UK toward cleaner streets and more accessible sustainable alternatives
The consumer demand for electric vehicles (EV) has continued to increase this year. ZapMap, a digital platform for EV drivers, reports more than 680,000 battery-electric cars are on our roads, plus a further 455,000 plug-in hybrids. In January 2023, EVs had a 13% share of the car-buying market. To support these EV charging solutions, we have seen an increase in EV charging points across our towns and cities. At the end of January 2023, there were 37,851 publicly accessible EV charging points across the UK. This represents a 31% increase since January 2022. VolkerSmart Technologies is supporting this rollout and is one of the leading installers and maintainers of these charging points in the UK.
To meet the Government's net-zero target by 2050 and an even closer objective of banning the sale of new petrol and diesel engine cars by 2030, local authorities are racing to install EV charging points. These charging points will provide the much-needed infrastructure to enable those without off-street parking to access the EV market.
Free-standing publicly accessible EV charging points A decade, or more, into the major rollout of EV charging points, we are now at a turning point with free-standing publicly accessible EV charging points no longer required. The ability to adapt existing highway street furniture, helping to declutter our streets, is a major step forward.
Infrastructure has evolved at a rapid rate, with many suppliers now adopting new, innovative solutions which reduce street furniture congestion on our walkways. From flat and flush in the ground to the lamp or bollard-mounted charging points, VolkerSmart Technologies is proud to be playing a key part in our drive towards a greener future.
Flat and flush charging points, set into the pavement, leave footways entirely clear of clutter, and are fully accessible to other pavement users, when not in use. This is essential for people in wheelchairs, those who use buggies or anyone living with sight loss, as it eliminates a potential trip hazard.
Similarly, lamp column-mounted EV charging points are an effective way of decluttering our footways. As the electrical infrastructure is already available in the columns, this offers a better and still cost-effective solution. The Go Ultra Low City Scheme has encouraged London Boroughs to make use of this infrastructure. In January 2023, ZapMap reported that the city has over a 30% share of the EV charging point installation market geographically.
A leader in EV charging solutions for private and public sector clients
It has been over five years since highway services provider, VolkerHighways, launched VolkerSmart Technologies, and the business continues to be a leading installer and maintainer of EV charging points for private and public sector clients. VolkerSmart Technologies is proud to have installed some 4,000 publicly accessible EV charging points across the UK.
During this time, around 2,100 lamp columns mounted EV charging points have been installed in London by VolkerSmart Technologies alone, with local authorities such as the London Boroughs of Brent, Ealing, Kensington and Chelsea, Westminster, Hackney, Camden, Sutton, Lewisham and Islington, all working to support the UK's ambition of reducing carbon emissions.
EV charging points set flush into the pavement are a solution that is growing in popularity, with VolkerSmart Technologies contracted to install nearly 500 in a location outside of London, over the coming months. Clients are also benefiting from VolkerSmart Technologies' in-house independent connections team, for electrical supply connections, removing the need to wait for a third party.
Backing from £1bn leading multidisciplinary contractor, VolkerWessels UK
VolkerSmart Technologies also has the backing of a group business, VolkerWessels UK – a leading multidisciplinary contractor, which brings together five business units to collaborate across the civil engineering and construction sectors, not only dedicated to just EV charging solutions. From rail, highways, and airports to marine, energy, water, and environmental infrastructure.
The business is fully committed to reducing its carbon emissions and is proud that over 69% of its company car fleet comprises alternative fuel vehicles (hybrid or electric). The business' initial target of 50% by 2025 has already been surpassed, and 93% of all the current company car orders are for hybrid or fully electric vehicles. And there were no orders for diesel engine cars placed in January 2023.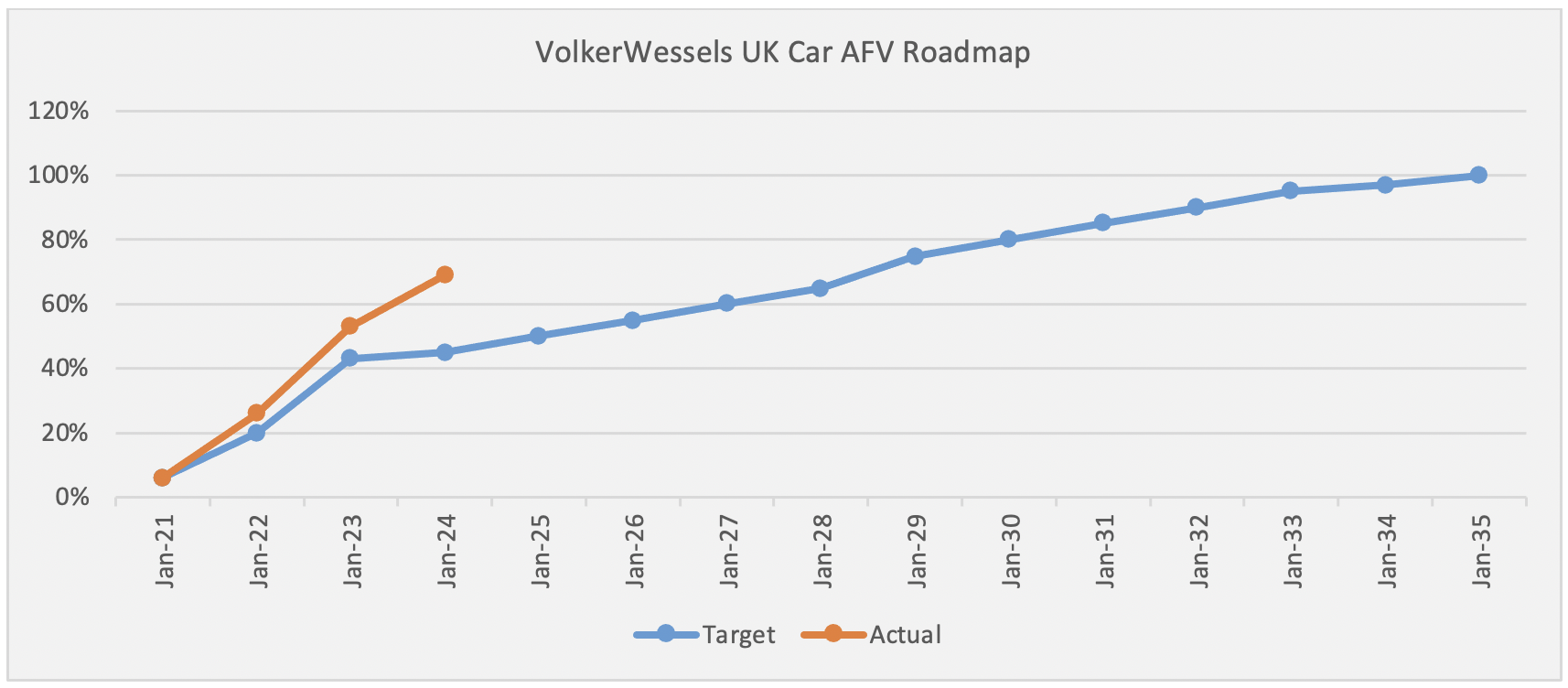 EV charging solutions are essential for the shift towards net zero
Emma Daly, customer relationship manager, for Lex Autolease, said: "So advanced are they on their sustainability journey, that VolkerWessels UK has embraced the need to change the mindset of their employees from traditional petrol and diesel engines to electrification. They have adapted their car policy to ensure there is a good selection of Ultra Low Emission Vehicles (ULEV) and fully electric vehicles for VolkerWessels UK employees to take advantage of. Using our benchmarking tool, the current percentage of ULEV cars on VolkerWessels UK's fleet is 69% and they are leading the change amongst other customers in the construction sector, who are, on average, at 55%."
To support this transition, the business is committed to installing EV charging points across its own sites, depots, and offices. Each business unit is using the expertise of VolkerSmart Technologies to find the best areas to locate them within their compounds or car parks.
Spencer Ward, head of fleet for VolkerWessels UK, said: "By providing EV charging capability across our projects, we can only expect to see an increase in employees adopting EVs. I can say with certainty that the percentage of EV uptake would be higher across the board if lead times on electric vehicles were shorter. I'm looking forward to seeing where our EV journey takes us over the coming months and years."
Please Note: This is a Commercial Profile

This work is licensed under a
Creative Commons Attribution-NonCommercial-NoDerivatives 4.0 International License
.
Editor's Recommended Articles