VolkerSmart Technologies introduce their work in decarbonising the NHS, discussing their role in lessening transport emissions with their numerous services
Transport emissions are the cause of around 2% of our overall carbon footprint in the UK, with the NHS accounting for over 3% of all road travel in the UK. As a major road user, the NHS has a goal of at least 90% of NHS service vehicles having low-emission engines (hybrid or fully electric) by 2028. Over the next two to five years, decarbonising the NHS will involve upgrading its existing fleet to electric vehicles, which will require a network of charging infrastructure to facilitate its and its users' transition.
Having worked on the highway since 1959, VolkerHighways, a leading integrated highways services provider, understands why action is required, now, more than ever, and is proud to be finding innovative sustainable solutions for its clients.
VolkerSmart Technologies and electric vehicle charge points
VolkerSmart Technologies was established by VolkerHighways in 2018 to meet the needs of its public sector clients for electric vehicle charging capability, helping them to reach their climate and net zero ambitions. We are a leading installer and maintainer of electric vehicle charge points (EVCP) and are proud to have installed over seven percent of all public charge points in the UK so far.
The business provides integrated project management and a seamless, end-to-end solution for sourcing, installing and maintaining EVCP, in an array of complex environments. We have built collaborative relationships with many public sector clients, including local authorities, the Ministry of Justice, and NHS providers, making VolkerSmart Technologies a go-to provider.
VolkerSmart Technologies has already worked successfully with the East London NHS Foundation Trust in reducing its carbon footprint, by providing staff with EVCP at the John Howards Centre in Hackney. We have also installed charging points at seven prison estates in England and Wales on behalf of the Ministry of Justice, which is introducing electric vehicles into its fleet to save fuel costs and reduce its environmental impact.
Having extensive experience in these environments, VolkerSmart Technologies understands some of the struggles faced by public sector organisations, such as an increased requirement for security checks, restricted working hours and increased footfall in public areas and can adapt to suit individual requirements.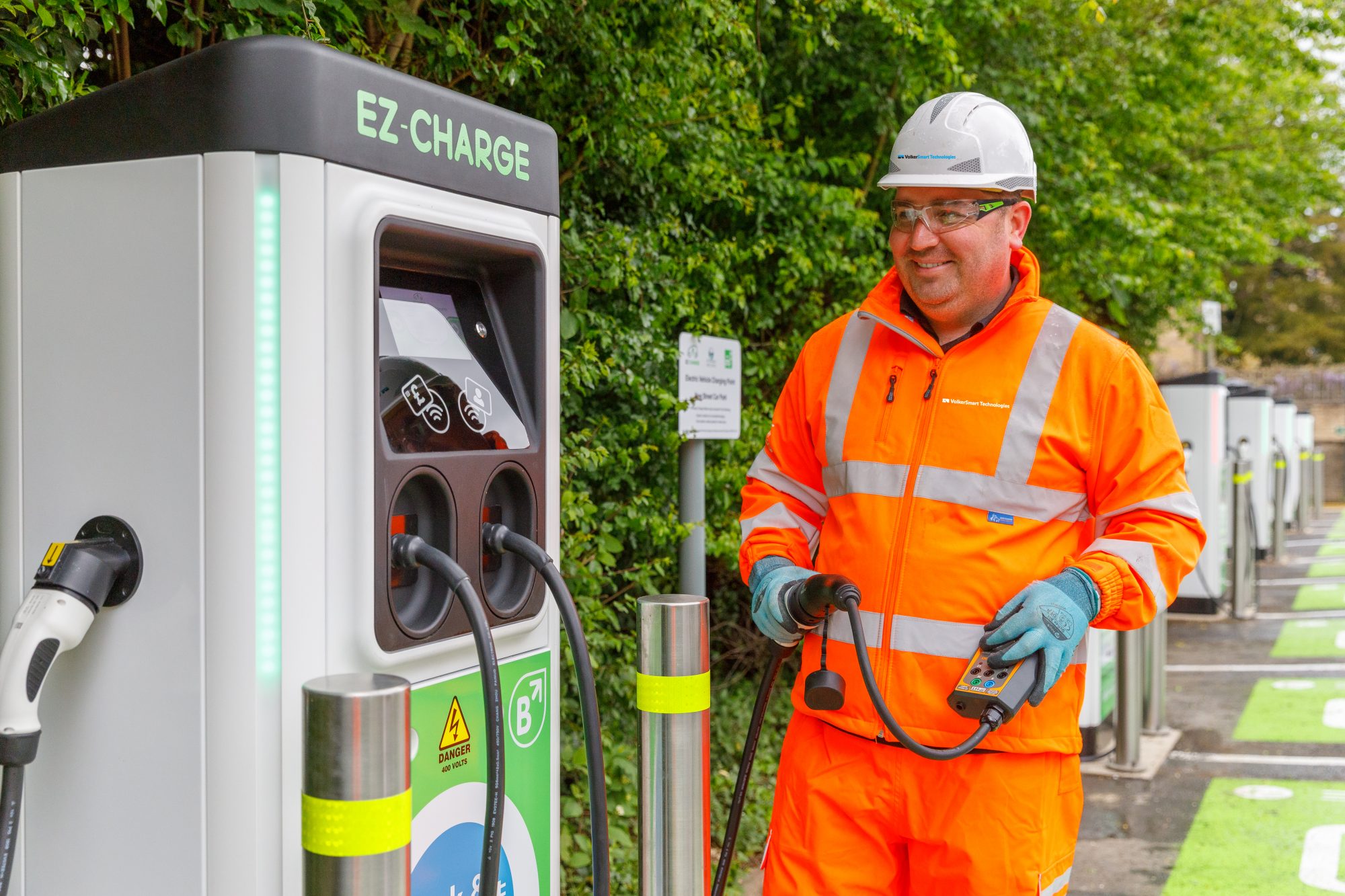 Sustainable transport technologies
We are an approved supplier on lot five – sustainable transport technologies – on the Crown Commercial Services and Associated Services framework which is a specialist framework helping the UK public sector to save money when buying common goods and services.
Being the biggest public procurement organisation in the UK, the framework eliminates the need for time-consuming and costly tender processes, while ensuring best value for money from an organisation which has been rigorously tested.
As a member of the National Electrical Registration Scheme (NERS), VolkerSmart Technologies can deliver independent connections to metered and unmetered local DNOs. This in-house capability has the benefit of reducing the time required for electrical installations, such as the installation of EVCP, while mitigating programme risk and reducing costs.
LED lighting
Not only will the adoption of electric vehicles help with decarbonising the NHS, but the installation of LED lights is also a proven way for the organisation to save thousands of pounds each year.
LEDs can produce electricity savings of up to 75%, while improving reliability and reducing ongoing maintenance, and offers adaptable lighting, which enables dimming and a range of colour temperatures. LED technology has seen a considerable reduction in cost and an improvement in quality over the last few years, making it an efficient alternative.
VolkerHighways is a UK leader in the delivery of street lighting and electrical services, providing long-term lighting term maintenance services for local authorities, as well as smaller contracts to meet our clients' street lighting requirements. We thrive on finding sustainable solutions for our clients and have been supporting them with the switch to LEDs for the past six years.
VolkerHighways' reputation is reflected in its high levels of repeat business and performance-based contract extensions, as well as its expanding client-base over recent years. Working with Oxfordshire County Council, the business is currently replacing over 35,000 units with LEDs as part of its large-scale LED programme, which will save the council thousands of pounds each year. This year alone, the business is moving forward with 25,000 LED conversions in Oxfordshire.
Energy cost savings of up to 70%
In the last six years, VolkerHighways has converted in excess of 120,000 streetlights to LEDs, providing energy cost savings of up to 70% for our clients.
VolkerHighways' capability is built upon the experience of its teams and their local knowledge, providing a full turnkey solution, from the design and installation of street lighting, to ongoing maintenance. We provide a fully integrated approach, working seamlessly with premium manufacturers to ensure that the latest technological advances, best value for money and sustainable solutions are brought to our clients.
The business has all the necessary associated electrical accreditations to deliver works to the highway. This includes Highways Electrical Associations (HEA), National Inspection Council for Electrical Installation Contracting (NICEIC) and The Lloyds's Register EMEA under the National Electricity Registration Scheme (NERS).
For more information, visit www.volkerhighways.co.uk or www.volkersmarttech.co.uk. Alternatively, please email business.development@volkerhighways.co.uk
Please Note: This is a Commercial Profile

This work is licensed under a
Creative Commons Attribution-NonCommercial-NoDerivatives 4.0 International License
.
Editor's Recommended Articles