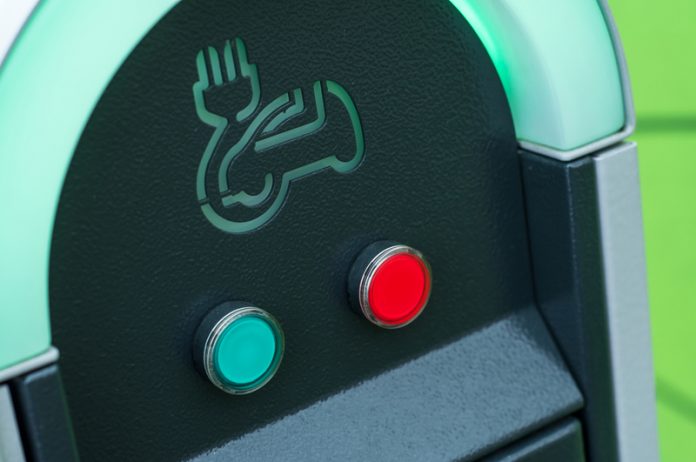 Hybrid speculation causing further confusion and new charging points need to at least quadruple to meet demand from the sale of Electric Vehicles. Colliers International highlights main barriers to meeting Govt targets in inaugural Automotive Viewpoint
Further to recent speculation that Michael Gove will also include the ban of the sale of new hybrid cars, as well as petrol and diesel by 2040, Colliers International, says this is just going create even more confusion and uncertainty in the marketplace, with buyer confidence being driven down unnecessarily.
John Roberts, Head of Automotive and Roadside at Colliers commented: "Recent legislation from the UK government has allocated funding to support local authorities in creating the necessary electric charging infrastructure which is welcome. Yet the market is still in its infancy and some of these initiatives are perhaps causing some consumer confusion.
"The Government's plans are clearly welcomed and are extremely important for the advancement of the sector, however, diesel and petrol engines are not being phased out completely until 2040, so there's still more than 20-years before the changes come into effect. There is still a lot of work to do to prepare the infrastructure required to cater for the future of the sector."
He explains a combined undersupply of charging points both at home and 'on the move' alongside apprehension over lengthy charging times is contributing to a lack of buyer confidence and 'range anxiety' from existing and potential EV owners. Meanwhile, concerns over the ability of the current UK energy supply to meet future demand and the lack of guidance for landlords and developers for integrating charging points into commercial premises is causing confusion.
John went on to say: "Currently, there are over 5,000 locations in the UK that have a public charging point installed and there are over 9,000 devices at these locations, which provide 15,000 connectors. Although these statistics are impressive, the number of connectors and devices will need to at least quadruple in the short term to meet the demand from the increasing sales of EVs.
"Charging at home is fine if you have off-street parking. Of course, many of us don't. Some local authorities and London Boroughs are selectively placing charging points in lamp posts. This is a great initiative, but what happens when every vehicle is electric? We already see cables stretched for 20 metres along the pavement which is both a safety risk and, quite frankly, open to wanton vandalism. For residential developers of apartments, should there be a requirement that charging points are fitted, or can be readily retro-fitted, to every parking space? This is something else which will need to be taken into consideration."
As charging times are improving, the need for higher levels of electricity is also required, however, some locations and properties are not able to provide the required capacities.
Colliers' research highlights 'range anxiety' the concern held by potential EV owners that the vehicle could run out of power before reaching their desired destination – as a key deterrent to EV ownership – John adds that:
"Further infrastructure will need to be built and created, particularly at existing petrol filling stations and arterial route locations to serve any EV user travelling modest distances. Oil companies, such as Shell and BP, have already started to install and open charging points within their petrol stations to meet the growing EV demand.
"The addition of charging points at filling stations in town and city car parks, shopping centres, retail parks, supermarkets and new public 'charging parks' has potential implications for landlords and developers in terms of potential space required. Vehicles filling with petrol or diesel take a matter of minutes. Currently, EV charging, even with superchargers, can take up to 40 minutes (80% re-charge)"
"The UK Government needs to fully support both the property and petrol retailing sectors to make the conversion to EVs a realistic and achievable goal. Investment in the charging infrastructure is one thing, but beyond that, ensuring that UK energy supply meets the future surge in demand is another. There is certainly a long way to go."
Other key research highlights:
In 2016, newly registered vehicles within the UK reached an all-time high of just under 2.7million; a 39% increase on the post-Global Financial Crisis low of 1.94million in 2011.
2017 saw a slight reduction in new vehicles registered, with a decrease in sales of 5.7%. However, this was still the third largest number in the last decade, with over 2.5 million new vehicles sold.
The Society of Motor Manufacturers & Traders (SMMT) predicts an annual decrease in new car registrations of -5.6% in 2018, to 2.39 million.
From January to March 2018, new car sales were down by 12.4%, perhaps influenced by government policy relating to diesel vehicles.
Vehicle sales – new and used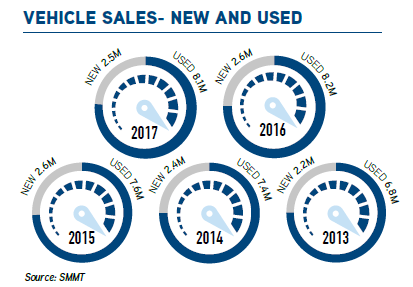 Dealer vs Manufacture Yields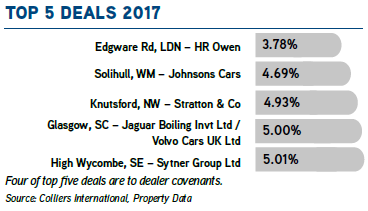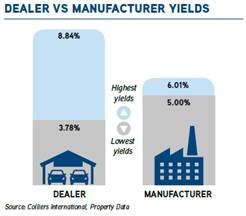 Mark Charlton, Head of UK Research & Forecasting at Colliers International comments: "The 2016 figure was not only the fifth consecutive year of growth but it was also a record high due to a wide choice of new car models and affordable finance deals available. There was a slight decrease in 2017, which has been accelerated by the recent legislation to ban the sale of all new petrol and diesel vehicles. This has caused confusion in the marketplace around the impact of conventional diesel and petrol combustion engines, which has driven down buyer confidence, despite these changes not actually taking full effect until 2040."
Mark Charlton, adds: "While you might expect the manufacturer covenant to generate a lower yield, 4 out of 5 of the top deals are for sites with strong dealership covenants, with the keenest yield (3.78%) being for a prime London location. Having said that, the yield spread for dealer transactions is much wider than for manufacturers, reflecting the potential differential in financial strength."
Editor's Recommended Articles