The UK Government will permanently transfer all NHS patient data to a database tomorrow (23 June), which can then be sold to third parties – today is the last chance for people to opt-out
As the health and care sector continues to experience "burnout" as a "widespread reality", the UK Government moves forward on plans to transfer NHS patient data to a large, centralised database.
NHS users can opt-out of sharing their personal data, here.
According to reporting by PA Media, the new database will contain information on people's treatments, referrals and appointments over the past 10 years. It will also share any data contained in GP documents on their patients, from ethnicity to mental health status to any drug problems.
The NHS website suggests that this pool of data will be used to "improve health and care", or research to fight "serious illnesses". The data will also be sold to third parties in the private sector, a key use of personal information which is not explained in the list via NHS Digital.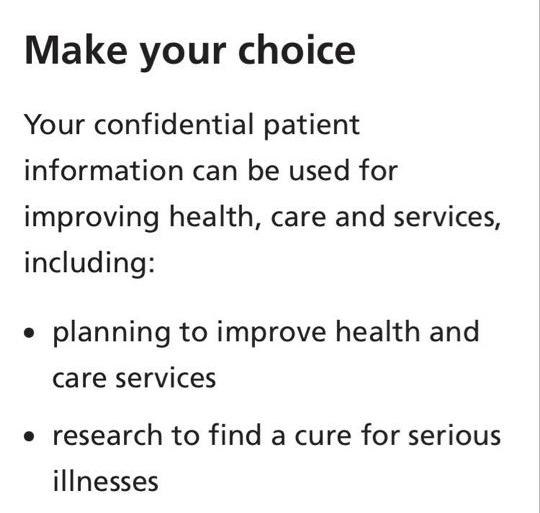 'Members of the public totally unaware', says BMA
The Government has not publicised this ongoing transfer, also known as the NHS data-grab. British Medical Assocation (BMA) GP committee executive team member Dr Farah Jameel said: "People need to fully understand what this programme means and crucially, how to opt-out of their data being shared, if this is what they want to do."
The UK Government proposed this plan eight years ago, at which point campaigners and activists highlighted the cybersecurity and human rights risks of compiling personal data in a singular database for third party use.
Dr Jameel further explained: "Many members of the public will be totally unaware this programme is happening and will not have had chance to voice concerns about transparency, confidentiality, commercial interests, the security of the data and its intended use. A scheme of this magnitude needs weeks of public engagement, which should not be left to GPs to undertake, so the Government needs to pause the programme and start engaging with patients."
The Ferret reported that the Scottish version of the NHS data grab claims to be able to generate £138 million in business revenue.
Editor's Recommended Articles