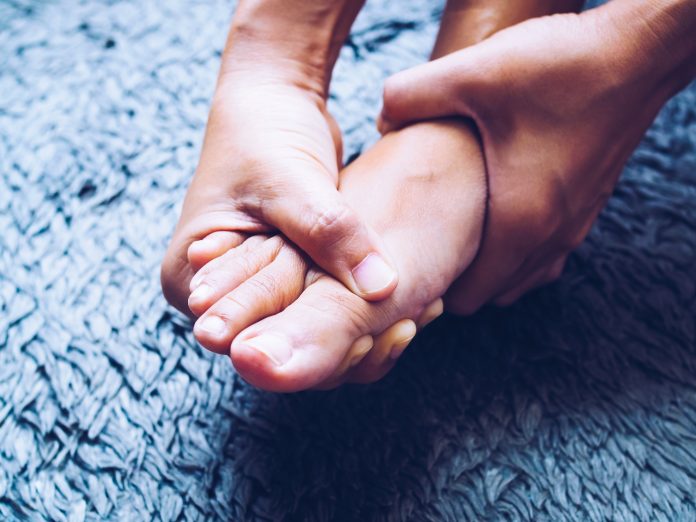 Novel smart insole solution helps people with diabetes ensure foot health, by preventing peripheral neuropathy ulcers and falls
Diabetes Mellitus is a pandemic affecting over 537 million people worldwide, and 60 million Europeans, 30 million of whom have sensation loss in their feet, called peripheral neuropathy. Peripheral neuropathy and the lack of sensation it causes can create blisters or a wear down of tissue to the bone before a person becomes aware.
This leads to ulcers, which result in amputation 25% of the time, causing a bleak outlook: More than half of those who undergo major amputation will die within 5 years and their survival rate is lower than the 5-year survival rate of patients with all cancers.
Managing diabetes-related foot disease
The costs of ulcers and diabetes-related foot disease (DFD) is also high, with the cost of amputation ranging from $13,842 in 2001 to $83,728 during 2005-2009. DFD results in greater expenditure than major diseases, including cancer, lung disease, and depression. It is clear that new methods for managing DFD are desperately needed.
It is common sense that prevention is better than cure. For all parties involved: the healthcare system, the patient and other stakeholders including family members. However, shockingly, Eurostat reported in 2021 that preventive healthcare spending in the EU on average is only 2.8% of total health expenditure.
The spending on diabetes and its complications as a percentage of the total healthcare budget varies somewhat in different European countries, from 4.7% in France to 7% in Denmark to 9% in the UK and a whopping 15% in the Czech Republic.
DFD can happen to anyone. In fact, many people with diabetes are not fully aware of exactly how severe DFD can become. "Not in my wildest dreams had I imagined that a blister could develop like that", was what Lars Christian Lilleholt, former Danish Minister of Energy, Utilities and Climate, told me when I met him earlier this year. He was diagnosed with diabetes type-2 in 2010, and became minister in 2015, under the Danish government headed by Lars Løkke Rasmussen. Despite being incredibly busy, he made a point to set aside training times in his diary in order to manage his diabetes.
An experience of peripheral neuropathy and diabetes
Lars Christian has had peripheral neuropathy as a result of diabetes for about 5 years. He discovered this when visiting a foot specialist, as his sensation was gone entirely.
Peripheral neuropathy affects up to half of those living with diabetes and causes an up to 20 times higher risk of losing balance and falling, due to not being able to feel the feet and consequently not being able to feel the ground when walking.
When Covid-19 swept across Europe, Lars Christian faced metabolic health challenges that saw him spend several months going in and out of hospital. By August 2021, he is invited to a fancy breakfast event in the Danish city of Odense, which is Lars Christian's constituency.
As he gets back from the breakfast meeting, and takes off his black patent shoes, a spot on the floor turns red. Lars Christian goes to the doctor, who places bandages around the foot, and asks him to come back on a weekly basis for review.
By September, suddenly Lars Christian feels poor and unable to do anything, due to the toe having gotten infected, despite having been bound, and Lars Christian having been on antibiotics.
Lars Christian is hospitalized and a nurse tells him "No blood, no foot" as the doctors try to improve blood flow to the leg, without complete success. As a result, Lars Christian lost his big toe on 3rd October 2021.
A period of four months is spent in recovery following the amputation, but Lars Christian is fortunate to have a desk job, which "makes it possible for me to have returned to work" as he says.
At the moment he has to wear offloading shoes to best protect his feet. He goes to a wound nurse 3 times every week, a podiatrist once a month and the hospital once a month. Unfortunately, another toe has gotten infected by now, despite Lars Christian receiving antibiotics.
"My worst fear is more amputations. I have realized how serious the condition is. I cannot feel if I get a small cut on my feet. Then, even a small stone could become fatal."
At Walk With Path, we care deeply about reducing the risks of diabetes ulcers and falls, through the provision of data-driven insights and active, therapeutic wearables.
With an ulcer history, Lars Christian will remain at high risk of recurrent ulcers. Most ulcers occur on the bottom of the feet and are often driven by pressure changes, which the user cannot feel themselves.
Path Feel, insoles developed by Walk With Path detect pressure patterns under the feet and provide alerts if something looks not right. It further detects temperature changes, as this is seen as a biomarker for an inflammatory response in the feet, meaning that there could be an infection. This allows for earlier screening and possible prevention of the ulcer from occurring or progressing.
Lars Christian is not for one moment unsure that prevention is the answer. He has the ability to visit the foot specialist as often as he likes, and he is using his public profile to create greater awareness of diabetes and its complications. "No one is aware of how serious it can get. More visibility and information is necessary." His mission is to put greater pressure on the politicians to place prevention high on the political agenda.
The treatment, research and prevention of diabetes
Clinicians at the Steno Diabetes Center Copenhagen are dedicated to the treatment, research and prevention of diabetes and its complications. Walk With Path works with Podiatrist Anne Rasmussen, who is the daily team leader of the Foot Clinic at Steno Diabetes Center Copenhagen (SDCC) and Frederik Persson, Chief Physician and Senior Researcher at SDCC.
"Prevention of foot ulcers amongst people with diabetes is essential. Foot ulcers are an economic burden for societies, the healthcare system and for persons with diabetes. It is extremely important that we create an increased interest in, and prioritization of the prevention of foot ulcers. That way we will save money for the healthcare system, and the people living with diabetes will be spared significant human and economic costs.
At SDCC, we are focused on improving treatment of foot complications, via optimized prevention and handling. Our principle is to see individuals with ulcers immediately in order to avoid unnecessary aggravation. We hope to see more digital solutions in this area in the future, something that is often overlooked."
For more information about Path Feel, please visit www.walkwithpath.com.
Please Note: This is a Commercial Profile

This work is licensed under a
Creative Commons Attribution-NonCommercial-NoDerivatives 4.0 International License
.
Editor's Recommended Articles