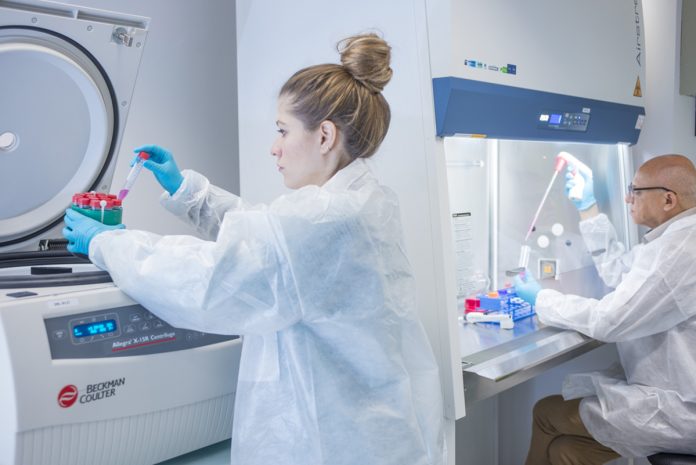 Andrew Mackie, VP Business Development tells us how Imcyse, a Belgian immunotherapy expert, seeks a curative approach to severe autoimmune diseases
Imcyse, a clinical-stage biopharmaceutical company developing a new class of active and specific immunotherapies, has made a name for itself in the Belgian and European pharmaceutical landscape with its ImotopeTM platform aiming to develop potentially curative treatments for severe autoimmune disorders. In order to leverage the potential of the ImotopeTM technology world-wide, Imcyse now turns its eye to expanding its international market position with particular interests in the U.S. With this strategic focus, the evolving Biotech sets out to establish itself as a leader in immunotherapeutics.
ImotopesTM: A next-generation potentially curative approach to severe autoimmune diseases
Even today severe autoimmune diseases are typically considered incurable and are very often treated with drugs that have a general immunosuppressive effect or simply treat the symptoms. Due to the chronic nature of these diseases, their long-term treatment will often call for increased dosages and an increased number of concomitant medications with unwanted side effects experienced by the patient. This new approach, ImotopesTM are tailor-made for specific diseases and have an immediate and long-term effect on the immune system through generating cytolytic T cells and memory cells. Therefore, this technology offers a great potential to improve patients' quality of life, possibly leading to a cure for these chronic autoimmune diseases and reducing international healthcare costs.
Autoimmune diseases result from faulty activity of the immune system, that attacks the body's own tissue. Key players of this harmful process are antigen-presenting cells (APC) and pathogenic T cells. These cells will mistakenly label a body's own protein as dangerous, this mark will then encourage the production of pathogenic T cells, which in turn attack cells expressing the "dangerous" protein, damaging the tissue and inducing inflammation. The Imcyse ImotopeTM technology platform is the next generation of therapeutic biologic medicines for the treatment of autoimmune diseases. ImotopesTM – modified peptides – induce cytolytic T cells that specifically eliminate autoantigen-presenting cells without affecting other functions of the immune system.
It all began with the idea of redeploying a special type of T cell called a cytolytic CD4+ T cell, or cCD4's usually employed by the body to defend itself against viral infections. The Company discovered that these cells, when re-focused could break the chain of events that lead to severe autoimmune disease.
ImotopesTM are designed to mimic disease-specific epitopes present in autoantigens and therefore trick APCs. Once on the surface of the APCs, the ImotopesTM will bind to T cells and re-program them into cytolytic T cells to target the malfunctioning APCs and eliminate the pathogenic pathway.
Innovative technology aiming for five clinical programs by 2024 supported by strong collaborators and first pharma partner
Supported by dedicated shareholders such as, LSP6, Biogenosis, Noshaq, Epimede, SRIW, SFPI and Pfizer, local support from the Walloon region of Belgium by DGO6 and Europe FP7 with non-dilutive funding and the backing of a network of research collaborators from many academic institutions in early-stage programs, Imcyse has developed a robust pipeline. The Company expects by 2024 to have five ongoing clinical programs in Type 1 diabetes (T1D), Rheumatoid Arthritis (RA), Multiple Sclerosis (MS), Neuromyelitis Optica Spectrum Disorder (NMOSD) and Celiac disease.
With an initial focus on T1D Imcyse's lead candidate, IMCY-0098, having successfully completed its first study, is now in Phase 2 clinical testing for recent-onset T1D patients. The treatment of T1D with IMCY-0098 aims to intervene early in the autoimmune response to stop the destruction of beta-cells and to restore the pancreas' ability to naturally produce insulin. Top-line data is expected in the second half of 2023.
After a successful exploratory research collaboration with Pfizer for the treatment of RA, Imcyse and Pfizer have now signed a licensing agreement to develop existing clinical candidates and further optimize new candidate molecules. Pfizer will then lead the clinical development and commercialization activities for the program.
Imcyse is also developing an ImotopeTM to treat MS, when the body's immune system attacks the central nervous system, causing the reduction or elimination of nerve transmission. The ImotopeTM based on myelin oligodendrocyte glycoprotein (MOG) autoantigen has already demonstrated efficacy in two EAE preclinical models. A Clinical Trial Application (CTA) is anticipated to be submitted this year.
In the rare disease indication of NMOSD, a central nervous system disorder dominated by inflammation of the optic nerve and spinal cord, Imcyse aims to develop a therapeutic vaccination treatment to block the autoimmune destruction process and halt further disease progression. A CTA for a Phase 1 clinical trial will be filed in 2022.
ImotopesTM can be useful in other conditions beyond autoimmune diseases. Celiac, for example, is known as an intolerance to wheat which can significantly restrict what patients can eat. The more severe form of the disease comes with significant effects which have a substantial impact on the patient's quality of life and overall health. Imcyse is developing an ImotopeTM to block this effect so that patients can hopefully eat normally without any unwanted side effects.
Stepping up as an international leader in the field of active specific immunotherapeutics
Beyond Imcyse's current programs, the Company's platform is adaptable and ImotopesTM can be modified to be useful in a variety of diseases such as allergy and biotherapeutics associated immunogenicity. With this potential to address indications outside of autoimmune diseases, Imcyse will consider partnerships in a number of therapeutic areas as well as other orphan indications.
Equipping the Company for this further growth and pipeline expansion, Imcyse will move into its very own purpose-built premises in the near future. This new location, also in Liège, ensures technology access space and customized labs to support scientific and clinical advancement. Imcyse now counts with 30 employees and is expected to expand in line with its increase of ongoing clinical programs.
Dual path to strategic U.S. market expansion supported by highly experienced Imcyse team
With a range of programs from major to rare indications, Imcyse has devised a diverse development and commercialization strategy. As the Company expands, it aims to progress assets in niche indications all the way to market itself. For major indications, an appropriate partner may be sought amongst big pharma who have the necessary reach to make certain the assets are available to patients worldwide.
As an illustration of this strategy, the Company recently signed its first pharma partnership with Pfizer in the field of RA. Under the terms of the agreement, Imcyse received an up-front payment and is eligible to receive up to $180 million in milestones as well as tiered royalty payments. In addition, Pfizer took up an equity stake in Imcyse which was executed in a recent Series B extension round that raised a total of €21 million in February.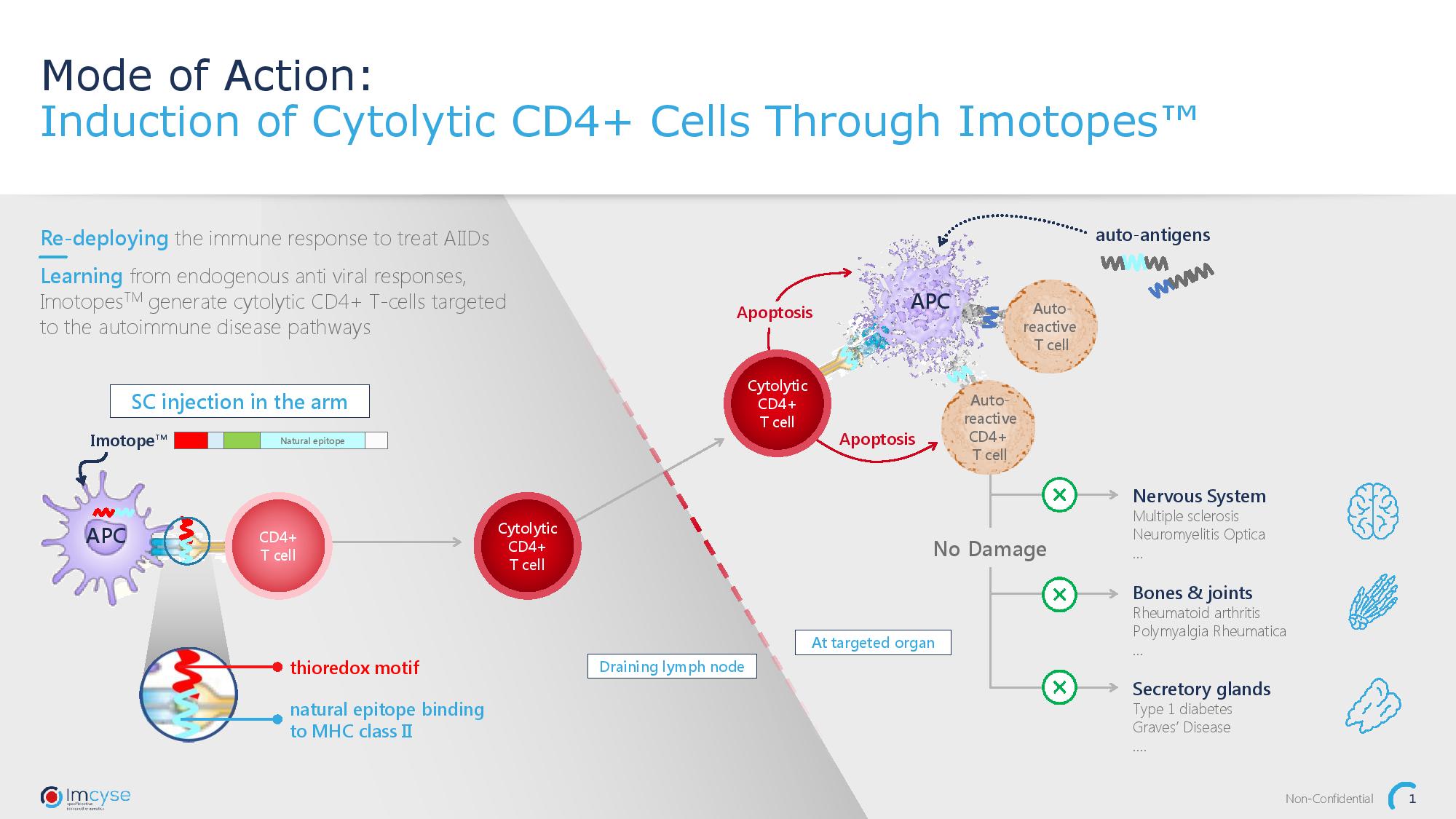 Building on the success of its first pharma partnership and looking towards future expansion plans, Imcyse sees great potential for support in the U.S. Seeking to capture the advantages of the largest healthcare market in the world the Company is working towards identifying new partnerships and investors from their western counterpart. In a first step, Imcyse will turn its gaze across the Atlantic to secure a new investor for a further extension of this year's financing round, which it plans to secure and additional €10-15 million. This, in addition to the initial €35 million raised in the Series B financing (including regional grants) in September 2019 and the €21 raised in the extension this February, will see all clinical programs fully funded until 2023. Looking to the near future, Imcyse seeks to establish itself in the U.S. life sciences landscape with a potential NASDAQ listing in the coming years.
The Company's ambition to make a significant impact on patient's lives is overseen by Imcyse's CEO, Denis Bedoret, who joined the Company in September 2020 bringing with him profound expertise in growing life sciences companies. With the momentum of a successful financing, progression of its lead candidate into Phase 2 development and its first big pharma partnership, Denis is now overseeing the formation of a new Scientific Advisory Board made up of experts covering the Company's areas of scientific and medical focus. The ensemble will ensure that Imcyse not only has the financial ability but the scientific guidance necessary to see the Company step into its role as a leader in the field of active specific immunotherapeutics.
All this adds up to a rather bright future for the progressing Belgian biotech and its potentially curative treatments for immunological disorders with high unmet medical needs and value creation for its shareholders.
*Please note: This is a commercial profile
Editor's Recommended Articles