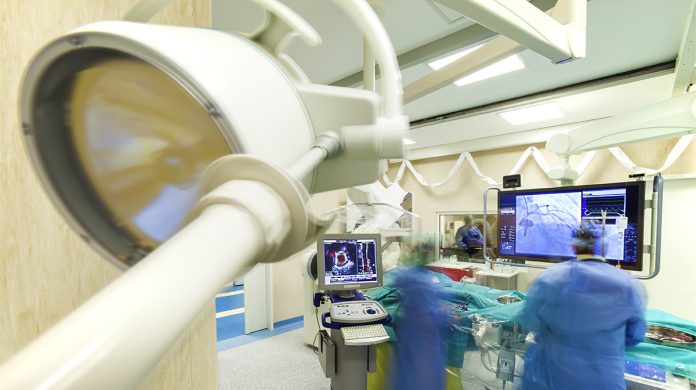 Ingo Aicher, managing director at Jones AV Ltd., promotes the easy-to-use online specialist medical monitors which will transform British hospitals
The launch of the new online shop has established a new and easy to use resource for medical practitioners and the NHS to simplify the purchase of medical monitors and specialist hardware.
The devices on offer include surgical displays for use in operating theatres, clinical review monitors for use in MDT meetings or doctors' surgeries and high-end radiology monitors for diagnostic purposes.
As any medical technical engineer, radiologist, surgeon, or purchase specialist knows, getting your hands on one of these devices has traditionally been marred by a string of hurdles to purchase.
Medical specialist devices in the time of the internet
Whilst in 2022 most things can be easily obtained on major web portals, the increased usage of online purchasing during the pandemic has still not touched the world of medical specialist devices. It continues to be elusive to the ease of one-click shopping or price comparison.
Anyone having been involved in the purchase of such devices knows how hard it is to find a specialist dealer, enquire about stock and pricing, obtain quotations, raise purchase orders and then finally having to deal with long lead times when you need a device urgently.
Traditionally the pricing on these devices is a well-protected industry secret, as to allow each of the sellers to make up their pricing as they go along. This makes price comparison difficult prior to the lengthy purchase.
Offering buyers and the NHS a transparent one-stop-shop
The shop features prominent and trusted manufacturers such as BARCO, LG, and Advantech and brings some newcomers to the UK market.
High quality diagnostic and clinical review monitors designed for healthcare professionals ranging from 21″ to 31.5″ and up to 12MP resolution.
Check out Barco's extensive line-up of high-precision medical monitors brings accuracy and efficiency to a broad range of healthcare disciplines. Confident diagnoses while guaranteeing perfect image quality over time, and across displays.
Our portfolio of surgical displays is designed for real-time imaging in the operating room. It comprises near-patient and large-screen displays for use in any environment where surgical procedures are carried out, including the endoscopy room, interventional suite, or hybrid OR. Available in high definition or 4K ultra-high definition, and in 2D or 3D.
We also offer an array of inwall PACS consoles for theatres, which are optimized for cleaning and infection control. These displays offer Dicom grade image reproduction and can be equipped with specialist medical computers to easily access PACS images on the hospital network.
Bringing technology to the operating theatre
Jones AV are a leading supplier of cutting-edge medical systems integrations across Europe and the Middle East for the past 14 years.
We are trusted experts in bringing technology to the operating theatre, helping to improve clinical workflows and patient outcomes.
To make the purchasing even easier, we have an array of payment options, such as on account with Invoice, via NHS -SBS Framework, PayPal or credit card. We also have a range of leasing options that can help spread the cost of a device replacement program over a period of time.
This can help to make all the difference in upgrading existing equipment that is past its lifetime when needed most.
We are happy to assist in any requirements relating to operating theatres integration, we are specialists in individually tailored solutions to your needs and budget.
Let us help you evaluate upgrades to connectivity to auditoria and MDT rooms, or improvements to video conferencing and Telehealth applications to post covid data protection security.
Get advice on stand-alone or integrated solutions for Image and video archiving with integration to Dicom/ HL7 systems such as PACS archives and linking to digital patient files.
Or simply benefit from savings in the online store and sign up to our newsletter for regular promotions and product updates. Take advantage of some of the best pricing in the market.
Upgrading that old medical monitor can be more affordable than you think.
Pay by card or PayPal, Invoice or take advantage of our new leasing services and spread the cost easily at: www.surgicalmonitors.com
All our products and services are available now on the new NHS SBS framework Audio Visual Solutions and Integrated Operating Theatres Register to view the agreement and request access for free: https://www.sbs.nhs.uk/proc-framework-agreements-support
Framework reference: SBS/18/CR/WCN/9343
Find out more about Jones AV on www.jonesav.co.uk
Please note: This is a commercial profile
© 2019. This work is licensed under CC-BY-NC-ND.
Editor's Recommended Articles