Transforming transport for the NHS is a prime opportunity for the Government to lead the public sector charge towards a more sustainable future
Time is ticking ahead of 2030 when a UK ban on the sale of new petrol and diesel vehicles comes into force in the UK. Back in March, the Government published its electric vehicle (EV) infrastructure strategy and committed £1.6 billion in funding towards its target of 300,000 charging points by this deadline.
Policy Exchange states that 400,000 public charging points are needed to fulfil a full EV transition, although some estimates put the figure even higher. But switching to EV is more than just a numbers game – it requires an unprecedented shift in public attitudes, and enforcing that change requires leadership: someone to really show the way.
Transforming transport for the NHS with EV charging infrastructure
Last year Connected Kerb, one of the UK's leading providers of EV charging infrastructure, published a report, "How to meet the UK's charging needs ahead of 2030," a flagship piece of research that included a survey of 2000 people and interviews with industry experts. It was clear that EV users craved convenience the most, offering a series of recommendations to local authorities, charging operators, developers, and central government on what still needed to be done.
The report also included a big idea – installing long-lasting, sustainable, affordable electric vehicle charging infrastructure across thousands of NHS sites for staff.
The NHS is a golden opportunity for an ambitious EV infrastructure project. It has over one million employees and a large fleet of vehicles and operates nearly half a million parking spaces where chargers could be installed. It has a well-established company car/salary sacrifice scheme that could evolve to encourage EV uptake, while guaranteed workplace charging would de-risk transitioning to an EV.
It would also offer a serious subsidy to staff in reduced fuel bills. NHS employees come from various backgrounds across the country, so it could also help spread EV ownership around the UK.
It would also show government commitment to the transition at home and abroad. Having a reputable brand such as Connected Kerb pioneering the shift would only boost the reputation of electric vehicles. Such a project offers a chance to position the UK as an EV leader. A deployment of this scale would be the largest in the world and provide a blueprint for other projects. If it was awarded to UK businesses, it could help them scale to become dominant global players that could export around the globe.
Some forces could pressure the government into pursuing such a project, particularly as it faces significant pressure to meet strict sustainability targets. The current parking estate is already using its maximum capacity.
The power for chargers must not interrupt the main supply, and many NHS Trusts simply do not have the funding. Many worry about how revenue from car parks could be affected, while the lack of knowledge and conflicting stakeholder objectives is also a threat.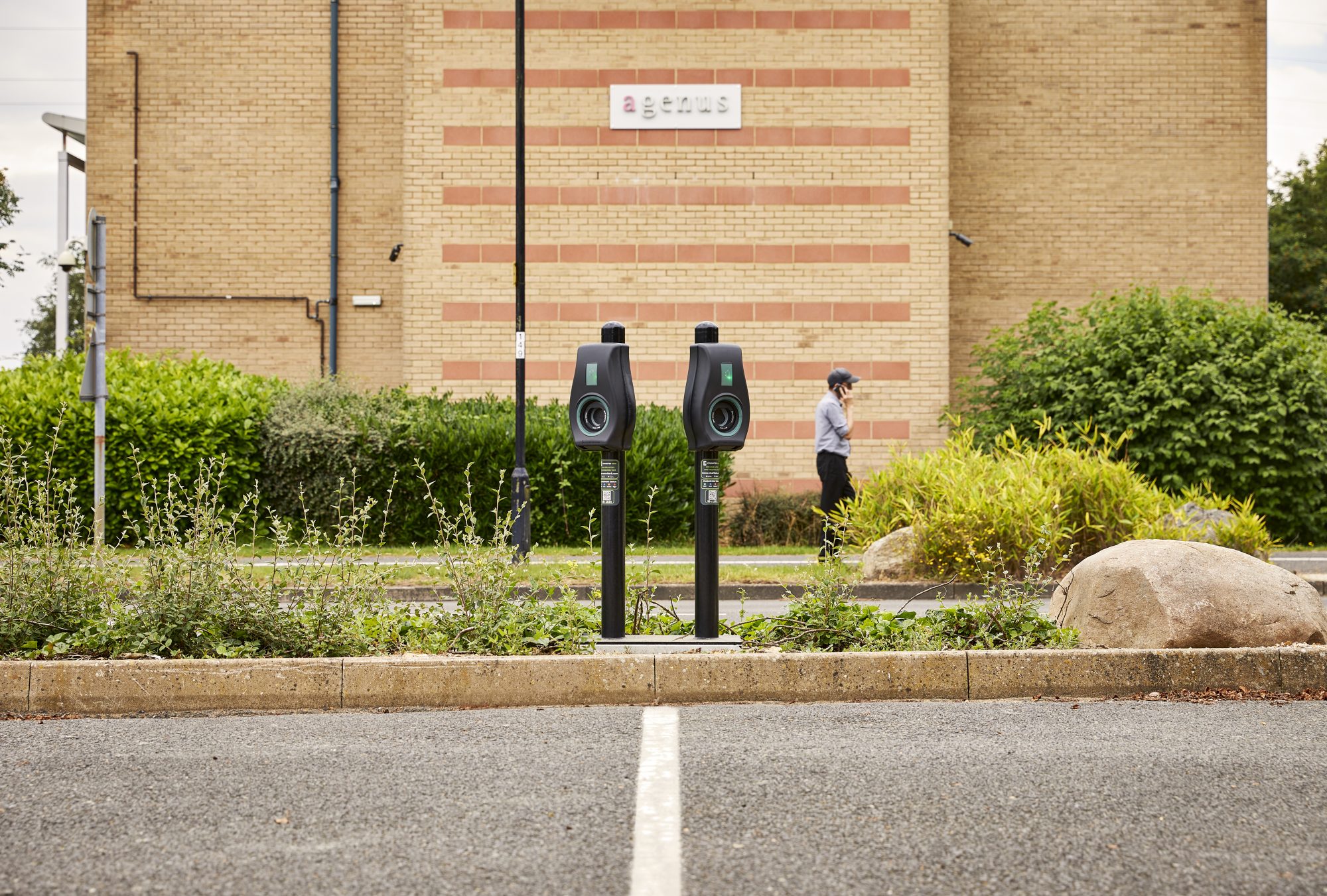 Relying solely on rapid charging is not the answer
The national debate on EVs has long focused on the cost of ownership and range anxiety, but the outlook on both fronts is improving. Another misconception revolves around the speed of charging, where rapids might be preferred to the uninitiated. But Connected Kerb is exploding this belief with a focus on long-dwell charging, deploying in locations where cars may be stationary for long periods of time.
NHS staff regularly park for several hours in car parks, providing an ideal opportunity to charge during that time. It is worth remembering that the faster the charge, the more energy capacity required and the higher the up-front cost. Although rapid chargers have their place, an over-reliance on them can impact battery life and durability.
The NHS operates around 436,900 parking spaces at NHS England hospital sites. Current data is not split, but historical data suggests around 200,000 are for staff and the rest for patients/visitors. Similar workplace charging schemes suggest drivers without home charging will charge their vehicles 2-3 times per week, and those with charging at home less often.
A reasonable guide would be to aim to deploy EV chargers in 25% of staff bays, though a full analysis of transport patterns and power availability would be needed at each site. One could assume a deployment of charging infrastructure in 50,000 bays over five years. Once delivered, NHS fleet services and company car schemes could be used to incentivise vehicle transition.
How can the transformation of transport for the NHS this scale be funded?
A privately funded option would see deployment funded by infrastructure investors who recover the costs by charging drivers. A long-term (15+ years) contract would allow tariffs to be lower than most alternatives. Costs could be increased (e.g. for visitors to generate NHS revenue) or reduced through subsidies (e.g. to incentivise staff) as required.
Secondly, through leasing, the NHS could pay an annualised cost for the charging infrastructure and operating costs to the lease provider. They then choose the tariff to be applied for charging and/or whether to subsidise.
A third option could see government funding cover capital investment with an option for full or partial cost recovery from user charging.
Connected Kerb's turnkey service
Connected Kerb, backed by a £110 million investment from Aviva Investors, is in a prime position to deliver such a project. Having worked with local authorities across the country, it is already building relationships with NHS Trusts that will form the bedrock of their sustainability aspirations.
The London-based firm provides a turnkey service that delivers on all aspects of site selection, installation, operation and maintenance. For example, they provide a desktop feasibility study by our in-house infrastructure planner as well as a 30-minute virtual site tour with an expert site assessor.
They provide an on-site feasibility assessment with a recommendation paper delivered by a project manager. An introduction to the firm's installation partners to discuss bespoke requirements on-site is complemented by a free-of-charge Automated Site Assessment programme for fleet initiatives.
NHS Trusts will be supported every step of the way with staff able to access EV Masterclasses and join staff awareness sessions on the benefits of charging. You can even join an education and engagement group to share your experiences and ask questions.
Please Note: This is a Commercial Profile

This work is licensed under a
Creative Commons Attribution-NonCommercial-NoDerivatives 4.0 International License
.
Editor's Recommended Articles