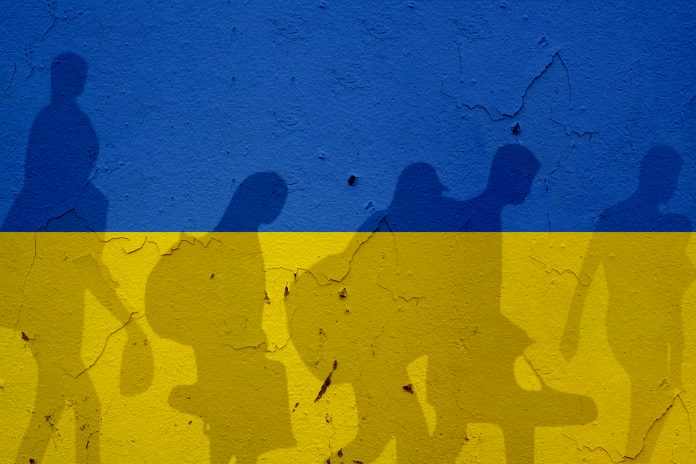 The UK announced an 'easing' of requirements for Ukrainians with passports, who can apply for asylum online – without in-person biometric details
At this moment, the Ukrainian refugee crisis continues to escalate. Russian violence is being indiscriminately carried out on hospitals, humanitarian corridors and nuclear reactors.
The UK has been met with much criticism, as an intensive visa application process has only admitted 1,000 Ukrainian refugees so far – an improvement over just 300 admitted last week.
Ukrainian refugees no longer need in-person appointments to apply
Changing the legislation to better support refugees fleeing the crisis, Ukrainians with passports will no longer need to attend in-person appointments to submit fingerprints or facial verification before they come to the UK. The UK continues to stick to a promise of accepting 200,000 refugees from Ukraine.
The new application process allows passport holders to apply online and be granted 6 months' leave to enter the UK outside of the rules, enabling them to work, study and claim benefits immediately.
Once asylum-seekers have submitted biometric data in the UK, they will have this leave extended to 36 months.
Home Secretary Priti Patel cites "national security" as reason for hesitancy
However, citing concerns for national security, the UK has retained its controls on entry to the country – unlike the European Union, which is allowing Ukrainians three-years of residency with no visa required.
"We must consider national security alongside our humanitarian instinct and desire to help as many people as possible in the shortest possible timeframe."
Home Secretary Priti Patel said: "The scheme was developed in close consultation with Ukrainian leaders and the diaspora community and we continue to work with them to make changes as necessary.
"That is why we are now making the process quicker and simpler by removing the need to physically visit Visa Application Centres for many of those who are making the perilous journey across Europe. This will mean we can welcome more families here more swiftly.
"We must consider national security alongside our humanitarian instinct and desire to help as many people as possible in the shortest possible timeframe."
Refugees from Ukraine can apply remotely, will be told when to travel
The UK's current total emergency and aid support for Ukraine is now at £400 million, and over 1,000 troops are on standby to help those forced to flee.
The UK has also imposed sanctions on 386 more members of Russia's parliament.
So far, over 1.5 million refugees have fled to Poland, but about 40% of these refugees are thought to have already left for other countries. Within Ukraine, transgender people with outdated passports remain stuck in a warzone.
Zi Faámelu, a 31-year-old trans woman from Kyiv speaking to Vice, said: "Like hundreds of trans people in Ukraine, I am a woman, but I have 'male' in my passport and on all my ID, so this is a war within a war. Ukrainian trans people were already fighting for their lives."
"There are hundreds of us stuck like this, living miserable lives. We need some influence from abroad. We need people to write to their politicians and charities to help us."
According to the current rules, sponsors must be one of the following things:
Spouse or civil partner
Unmarried partner (such as situations where people are cohabited in a relationship for two years)
Parent, if the applicant is under 18
Child under 18
Adult relative who lives with the applicant to whom the applicant provides care because of their medical condition
These new rules however, only apply to Ukrainians with passports and not those with ID Cards. This decision is to be kept under review, in line with security advice which may be subject to changes – as seen in the last few weeks.
Editor's Recommended Articles