The Agile Business Consortium is calling for the inclusion of agility and agile skills in the education of everyone from primary school children, to working professionals
We believe not just in the value of agile thinking, but its necessity for the challenges that the future will bring our businesses and societies. However, agile skills are not currently taught in our schools or workplace training as a standard practice.
The Agile Business Consortium is certain that soon:
Individuals will need agile skills to compete in the job market;
Organisations will require agile-minded employees to compete in the world of business;
Educational institutions and teachers will be obliged to focus on teaching agile skills and mindsets to prepare our young people for life and work in a constantly shifting world.
The employment landscape is changing
The concept of a job for life is already a thing of the past. This is partly because individual roles are evolving, requiring different skills, and sometimes disappearing completely.
The whole employment environment is changing, due primarily to three key factors:
The changing nature of work(1) – as distributed teams and asynchronous working become commonplace, contracting is on the rise, and there is an increased need for specialist experts.
Faster technological change(2) – technical education in schools is likely to become obsolete by the time the students of that subject enter the workforce, and today's technical professionals must be continually learning to keep up.
Disrupted industries(3) – including communications (particularly due to the mainstreaming of Artificial intelligence (AI) technologies), finance (with crypto-currencies being just one instance), and manufacturing (which is ever-more reliant on robotics), as well as many other examples.
With this massive and ongoing adjustment in employment, individuals need new skills in order to keep up.
Future skills requirements
In 2018, The World Economic Forum looked at the top ten skills for jobs in that year and compared them with those that would be required by 2022.
The 2022 skills include a large proportion of specifically agile skills:
Analytical thinking and innovation
Active learning and learning strategies
Creativity, originality and initiative
Technology design and programming
Critical thinking and analysis
Complex problem solving
Leadership and social influence
Emotional intelligence
Reasoning, problem solving and ideation
Systems analysis and ideation
These are all skills that we need to see in almost all our employed talent – including those already in the workforce. However, that's not going to happen by itself, which is why educators and education policy makers are such an important part of this conversation.
The three factors influencing the employment landscape today (changing nature of work; disrupted industries; faster technological change), require these new agile skills. Skills like complex problem solving, creativity and innovation are what enable the changes that we are seeing, and are also the skills that will allow employees to succeed in that changed landscape. Those who do not gain at least some of these skills will fall by the wayside.
A global issue
There is no geographic limitation on the need for Generation Agile. America Succeeds stated in their Age of Agility report that 'without profound and rapid changes to how we educate our children, this nation faces the real possibility of falling behind countries with more nimble and innovative education systems'.

Chinese billionaire entrepreneur, Jack Ma of Alibaba, who is also an ex-teacher, emphasised the importance of skills-based education over knowledge-based education at the 2018 Davos summit, also adding that 'if we do not change the way we teach, 30 years from now we will be in trouble'.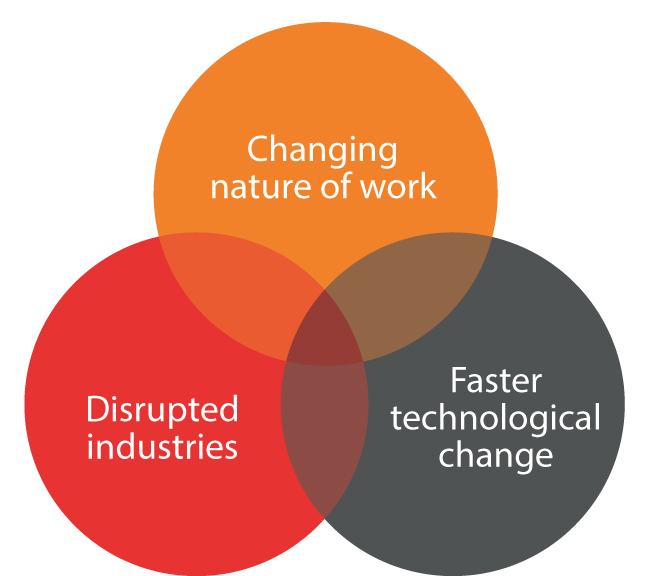 In the foreword to 'Thriving in the New Work Order', Jan Owen, CEO of the Foundation for Young Australian's states: "By 2030, Australia's current primary school students will be close to finishing their school education and our high schoolers will be entering the workforce. To prepare them we must urgently invest in immersive, enterprise education and careers management strategies where the new 'work smart' skills are core to teaching, learning and assessment across all school and higher education systems". These studies and comments are reinforced by similar insights from all over the world.
No time to waste
We must start now in order to benefit young people currently in secondary or further/higher education, as change will not happen overnight and many of them will be entering the workplace within the next three to five years.
We need to take an agile approach and make changes incrementally and embed them quickly. This will allow the rapid trialling of new practices, and for their benefits to be seen and shared straight away.
What do we collectively need to do to create Generation Agile?
Firstly, we must build awareness of the need for Generation Agile amongst business leaders, politicians, educators and education policy makers, parents, teachers, today's employees and young people.
We also need research into how to create Generation Agile, answering questions such as:
What skills should be taught?
When should we teach them?
How should they be taught?
How does that fit into our school curricula?
How should they be taught through workplace learning?
Then we can start changing the way that we, as a society, deliver education, through supporting educators, working with curriculum planners to discover future needs, and ensuring that those needs are acted upon quickly and effectively.
You can help
Become a supporter of Generation Agile by joining the register of friends and sharing the supporters badge. Sign up at: agilebusiness.org/generationagile
To share an example of agility in education get in touch by email: genagile@agilebusiness.org
Stay up to date by joining the Generation Agile mailing list at agilebusiness.org/generationagile and follow us on Twitter at @Agile_Biz and #GenerationAgile
References
1 The World Bank, World Development Report 2019 – The Changing Nature of Work (http://www.worldbank.org/en/publication/wdr2019)
2 Ray Kurzweil, The Singularity is Near (2006).
3 Carla Millar, Martin Lockett and Ted Ladd (2018), Disruption: technology, innovation and society, In: Disruptive Technology and Innovation in Society, a Special Issue of Technological Forecasting and Social Change an international journal 129: 254-260.
Please note: This is a commercial profile
Tamsin Fox-Davies
Head of Brand
Agile Business Consortium
Tel: +44 (0)1233 228 882
Editor's Recommended Articles