Professor Heather Sheardown, leader of Innovation Hub C20/20, discusses their research, innovation, and development of new biomaterials-based technologies to treat a variety of disorders in the eye
Of the senses, a loss of sight has been cited as having the most devastating consequences, leading to a myriad of complications including increased falls, earlier admission to long-term care facilities, and on average earlier death. Vision disorders are becoming an increasing problem globally with the ageing of the population and other factors. McMaster University in Hamilton Ontario Canada is home to C20/20, a hub of ophthalmic biomaterials and drug delivery innovation that is focused on creating novel materials based treatments for a variety of ophthalmic conditions. C20/20 is funded by the Ontario Research Fund, an Ontario Government initiative focused on both excellence in academic research and translation of that research to industry and its commercialisation. Led by Dr Heather Sheardown, a Tier 1 Canada Research Chair in Ophthalmic Biomaterials, C20/20 co-investigators at McMaster include Dr Todd Hoare, a chemical engineer with expertise in smart materials, and Dr Judith West-Mays, who brings expertise in animal models. At the University of Waterloo, optometrist Dr Lyndon Jones brings a breadth of experience in contact lens materials and industry needs, and Dr Frank Gu focuses on nanocarriers. The team is supported clinically by Dr Varun Chaudhary, a retina specialist and Dr David Wong, a vitreoretinal surgeon as well as a strong Board of Directors with industry experience and commercialisation expertise. In the lab, the team includes a talented group of senior researchers with expertise in biomaterials chemistry and drug delivery formulation as well as in vitro and in vivo testing.
Mucoadhesive micelle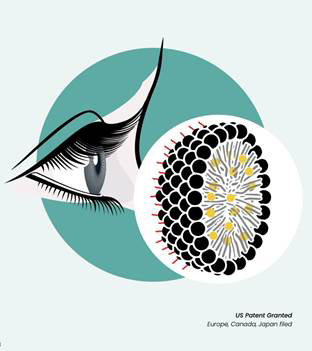 Research in the C20/20 Innovation Hub is focused on the development and pre-clinical validation of a number of biomaterials-based technologies. The lead technology is a mucoadhesive micelle which has been shown to bind to the mucin layer of the cornea and remain on the eye for up to seven days. This patented system has been formulated with a number of ophthalmic drugs, with cyclosporine A as the lead compound for the treatment of dry eye disease. In an experimental dry eye disease model, dosing with the micelle formulation once every four days has given similar clinical results as twice per day dosing with Restasis®, the commercially available dry eye treatment. The team has also examined other drugs, including latanoprost. A single latanoprost dose with the micelle formulation has been shown to decrease the intraocular pressure in animals for up to 7 days. The technology has been spun out into a company, 20/20 OptimEyes, which is currently in the process of raising series A funding to perform clinical validation.
POEGMA
A second technology, a poly (oligoethylene glycol methacrylate) (POEGMA) based system, which is injectable, in situ gelable, and degradable is under development for posterior segment applications such as wet age-related macular degeneration and diabetic retinopathy. The patented polymer system has been shown to be capable of protein delivery for prolonged periods. Delivery of Avastin from this system has been shown to decrease the size and severity of laser-induced lesions in a similar fashion to monthly anti-VEGF injections. The POEGMA system has also been shown to be safe in vivo. Ongoing work has focused on assessing drug pharmacokinetics when released from the gels into the back of the eye.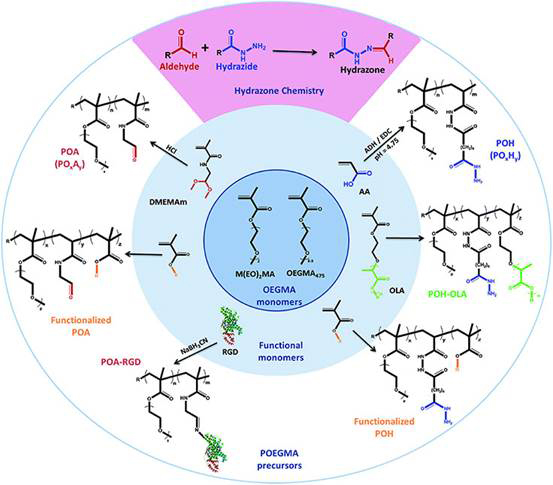 The C20/20 team has also examined a series of technologies focused on the incorporation and release of wetting agents such as hyaluronic acid from contact lenses. The presence of the hyaluronic acid has been shown to increase lens water content, improve lens surface wettability and decrease fouling. The systems have the potential to increase comfort in lenses as well as work in wound healing applications.
OcuBlink
A second spin-out company from C20/20, OcuBlink, a University of Waterloo initiative, has developed a platform for testing the release of drugs on the surface of the eye that better mimics eye conditions. The company has been working with industry to validate its platform. The company is also developing models to allow for the training of optometrists.
North America
In addition to the research work, the C20/20 team has performed a variety of fee for service and co-development work with companies from all across North America. With access to state-of-the-art infrastructure for chemical synthesis and characterisation, the C20/20 team has collaborated with companies to create new drug delivery vehicles for various molecules in development. Preclinical validation of various materials in mice, rats and rabbits is also a specialty of the group, through access to a variety of ocular imaging techniques. The team is well connected to industry and has worked with a number of partners including Ripple Therapeutics in Canada and Eyegate Pharmaceuticals in the United States to validate their novel drug delivery platforms. The team has developed in vivo models for testing these systems to validate safety, tolerability, and efficacy.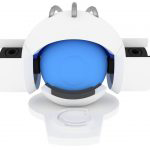 This group of innovators will continue to develop new biomaterials for treating a variety of disorders in the eye and would be keen to partner with companies interested in the development and testing of new systems.
Please note: This is a commercial profile
Editor's Recommended Articles