More than one million staff are to receive the NHS pay rise of at least £1,400 – with the lowest earners getting up to 9.3% in England
The NHS pay rise is to give staff a 71p per hour pay rise, despite the cost-of-living crisis affecting the UK which has taken inflation to 9.4%.
Those receiving this pay rise include eligible dentists and doctors, who will receive a 4.5% NHS pay rise, and junior doctors who agreed to a four-year deal in 2019 and will get just over 2% this year.
Finally, the lowest earners of NHS staff like porters and cleaners will gain a 9.3% increase in their basic pay.
In the NHS, the government informed staff that there would be a flat £1,400 pay rise for hospital nurses, paramedics, midwives, and porters, which is, on average, around a 4% pay increase.
There would be an average 4.5% increase for doctors and dentists and a 3.5% rise for senior NHS managers.
However, this coincides with a continued drastic rise in the inflation rate, driven by petrol and food prices which are soaring nationally. It is estimated that food price inflation is now at its highest level since March 2009 – and the Bank of England predicts that inflation could reach more than 11% later this year.
"If there is to be a dispute in the NHS, ministers will have no one to blame but themselves."
Why is this a troubling situation for workers and strikers?
Essentially, there are usually traditional fixed percentage rises which are given to NHS staff as a single figure which varies massively in percentage term.
However, due to inflation rising above 9% this year, and living costs being at an all-time high, the pay award is actually yet another real-terms pay cut for NHS workers. The average experienced frontline nurse is already £6,000 a year worse off now than they would have been in 2010.
Worker's unions have warned the government that many staff would rather quit than accept a real-term pay cut, impairing recruitment and retention problems in key areas such as teaching, nursing and social care – which will undoubtedly add to NHS waiting times, particularly for operations and ambulance call outs.
Public sector unions have since suggested the prospect of widespread strikes in schools and hospitals after being told millions of their workers are to receive below-inflation pay rises – adding to the many other groups planning strikes including Royal Mail workers, bus staff, rail workers, and more.
"It will push more nurses and nursing support workers out of the profession."
Unions have been pressing for pay to reflect living costs, with inflation running at an all-time high of 9.4% in July of 2022. Health unions angrily denounced the NHS pay rises as a "betrayal" and "a kick in the teeth", and warned stoppages could be on the horizon.
Pat Cullen, the general secretary of the Royal College of Nursing, predicted a departure of nurses from the NHS who do not feel they are supported enough. She said: "This is a grave misstep by ministers … they have enforced another real-terms pay cut on nursing staff. It will push more nurses and nursing support workers out of the profession."
Christina McAnea, general secretary of the union Unison, said the government had made a "big mistake" with a pay deal for NHS workers that "fails on every front".
She added: "Fed-up staff might well now decide to take the matter into their own hands. If there is to be a dispute in the NHS, ministers will have no one to blame but themselves."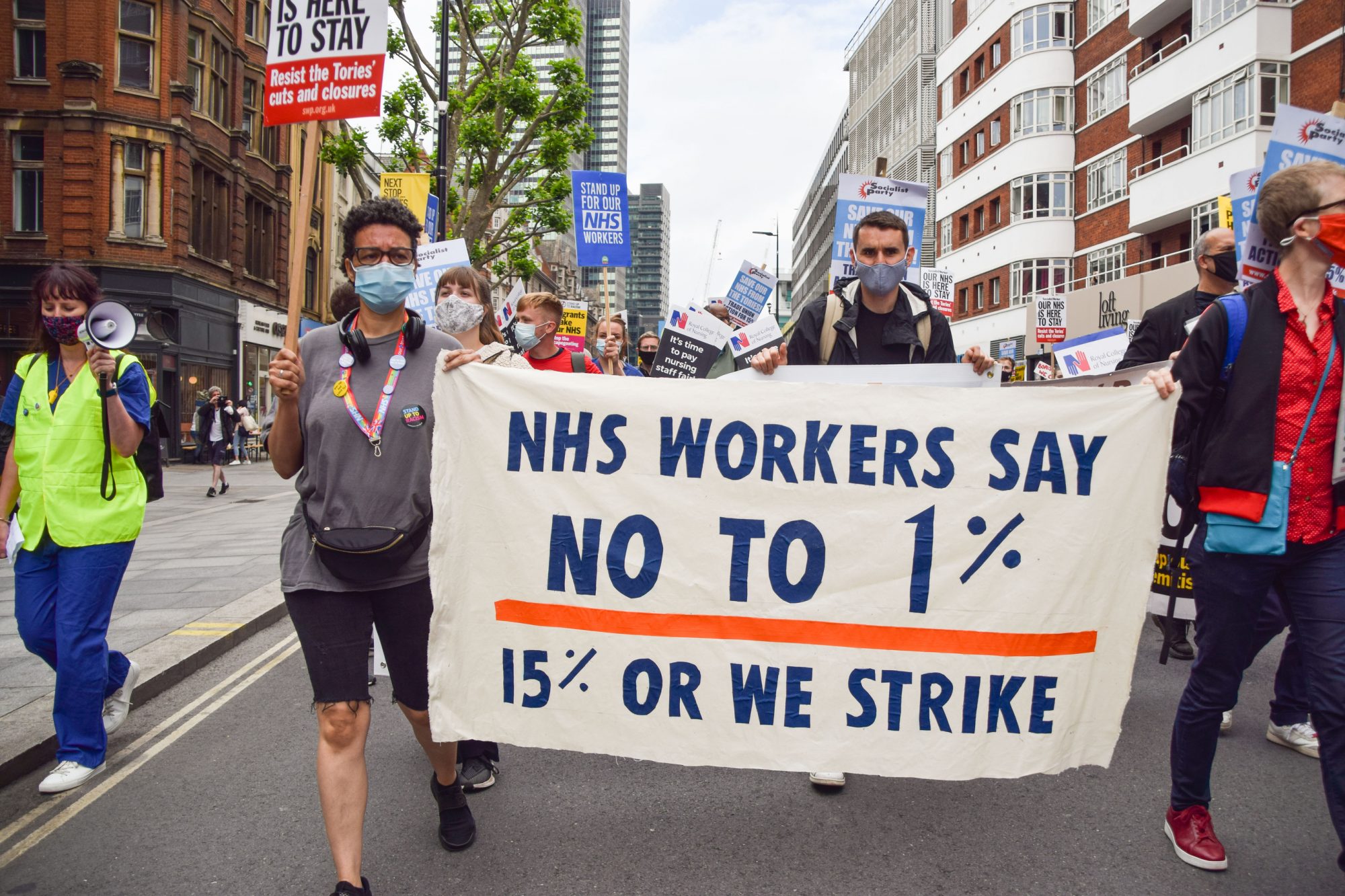 Who else is receiving a pay rise?
Prime minister Boris Johnson's cabinet on Tuesday signed off wage increases covering 2.5 million public sector workers of about 5% on average. Consumer price inflation is running at a 40-year high of more than 9%.
The government said it had accepted the recommendations of NHS, police and teacher pay review bodies in full.
Police in England and Wales are also to receive a £1,900 salary uplift, which is the equivalent to a 5% overall pay award.
While NHS staff are receiving a rise of at least 4.5%, teachers are also receiving this rise by at least 5% – these pay increases will be between 5% and 8.9%, with an additional 3.75% for members of the armed forces across the UK.
Editor's Recommended Articles