Research and development in Denmark is moving forward with investment into new technological options, environmental and climate research
Socialdemokratiet, Dansk Folkeparti, Radikale Venstre, Socialistisk Folkeparti, Alternativet and Enhedslisten reached agreement on the allocation of DKK 1.394 billion for research and development in 2019.
The research reserve is DKK 958 million, which originated from the proceeds of the reform agreement for early retirement benefits and flex jobs. The Budget proposal for 2019 additionally allocated DKK 436 million for the continuation of existing research initiatives and the implementation of new ones. As a result, this agreement will see the distribution of almost DKK 400 million more than last year.
Parliamentary parties are allocating DKK 390 million for research in Innovation Fund Denmark. The funds will be distributed to research within new technological options, green growth and better health. These are areas where research can help solve societal challenges, and where public-private research collaboration can contribute to development and growth in the market.
Furthermore, the parties are earmarking DKK 343 million to development and demonstration programmes in the environmental, food and energy areas.
A total of DKK 262 million will be allocated to Independent Research Fund Denmark to support independent research and original ideas.
There will also be DKK 180 million allocated to establishing a number of special and outstanding research centres – Pioneer Centres. A further DKK 63 million will be allocated to new basic funding for Copenhagen Business School (CBS) and the IT University of Copenhagen.
Distribution of the research reserve in 2019 is as follows: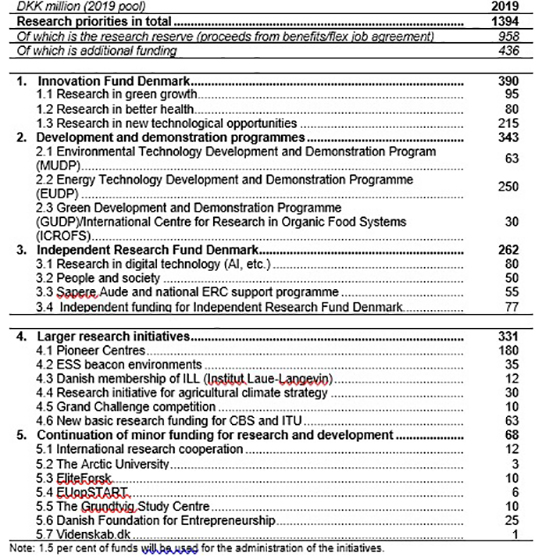 Mette Reissmann, Socialdemokratiet said: "Socialdemokratiet has a clear goal to make Denmark a giant within the green area again. There is, therefore, a need for new green technology. Allocating funding to research in green technology has been crucial to Socialdemokratiet, and we have succeeded.
"Likewise, it is important that we prioritise technical research so our companies can constantly develop their production with smarter technological solutions and use the latest research knowledge. That's how we will help companies in Denmark to create growth and jobs across the country.
"Finally, it has been important to us in Socialdemokratiet to focus on a better, early intervention for children and young people in childcare and education, And that we ensure we have more knowledge on how to prevent degeneration so that more Danes can enjoy their valuable later years in good health."
Sofie Carsten Nielsen, Radikale Venstre commented: "I am really pleased that we ensured higher prioritisation for independent research. Independent research feeds into so much more excellent research, and it needs to have a higher priority.
"I am also pleased that we have allocated money to research into early interventions for children, green growth, organic food, energy, climate and the environment. And finally, it is good news that we finally ensured focus on including all research talents, and making sure there is a better gender balance in research."
Jacob Mark, SF: "We are allocating money so that in the future we can research into how we provide children with the best start in life. We in SF, are convinced that investing in children is the best investment a society can make, so we are pleased with this agreement.
"Moreover, it has been important to SF to significantly boost green research. Denmark must be a green pioneer, and it is, therefore, important to carry out research in climate, energy, the environment and organic food so that we can speed up the green transition."
Jens Henrik Thulesen Dahl, Dansk Folkeparti said: "Dansk Folkeparti is pleased that, with this agreement, we take a vital step forward in utilising the dominant position Denmark has today within the world of robotics and drones. This is thanks to the national strategy to be implemented for the development of robot technology, including the application of drones."
Merete Scheelsbeck, Det Konservative Folkeparti, responded: "We in Det Konservative Folkeparti are pleased that a good quarter of the research reserve will be used on new energy technology. It creates jobs, green export, and helps us with the green transformation. It is also important that DKK 80 million will be used for "Better Health". We must not stop research into important areas like cancer, psychiatry and chronic conditions."
Rosa Lund, Enhedslisten, commented: "We are really pleased that the agreement will ensure research into societal profits through increased tax control. In these times, it is crucial to increase focus on tax control. Additionally, we are pleased that we have successfully secured funding for independent research."
Carolina Magdalena Maier, Alternativet, responded: "In Alternativet, we are very pleased that we have ensured good terms for independent research again this year. It is vital for us and for Denmark's future, that independent research is strengthened as it is this very research, where no one knows the outcome, which can lead to the most surprising results. We are also very satisfied that ICROFS has been considered, as there have been some groundbreaking research in sustainable agriculture, which is a crucial prerequisite for the future of Danish agriculture."
Read the agreement for the research reserve 2019: https://ufm.dk/lovstof/politiske-aftaler/endelig-aftale.pdf 
Editor's Recommended Articles