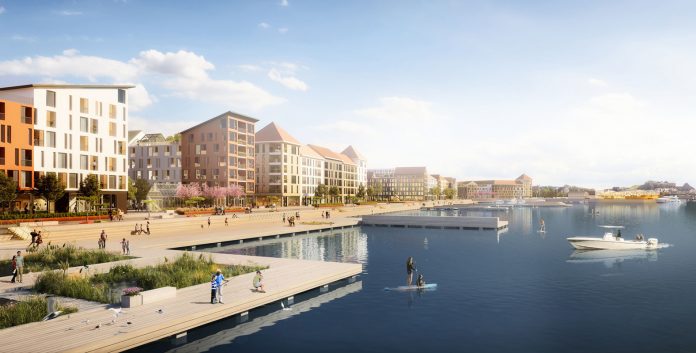 Creativity, innovation and a strong focus on social and cultural aspects of sustainability are at the very heart of developing the Municipality of Varberg to take position as the Swedish West Coast's Creative Hot Spot
In our vision for the future, the municipality has unique opportunities. The city of Varberg is one of the most attractive cities in Sweden, ideally located with the historic city centre right next to the coastline. Our location is exceptional – right in between two of Sweden's fastest-growing regions, The Greater Gothenburg region and the Greater Copenhagen region.
The Swedish Government makes great investments in the west coast railway to increase the capacity for commuting and to connect cities and regions along the way. In Varberg, this means our section of the railway will be in a tunnel under the city centre. To make the most of this we will move parts of our harbor and have begun planning for a new waterfront area that connects the city centre with the coastline, as the industrial barriers are removed.
It is important for us that it is possible to lead a good life within the entire municipality and not only in the city of Varberg. Although most of the development for housing is focused on the city, we have methods to involve residents living in our more rural communities too. We strive to engage people in the decisions that have the greatest effect on their everyday life. Through dialogue and local action plans, we work together to see where public and commercial service, infrastructure and housing will come to best use.
It is also a way for our citizens to meet with local politicians and decision-makers and share their thoughts about how the municipality can be made even more attractive. This is becoming ever more important as decision-making is moving farther and farther away from the people. A sustainable society needs to be based on people empowerment and the foundations of democracy. New forms of meetings are important for reinventing the community.
In Varberg, we wish to involve people in the creative process. Our aim is clear and as such, we are acting on it. We are building a community converging around means of public transportation and a sustainable lifestyle. That we have momentum shows in the many awards we get.
The Municipality of Varberg has been appointed Sweden's Most Livable in the category of smaller communities for four years in a row now. Our thriving city centre was recently the winner in Sweden's City Centre of the Year award. And living in the wonderful coastal province of Halland, it is certainly very fitting that the yearly Varberg event Hallifornia was awarded Placebrander of the year. We are proud of these awards and all the people that have worked so hard to make them possible and regard them as appreciative of our chosen path towards the future.
Please note: this is a commercial profile
Come to Varberg. Share our vision.
Editor's Recommended Articles