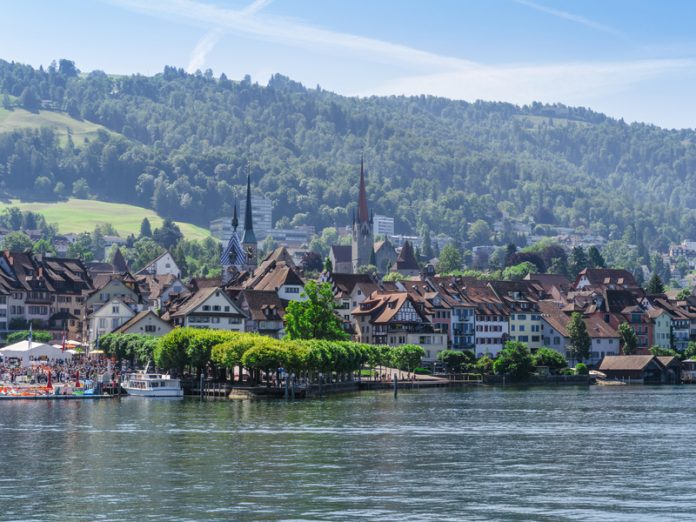 The Crypto Valley Association's Tom Lyons argues that along with its competitive advantages, decentralised culture and democratic tradition have made Switzerland an epicentre of the blockchain revolution
Few places in the world are more idyllic than the Swiss city of Zug. Situated on a pristine alpine lake, snow-capped peaks in the distance, church towers hovering over cobblestone streets, it gives off an aura of stability and old-fashioned traditions. Yet these quaint airs can be deceiving. As an epicentre of blockchain, the revolutionary technology behind Bitcoin and other cryptocurrencies, Zug is cutting edge.
The Ethereum Foundation, which oversees the technology behind ether – the second-most popular cryptocurrency after Bitcoin – was established in a ground floor conference room 5 minutes' walk from the Zug train station. Zug is home to early innovators like the cryptocurrency exchange Bitcoin Suisse, which among other things runs Bitcoin ATMs in most Swiss cities and the Zug government itself, which caused a media stir when it became the first in the world to accept Bitcoin as payment for government services.
It was one of Ethereum's founders who, impressed by the blockchain scene he found in Zug 4 years ago, coined the term Crypto Valley. We now use that term to refer to the blockchain community in all of Switzerland and that community is burgeoning. Switzerland, for instance, has become one of the world's most favoured locations for blockchain fundraising through initial coin offerings (ICOs). It is also headquarters to many of the most important blockchain companies, with new start-ups seeming to arrive every day.
The innovation magnet – what's the draw?
The world's most competitive country 6 years running according to the WEF, Switzerland has always been a good place for technology or other high value-add enterprises.
It has excellent infrastructure, some of the best academic institutions in the world, a highly skilled and motivated workforce, as well as low corporate and individual taxes. It is also prized by businesses for its political stability, rule of law, strong, stable currency and deep pools of capital.
The Swiss regulator has been open and supportive of blockchain technology. To foster innovation, it introduced a Fintech "sandbox" that allows start-ups – including blockchain-based ones – to safely experiment with innovative products having to do with money. It has also taken a generally liberal approach to cryptocurrencies, ruling that not every token is a priori security and must be regulated.
Local governments have been supportive too. Along with accepting Bitcoin for government services, Zug recently implemented a blockchain-based digital ID system for residents. In the Swiss city of Chiasso, residents can pay local taxes in Bitcoin. You can buy Bitcoin at any of the Swiss national railways' more than 10,000 ticket machines.
All this has helped the Swiss blockchain ecosystem grow at a torrid pace. When we started the Crypto Valley Association (CVA) at the beginning of 2017 to help support the ecosystem here, we had 16 members. We ended the year with over 550.
The spirit of the thing
While Switzerland has much to offer blockchain as a technology, it is not the whole story. What makes Switzerland special for me and many others in the community is also its affinity with blockchain as an idea.
One way to understand blockchain is as a shared database that allows complete strangers, even antagonists, to come to an agreement on information – and record that information in a way that makes it both unalterable and accessible to all. That has far-ranging consequences.
The real revolution behind what The Economist called blockchain's "trust machine" is not cryptocurrencies, but decentralisation. Look closely at almost any blockchain project and you will likely find an effort to replace some top-down, centralised model with a bottom-up, flat, decentralised one. Thanks to the trust that blockchains make possible, we no longer need a central authority to keep the records and make the ultimate decisions. Now the community can do that on its own.
That makes blockchain profoundly democratic – which in turn makes it profoundly Swiss. With its federalised political structure, under which a great deal of decision-making is devolved to the local communities, and its system of direct democracy, in which citizens vote on almost everything, Switzerland may be the most decentralised healthy country in the world. With its deep respect for personal privacy and strong data protection laws, it is also one of the most respectful of individual rights.
These things appeal deeply to the idealists of blockchain, of which there are many. So, while Switzerland has much to offer blockchain on a practical level, you can argue that it's the spirit of the place that has made it such fertile ground for this revolution – and should continue to do so for a long time to come.
Tom Lyons
Chair, Communications Working Group
Crypto Valley Association
Tel: +41 79 247 1371
www.twitter.com/thecryptovalley
Editor's Recommended Articles