Keith Davies and Prof Dr Harald Braun of i5 Health & Analytics explain tackling the clinical backlog consequences of COVID-19
i5 Health & Analytics is one of nine UK data and analytics companies in the 'First 100' companies chosen by the Department of International Trade (DIT) as the best of British digital health talent. The First 100 were selected after a rigorous DIT process based on a range of criteria including how committed they were to export and international expansion, the global uniqueness of their innovation and how well they represent the UK journey and direction in digital health.
Intending to reinforce their offerings in the export market, i5 is focused on the immediate issues faced by healthcare organisations throughout the world in consequence of the COVID-19 pandemic. The necessary diversion of health resources and cancelling of elective surgery are creating enormous treatment backlogs. Nothing illustrates the situation better than the growing waiting lists for untreated Long Term Conditions (LTCs) – representing real threats to patient health and the proper functioning of hospital services in particular.
It is critical that, to manage this growing LTC crisis and enable preventative measures to reduce the likelihood of calls for secondary care services, there must be put in place:
Reliable methods of assessment and,
Accurate prediction of needs.
i5 is meeting the challenge by providing an Artificial Intelligence (AI) tool called i5 Diagnosis Stratification.
i5 DIAGNOSIS STRATIFICATION
i5 Diagnosis Stratification ("i5 DST"), a Class I Medical Device, is a Case Finding service that can identify, using medical histories, patients as yet undiagnosed with a Long Term Condition (LTC) as having an LTC now or very soon.

There are four principal use cases for i5 DST:
Population Health Management
i5 DST is a means of enabling Health Authorities to carry out targeted as opposed to mass screening. The effects are an improvement of patient care through early treatment and a reduction in costs for payers and providers.
Hospitals can address i5 DST to patient data to inform planning, for example, future lengths of stay, readmissions levels and bed days.
Aid to Initial Assessment and Triage
i5 DST can help with both diagnosis and triage on the arrival of a patient at a hospital, clinic or surgery.
Health Insurance Companies
i5 DST assessments can help inform decisions in respect of future trends in claim costs, frequency and seasonality, premiums, reserves and mix of products. Patients can also receive health promotion packages to prevent the early onset of LTCs.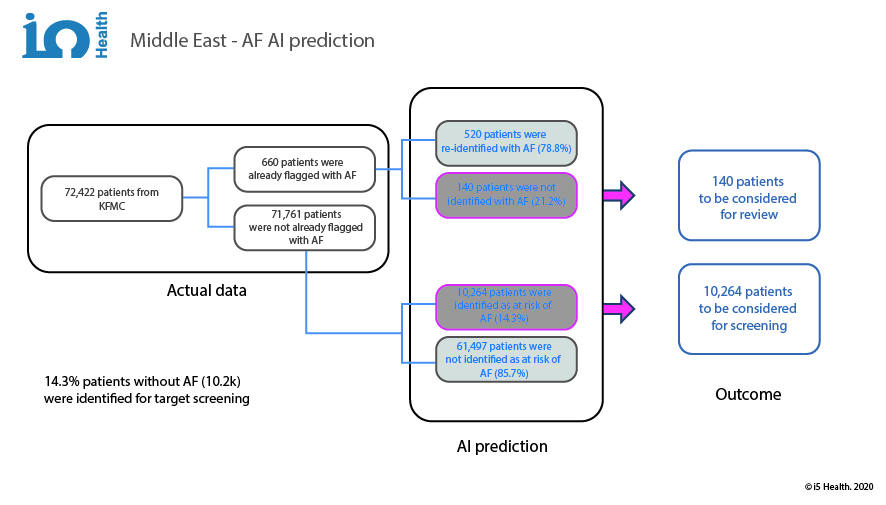 i5 DST AI-Web API
i5 AI – Web API accepts patient's medical history coded in ICD-10 and JSON format. This information is used by the i5 AI inference engine and analysed to provide a probability indicator of the patient having an undiagnosed condition or may develop the condition in the next 12-18 months. The examples used here are for the analysis of Atrial Fibrillation (AF).
i5 DST successes include:
Haringey, a London region with a population of over 270,000, had a worryingly lower recorded Atrial Fibrillation (AF) level (0.75%) than the national average (1.71%). The i5 DST algorithms were applied to three years of the region's pseudonymised patient secondary care data. Using list size comparison and advanced algorithms, 2,673 patients were identified as suitable for screening. Whereas the normal mass screening 'success' rate in respect of prospective stroke patients is 1.5%, the DST rate is 28% (an improvement of nearly 2,000%). It is estimated that, over the subsequent five years, associated healthcare costs (particularly those relating to strokes) running into millions of pounds might be avoided.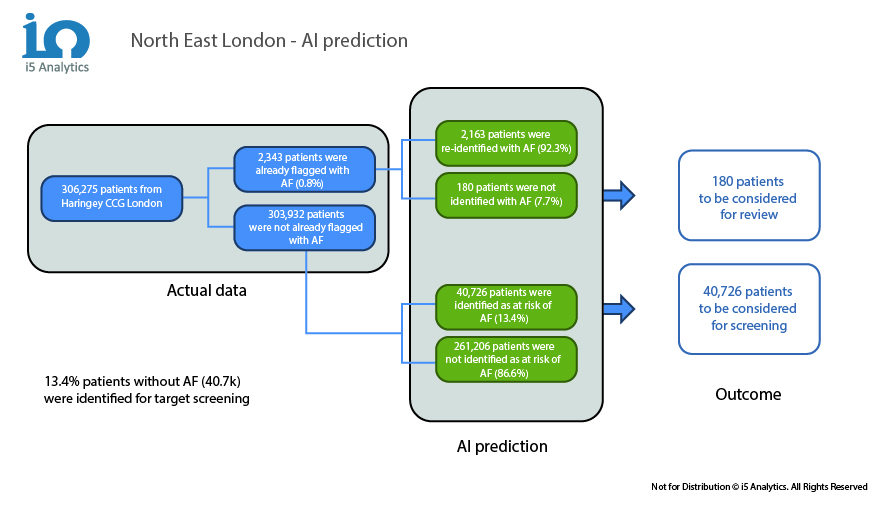 A similar exercise was carried out in the Kingdom of Saudi Arabia (KSA) using the medical records of patients of the King Fahad Medical City. Out of the 10,264 suitable for screening, 858 patients that fell into the 70%-100% bracket were invited in for the process. Of these, 59 (6.8% of the total) were diagnosed for the first time with AF; nine patients were immediately put on courses of anticoagulants to prevent strokes. The rest of those in the bracket were brought onto appropriate pathways to reduce their risks of contracting AF.
To access the service for a trial, go to:
 https://www.i5analytics.com/free-healthcare-a
Please note: This is a commercial profile
Editor's Recommended Articles