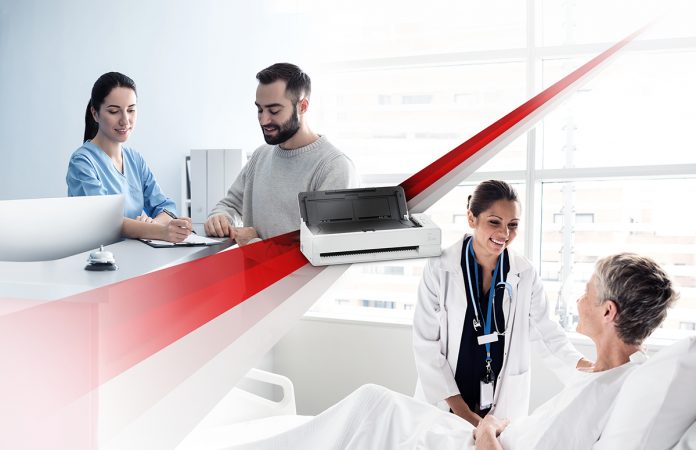 Robyn Boyd on behalf of PFU (EMEA) Limited – a Fujitsu company turns our thoughts to the extent to which technology is heavily relied upon in the public sector, focussing specifically on the role of Fujitsu scanners in this vein
Technology is heavily relied upon in the public sector: it is used to increase productivity and primarily used to reduce costs at a time when budgets are tightening. As technology advances, it is becoming more autonomous, allowing staff to focus on more complex tasks at hand.
New scanners to market feature uninterrupted operations, with Automatic Separation Control features. This reduces the need for manual roller adjustments, helping to eliminate rescans. The latest scanners are more and more intuitive with simple operations without compromising on function or ability.
Fujitsu in the NHS
The NHS is facing great challenges in providing a cost-effective service when healthcare budgets are tight. Information retrieval is crucial to delivering high-quality evidence-based healthcare. Patient files need to be accessible quickly and easily, to help nurses and doctors provide the treatments quickly, without waiting for data retrieval. Records management ensures the information needed is easily found and available at the touch of a button.
As Windows 7 reached its end of life, healthcare environments were left susceptible to viruses and malware attacks, as Windows no longer supports bug fixes or security patches. Fujitsu has been on hand to update the NHS and other healthcare environments with newer models with industry-leading features.
The UK Government are now offering support for modernisation in the NHS. Health Secretary, Matt Hancock, has recently announced a new digital aspirant programme, to encourage the whole of the NHS to make use of the latest technology. Matt commented:
"We're going to use digital technology to ease the burden on staff, give people the tools and information to manage their own healthcare, and make sure that patient data can be safely accessed wherever and whenever it's needed across the system." "It's quite simple: better tech means better health and social care.
Fujitsu in government
For over 40 years, Fujitsu has worked in close collaboration with the UK Government, their digital technology and service offering have the capabilities to empower government organisations. Already working with local government bodies, Fujitsu enables change in the public sector and help make a difference in people's lives. In a time where files need to be shared securely, this is not attainable with physical paper copies, whereas scanning allows documents to be password protected with a restricted view.
Fujitsu in education
Scanning documents is essential in every education environment, a reliable document scanner enables schools, colleges and universities to improve the efficiency of their internal process. Most education environments rely heavily on paper documents, storing these documents digitally saves time, reduces costs and creates space.
The ever-increasing digitisation of tablets and smartphones being incorporated into classrooms is further adopted with scanners, scanning directly to these devices.
Fujitsu has helped make a difference by empowering students to log-in and access their work at any time. Their innovative secondary education technology enables students to work from home at their own pace and frees teachers to focus on face to face interactive teaching. Fujitsu has decades of experience in developing and implementing affordable and effective technology.
Reasons why scanners are popular in the public sector
Create space
Fujitsu's fi-800R features 'return scan'. Return scan allows for users to enter and collect their documents from the same point, at the front of the scanner. Any document up to 5mm thick can be scanned using the return scan feature. This is perfect for places in the public sector, as space is often at a premium.
General Data Protection Regulation (GDPR) compliant
GDPR has increased the demand for security and control when it comes to data sharing and data held at a business. Fujitsu scanners monitor individual files and scan jobs, ensuring all sensitive data is safely digested, filed and stored. For sections of the public sector that share a lot of PDF files, document restrictions for password protection functionality prohibit unauthorised file opening.
Easily share files
As document scanners have reduced in cost, they can easily feature in any public sector environment, from front desks to crowded teachers and doctors' desks. These scanners connect directly to PCs, BYODs and cloud services, enabling direct data delivery to IT applications, streamlining collaboration between departments.
Retrieve documents easily
The average employee takes 37 minutes to find one paper file. When documents are stored digitally, they can be easily saved in relevant folders and easy to find.
Increase productivity
Not just from saving time retrieving data, productivity also increases as information can be scanned and stored digitally, then referenced later, removing the need for the original document. Time saved can be better spent on more empowering areas of the working day such as improving the curriculum, better patient care and improved customer interaction which all results in happier and retained staff.
Secure storage
Backing up documents digitally makes it that much easier to recover them in the event the original documents are lost, stolen or destroyed.
Why CAIH chose the Fujitsu fi-800R scanner to support 600 hospital sites
The Fujitsu fi-800R has been selected by French hospital supplier Centrale d'Achat de l'Informatique Hospitalière1 to support admission counters at 600 hospitals throughout France. Launched in October 2019, and with an innovative compact design for use in customer receptions, the fi-800R can quickly and easily scan multiple document types including passports, IDs and family booklets. The device will be used in hospitals to support admissions staff by digitising patient medical records and insurance forms without causing any damage to the documents or requiring staff to move away from the customer contact point.
In 2018, 12.8 million patients were hospitalised across France's 3,295 hospitals.2 In a sector where staff are regularly under pressure, equipment that allows staff to improve efficiency and better handle administrative tasks can make a big difference.
"With 1,000 devices deployed to date, the feedback has been overwhelmingly positive: the fi-800R is perfectly suited for use at hospital admission counters, typically limited on space" explains Julien Combier, Sector Buyer Bureau & Bureautique at CAIH. "The administrative agents using the device save precious time, and by reducing paperwork we have created a more fluid reception experience for patients."
The Fujitsu fi-800R is fast and easy to use, and also helps to secure personal and sensitive data. Fujitsu's PaperStream software automates much of the scanning process, and images are optimised by Paperstream IP, enabling fast extraction of information to enrich customer files. The automatic selection of profiles saves employees from having to sort documents and the high scanning speed of 40 ppm/80ipm helps to reduce time at the desk for both staff and patients.
More tasks, less space
The fi-800R is also the very first scanner of its kind that does not require a passport pouch to protect passports when scanning. The return mechanism allows for thick documents such as ID cards, passports (and their machine-readable zones), family booklets, and A4 documents, to be scanned easily. In addition, the device's small footprint means no patient has to part with their personal documents as everything can be digitalised in front of them, ensuring full compliance with GDPR regulation.
As it is half the size of many competitor solutions, the fi-800R is ideal for use at admission counters and other places where space is limited. The innovative return mechanism with automatic stacking technology ejects paper at the entrance of the scanner, meaning the device can be used in spaces half the size of a typical A4 sheet of paper.
Guillaume Villeneuve, Regional Sales Manager France, Benelux at PFU (EMEA) Limited commented: "With many hospitals looking to digitally transform, the fi-800R can play a key role in bridging the gap between paper and digital. Smoother admissions management and ease of use allow staff to focus on patient care and I am proud to see that the fi-800R is continuing to add value and meet CAIH's needs of reliability, speed and compactness. We are looking forward to seeing it deployed in at least 300 more hospitals."
Who are CAIH?
CAIH prepares and manages public contracts in the IT and telecoms field, for its members, public and private non-profit healthcare institutions.
Who is PFU (EMEA) Limited, a Fujitsu company?
Information is the lifeblood of business. By making it work harder, we create the knowledge that empowers organisations to do more. We achieve this by enabling data to move seamlessly between physical and digital environments, so information becomes more usable to more people.
PFU (EMEA) Limited is a specialist company within the Fujitsu family, that's dedicated to information management solutions. We offer advanced technology, intelligent software and consultancy services; that has made us the partner of choice for the world's most ambitious organisations. So whether its document management solutions, bringing galleries online, or small format keyboards for coders, we are committed to enabling the world's flow of knowledge.
Operating in Europe, the Middle East, and Africa, PFU (EMEA) Limited is responsible for marketing and sales of Fujitsu document scanners. The European company was established in the United Kingdom in 1981 and has offices in Germany, Italy and Spain and a Knowledge Suite in France and Russia.
For more information, please see: www.fujitsu.com/uk/about/local/corporate/subsidiaries/fel/
References
1 Non-profit association.
2 According to the latest figures from the technical agency for information on hospitalisation (France).
Please note: This is a commercial profile
Editor's Recommended Articles