With Boris Johnson having reluctantly resigned as Prime Minister, the question on everyone's lips is: Who will be the next Prime Minister?
In a dramatic turn of events, Boris Johnson was forced to resign as Prime Minister on Thursday. Johnson will act as caretaker Prime Minister until a new leader is appointed – but who is the current Tory favourite?
The Tory race to the top is on: and it's considered a wide-open, full-spectrum Conservative leadership election with candidates from all ideological standpoints vying for power. Encompassing one nation Tories and fiscal conservatives, Leavers and remainers, there is a real mix of candidates. We discuss the top five candidates in the leadership campaign.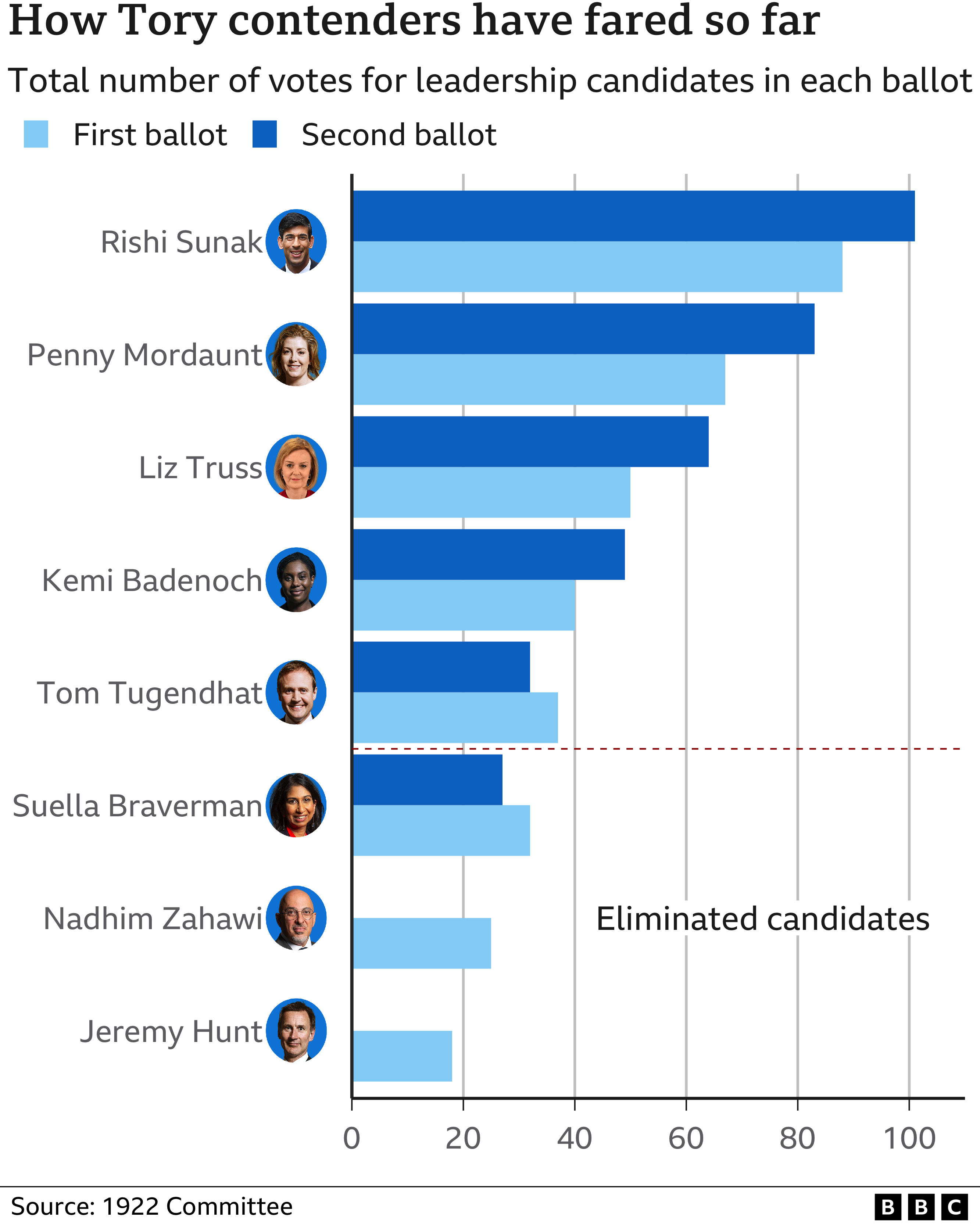 Rishi Sunak, former Chancellor of the Exchequer, is the favourite
https://twitter.com/RishiSunak/status/1545426650032111616?s=20&t=Jp8Rp0q3Rs4P9urDA8kHkA
According to statistics from the BBC, Sunak is the bookmaker's favourite. Defence Secretary Ben Wallace was the former favourite but he has now ruled himself out of the leadership campaign, leaving Sunak in the top position.
Former Chancellor of the Exchequer, Sunak was one of the first to quit the Cabinet. So far he is considered the most high-profile individual to announce his candidacy for Prime Minister. In fact, he and his wife Akshata Murty are among some of the richest people in the UK, worth an estimated £730 million.
It has been alleged that Sunak registered his campaign website in December and has long been planning to oust Johnson from No. 10.
Sunak is socially liberal. He is also prepared to raise taxes in face of an economic downturn. The multi-millionaire has launched his leadership bid with a focus on the economy and has ruled out tax cuts until public finances improve.
Last year he was criticised for cutting a £20-a-week increase to Universal Credit that had helped some of the poorest families through the pandemic. Research from the Joseph Rowntree Foundation reported that more than 200,000 would have been pushed into poverty as a result of the cut.
Sunak has faced controversy over his wife's tax affairs, being fined for breaching lockdown rules and the news that he had only recently given up his own American 'green card' visa – will this come back to bite him in the leadership campaign? Only time will tell, but it looks unlikely.
A quick way to gain a deeper understanding of where Sunak stands on the big issues is by looking at his voting history.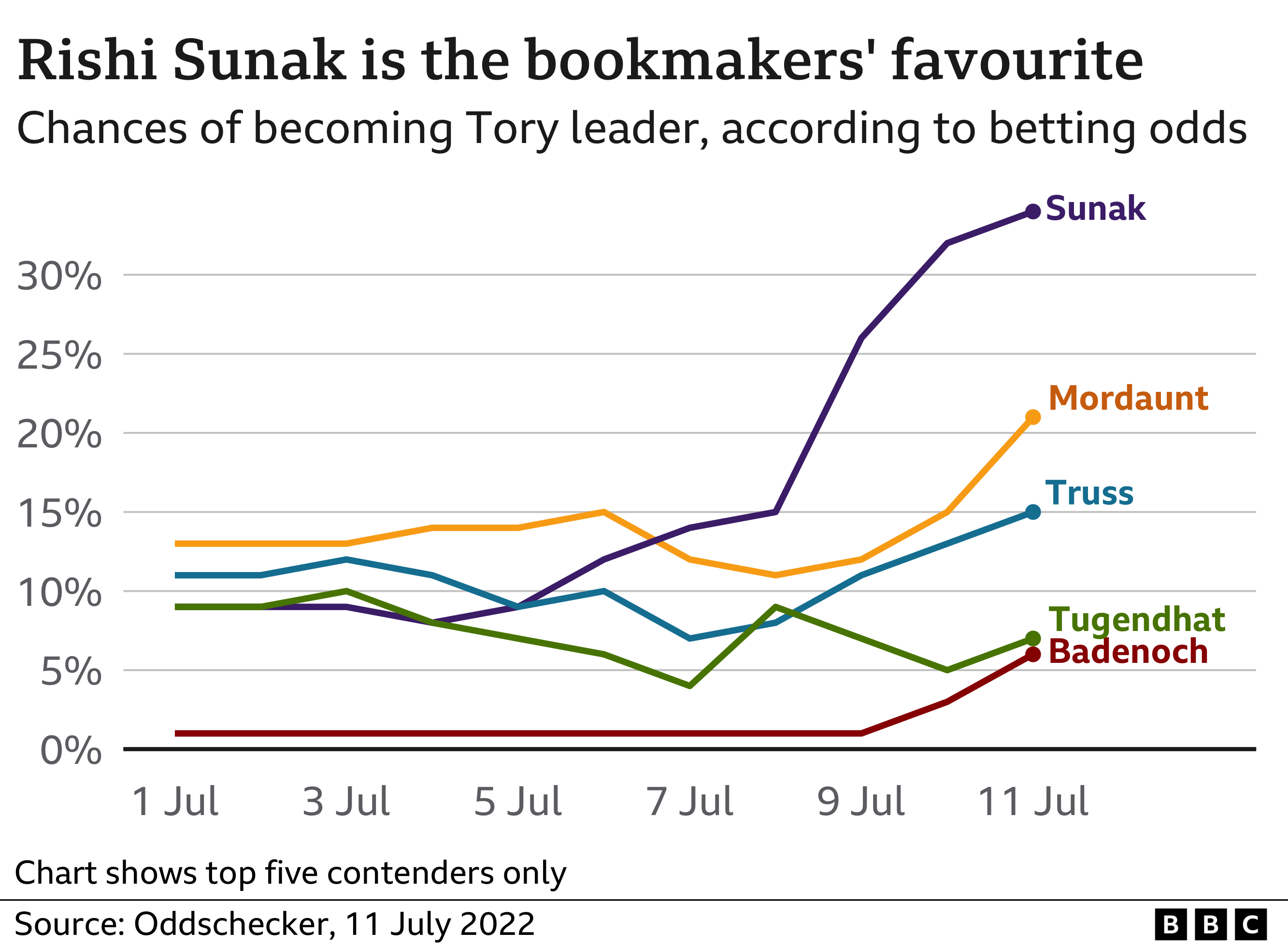 Penny Mordaunt comes in at second for the next Prime Minister
— Penny Mordaunt (@PennyMordaunt) July 11, 2022
Trade Minister Penny Mordaunt has strong pro-Brexit credentials and is considered charismatic and possesses good leadership qualities by her party.
Mordaunt made history by becoming the UK's first female Defence Secretary in 2019.
She has been described as the "dark horse" of the leadership campaign – and as a former magician's assistant, who knows what tricks she may have up her sleeves?
She has recently been criticised for tweeting: "I am biologically a woman. If I have a hysterectomy or mastectomy, I am still a woman. And I am legally a woman. Some people born male and who have been through the gender recognition process are also legally female. That DOES NOT mean they are biological women, like me."
Political commentator Owen Jones discussed her tweets: "Penny Mordaunt has gone from rightly comparing transphobia to the old anti-gay moral panic to throwing trans people under a bus to advance her career."
Here is a more comprehensive page showing Penny Mordaunt's voting decisions throughout her career. 
Keen Brexiteer and hard-line right-winger Liz Truss comes in at a third place
With comparisons drawn between Truss and Margaret Thatcher, Truss pledged to start cutting taxes from day one.
Once upon a time, Truss was a remain campaigner, but she has since enthusiastically embraced Britain leaving the EU. She has also adopted a very hard line on the Northern Ireland Protocol over the past few months.
Like many of the candidates fighting to be the next Prime Minister, she would be expected to call for a lower tax burden. She wants to reverse the National Insurance hike, reform business rates and reduce the size of the state.
Truss has also long been a champion of a right-wing version of individual freedom, hailing a generation of "Uber-riding, Airbnb-ing, Deliveroo-eating freedom fighters".
Former solider Tom Tugendhat is currently the fourth Tory favourite
Former soldier Tom Tugendhat fought in Iraq and Afghanistan and is considered something of an outsider. However, there has been talk for years of the former Territorial Army officer becoming a potential future Conservative leader – now is his opportunity.
Tugendhat spoke of the anger and grief felt by veterans when forces withdrew from Afghanistan last year.
Tugendhat has been critical of the Prime Minister throughout his period in office. He is outspoken on foreign policy matters and believes that the UK needs to take a much more aggressive stance on China.
He pledged to back the Northern Ireland Protocol Bill if elected leader. He has also promised to cut National Insurance and fuel duty and to start increasing investment outside of the southeast.
The former officer is considered to be a moderate, he values pragmatism over populism and was the first to launch a leadership bid saying: "It's time for renewal".
Want to know more about Tugendhat? Have a look at his voting record.
The Prime Minister is not a management position, it's a leadership position.

My entire career has been devoted to leading in combat and serving our country.

That's what leadership is about.

— Tom Tugendhat (@TomTugendhat) July 10, 2022
In fifth place is Kemi Badenoch: 'I want to set us free by telling people the truth'
The former software engineer is another Tory favourite, coming in at a fifth place. Badenoch was previously Equalities Minister before being made Minister for Levelling Up.
Badenoch wants to see slashes to taxes and low regulation. She has also criticised net zero emissions targets in her leadership bid.
She calls for a "nimble centre-right vision", "a strong but limited government", "lower taxes" and "tight spending discipline".
Badenoch wants to see free speech, free markets and free people.
Quite a controversial character, Badenoch demanded that schools should not teach white privilege as an uncontested fact, claiming that they were breaking the law. She said she did not want white children being taught about "their inherited racial guilt".
Badenoch has voted against laws to promote equality and human rights and has never voted on same-sex marriage and equal gay rights.
Rishi Sunak, Sajid Javid, Nadhim Zahawi, Suella Braverman and Kemi Badenoch are all clutching on to their immigrant family and stories as a bid to become PM. Whilst endorsing the Rwanda policy.

— Mukhtar (@I_amMukhtar) July 9, 2022
Editor's Recommended Articles