Go-slow protesters are targeting motorways in Wales, Essex and Devon, in a demonstration over high fuel costs
Serious disruption is expected as thousands take to the motorways to express their outrage over high fuel costs. Protesters are calling for a cut to fuel duty to force the price of petrol down.
The go-slow demonstrations follow yesterday's announcement that fuel had reached record highs of 191.4p per litre.
Where are the fuel protests happening?
Shortly after 07:00 BST, convoys of vehicles began slowly driving in two lanes of three-lane motorways in Wales, Essex and Devon – leaving the "fast" outside lane free.
Other areas have been targeted and include:
Currently, parts of the M4 have been brought to a standstill with convoys travelling towards the Prince of Wales Bridge, which crosses the River Severn between England and Wales, from both directions
Avon and Somerset Police reported that two slow-moving roadblocks in its area had potential to cause disruption. One was on the M4 westbound, travelling from junction 17 towards Wales, and another on the M5 northbound, due to travel from junction 24 towards Almondsbury Interchange later
In Lincolnshire, protesters were forced to remain on the M180 following a police block on junction one between the M180 and M18
Go-slow campaigners have also targeted the A64 in the York area, although a protest near Ferrybridge services in Yorkshire has cleared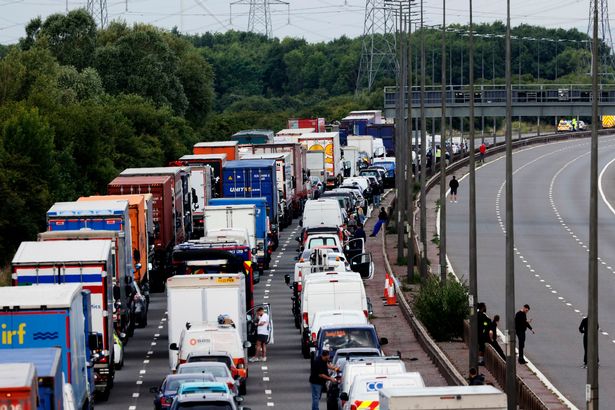 Yesterday fuel prices reach a record high of 191.4p per litre
The fuel protests are taking place only a day after the price of fuel reached a record high, coming in at 191.4p per litre.
It now costs £103 to fill a family car with petrol, and £106 for diesel, according to motoring group the RAC.
Many simply cannot afford to pay for fuel, and in light of the cost of living crisis, the rapidly increasing cost of fuel is an additional financial burden for many families and individuals who are already struggling with the rising costs of bills and food.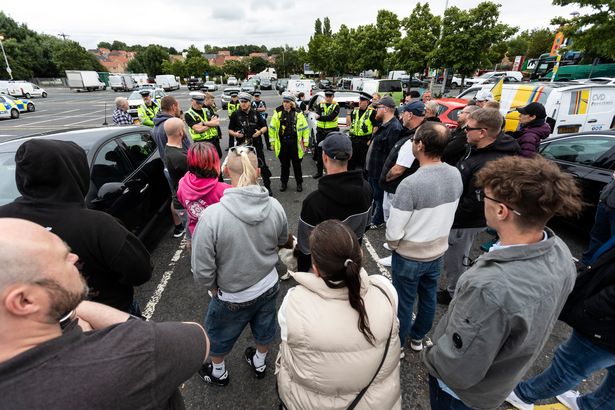 People are being forced to leave jobs because of the price of fuel
Some individuals have had to leave their jobs because of the soaring fuel costs.
One of those individuals is former HGV driver Vicky Stamper, 41, from Cwmbran, who claims that she and her partner have been forced to leave their jobs in Bristol because they can no longer afford to buy fuel.
"We had to leave those jobs because it was costing us £380 a week just to get to and from work. I then lost a job two weeks ago because the company couldn't afford to put fuel in that many lorries so, last in first out." Stamper said.
"It's actually getting to the point now where I'm contemplating leaving a full-time, steady job to look for something close to home just to save 30 or 40 quid a week on fuel.
"It's a very hard decision but I've got a wife, a house and kids – and that money that is spent better elsewhere." he explains.
Olivia, a nurse in Flintshire, north Wales, says that it now costs her £55 to fill up her car.
"In my seven years of driving, it's never cost that much. I work as a nurse and it takes me half an hour to get there and half an hour back." the 24-year old comments.
Olivia adds that some of her colleagues have it worse: "My colleagues that do community nursing and have to drive around to patients houses – it's costing them an absolute fortune."
The fuel protests are just a taste of what may come if prices continue to inflate, and people continue to suffer.
What has been the police response to the fuel protests?
North Yorkshire Police commented: "We're working closely with local and regional partner agencies to minimise disruption.
"We have additional officers and support in place to ensure protest activity is lawful and disruption is kept to a minimum."
The Police have arrested eight protesters at the Prince of Wales bridge protest because, it has been reported, they were driving slower than the agreed speed limit.
Another driver has been arrested by Devon and Cornwall for driving "dangerously slowly" on a main road during a protest.
In Lincolnshire, police blocked junction one between the M180 and M18 forcing protesters to remain on the former.
And in West Yorkshire police said officers had deployed a "single tyre deflation device" in the early stages of the protest.
What has the government said?
"While we respect the right to protest, people's day-to-day lives should not be disrupted, especially on busy motorways where lives are put at risk and resulting traffic delays will only add to fuel use."
A UK government spokesperson said: "While we respect the right to protest, people's day-to-day lives should not be disrupted, especially on busy motorways where lives are put at risk and resulting traffic delays will only add to fuel use."
It should be noted that the treasury makes £46 in tax per full tank as petrol.
To elaborate, the government makes money from fuel duty charged directly on the cost of every litre of fuel sold. It also profits from VAT, which is charged at 20% on top of the final combined fuel and duty cost.
RAC fuel spokesperson Simon Williams said: "The speed and scale of the increase is staggering, with unleaded going up 7p in a week and diesel by nearly 6p. This must surely put more pressure on the Government to take action to ensure drivers don't endure a summer of discontent at the pumps."
Howard Cox, founder of campaign group FairFuelUK, is also calling for the government to cut fuel duty by at least 20p. He cites other countries who have already done that to help with the cost of living crisis.
What do the general public think about the fuel protests?
https://twitter.com/MrsNoone47/status/1543871687145537537?s=20&t=A26bwqVaN66bC7QABPgEKA
#FuelProtest happening today, amazing that people are starting to stand up BUT why is this endorsed but when #ExtinctionRebellion do it the public lose their minds?

— Fay Webb (@millieloulou) July 4, 2022
Editor's Recommended Articles