John Catton, CEO of Eco Statics Global Ltd, tells us all about the companies innovative electrostatic cleaning and disinfection system
The Victory electrostatic sprayers allow large surface areas to be covered in minutes, using 65% less solution and are significantly quicker than using a trigger spray along with the cationic electrostatic charge creating a liquid adhesion. As the sprayers apply 65% less solution and cover more surface area faster the environmental impact of using fewer chemicals meaning we are empowering Mother Nature to take back control and protect the environment we all work and play in.
Revolutionary electrostatic technology is the process of adding an electrical cationic (positive) charge to the whole liquid droplets – not just attached to the outside where it can fall off when they are sprayed. When you spray a solution that is properly charged with electrostatics, the solution will envelop the targeted object to provide an even 3-D wrapping, adhering to hidden and shadowed areas, with no runs or drips on vertical surfaces, delivering rapid and effective disinfection to all surfaces and areas, whilst also removing VOC's from the air ensuring that virucidal issues can also be reduced ensuring a cleaner and safer air for all.
'Possession of a pathogen in your space means that you have taken ownership of the risks and liabilities associated with those pathogens on your unhealthy surfaces, walls and environment. The demands, costs, and personnel required to stay ahead of mobile pathogens without the use of innovative application technologies Victory Sprayers and our fluids makes the expectation and delivery of proper surface cleaning and disinfection unrealistic.'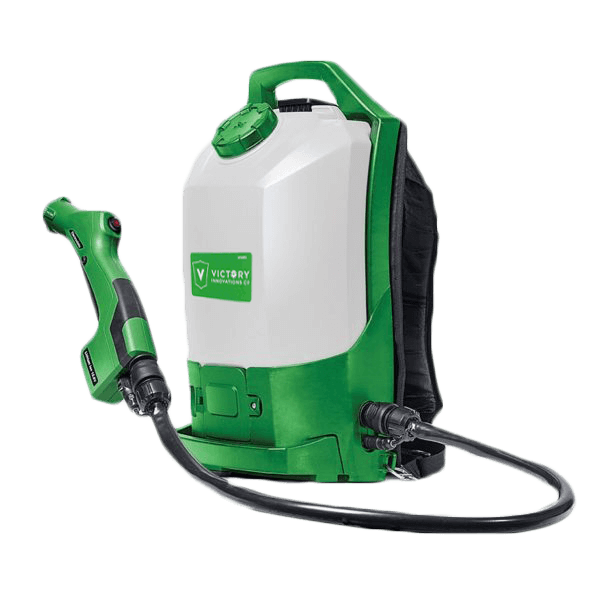 Our revolutionary new protocol
The Eco Statics Electrostatic spraying system is a complete cleaning and disinfection system, whereby a whole environment can be maintained with ease, effectively cleaning organic matter (the source of outbreaks), killing pathogens and bacteria, and is not harmful to the user or the environment. The Electrostatic spraying system is a combination of our revolutionary electrostatic sprayers, accessories and eco – friendly solutions that 'Empower Mother Nature', the greatest defence system on the planet!
It allows the fight against bacteria to start on a level playing field, and enables the solution to reach the bad bacteria and organic matter first, whereas before it had to fight through multiple chemical remnants…
The Eco Statics Fluid Range
The Eco Statics range of Eco-friendly water-based, safe in use cleaning, disinfecting and sanitising solutions have been specifically created to help protect the health and wellbeing of people and animals in any environment and in any industry. All our solutions are bactericidal, virucidal and fungicidal and exhibit the following key qualities in use: non-corrosive, non-irritant, non-toxic, food-safe, safe in use. Below is a summary of our main solutions of which DAILY, ULTRA, CONTROL, PROTECT and WASH have been specifically designed and tested to be sprayed through the Victory electrostatic sprayers. We also supply a laundry detergent and conditioner disinfectant along with a renovator that removes lime-scale that can be used as a bleach replacement.
DAILY
Uses the same adjuvant that is in our other products and should be used as the cleaning alternative. Recommended for use as an everyday part of your cleaning routine and for washing clothes. DAILY will set up and maintain the perfect surface for CONTROL to be applied weekly and will not interfere/conflict with each but support the cleaning and disinfection mode of has no kill claims and requires NO PPE and is safe for the user. A revolutionary high-level cleaner for all business and industries with no environmental impact.
ULTRA
Formulated in a reacted mass of peracids to create a highly effective cleaner and disinfectant which removes dirt that harbours mould, fungi and yeast. It kills C-Diff in less than 2 minutes and offers up to 48-hours antimicrobial activity (it carries on working as a persistent solution). It is fragrance-free, chlorine-free, and degrades/decomposes into safe by-products after use (water and oxygen). It is easy to use with excellent levels of user acceptance with a prolonged antimicrobial effect and excellent materials compatibility. SARS-COV-2 blue test report available.
CONTROL
Formulated to clean and disinfect using only 0.08% of chemical in every 5-litres and offers high levels of antimicrobial activity as it carries on working as a persistent solution. In concentrate format, it is clear in colour, fragrance-free, chlorine-free, alcohol-free and provides excellent levels of user acceptance with prolonged antimicrobial effect, with excellent material compatibility whilst empowering Mother Nature. CONTROL carries on working on the air in your environment as it passes over removing harmful VOC's. EPA approved and for emerging viral pathogens.
PROTECT
A water-based and alcohol-free which simultaneously sanitises and moisturises the skin. It is non-flammable, alcohol-free, cost-effective and easy to use with excellent levels of user acceptance and prolonged antimicrobial effect for up to 2-4 hours after application, whilst protecting and enhancing your own hands self-defence system, unlike alcohol which strips it away and leaves it unprotected. It conforms to EN 1500 and is an antiseptic so can be applied to cuts and grazes.
PROTECT WASH
A plant and herb derived product which is 100% biodegradable hand & body wash! 2-hour WASH protection, no synthetic chemicals, non-irritating & protects skin structure using the same adjuvant.
Thought Process and effectiveness…
Why would you allow a cleaner into a room without them or you knowing what is in the air or on the surfaces or walls?
We help protect the user, with our electrostatic sprayers and fluids, by spraying the walls and all surfaces with our 'ULTRA' product; we conduct an initial deep clean which kills pathogens. Our process allows our solutions to be effective against pathogens as it starts to work within 10 seconds and is also persistent, meaning the efficacy of the solution is met and the user is protected before they carry out a physical clean.
DAILY, CONTROL & ULTRA work on the bioburden (organic matter) on the surface which is a primary cause of outbreaks along with PROTECT & PROTECT WASH doing the same job on your skin!
Chemical Solutions – Eco Statics Electrostatic Cordless Sprayers.
*Please note: This is a commercial profile
Editor's Recommended Articles