The University of Barcelona explain to the world how to build a ventilator inexpensively, which functions like a high-quality commercial device
Currently, the public and healthcare workers fear many things mutually. Running out of ventilators is one of the most crucial things we face together at this moment in time. Horror stories became reality in Italy, with difficult decisions being made about who is given access to limited numbers of mechanical ventilators. A hospital grade ventilator is a costly piece of technology, running between £20,000 to £41,000. At the University of Barcelona, their medical school has understood how to build a ventilator for significantly less.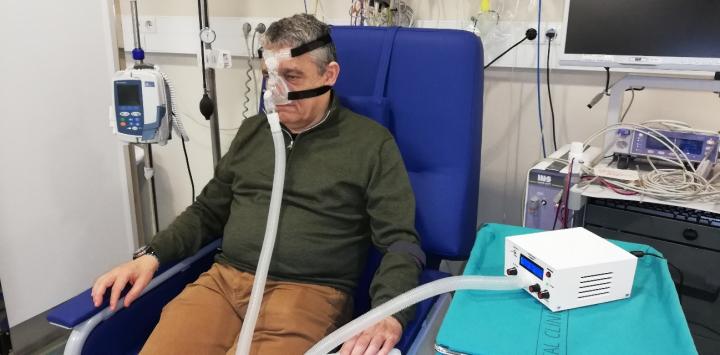 This ventilator could make all the difference in low-income regions or any country where supplies are alarmingly limited, such as Vietnam or the UK. Non-invasive ventilation is being increasingly recognised as a good idea for low- and middle-income countries (LMIC), who are frequently burdened with critical illnesses, only expected to "increase with growing urbanization, emerging epidemics and expanding access to hospitals".
The non-invasive prototype ventilator is not intended for severely diseased patients in intensive care units, who sadly require a mechanical ventilator to take full control of their breathing. But this ventilator can legitimately make a difference for those who need less intensive help with their breathing, which is a common symptom of the current COVID-19 pandemic.
The study was led by Ramon Farré, Professor of Physiology in the Unit of Biophysics and Bioengineering at the School of Medicine of the University of Barcelona, Spain.
He commented:
"In light of the ongoing coronavirus pandemic and the escalating need for respiratory support devices around the world, we designed a ventilator that can be built at a low cost using off-the-shelf components. The ventilator is intended to support hospitals and health systems that are struggling to meet the demand for ventilatory support due to coronavirus and other severe lung diseases."
How was the ventilator tested?
The research team used a small high-pressure blower, two pressure transducers and a controller with a digital display to create the ventilator. All of the source materials are available at a retail cost of £60, $75 USD or €67.
Researchers wrote that: "The ventilator is based on a modular structure, requiring only basic electronic training for an overall straightforward and easy assembly."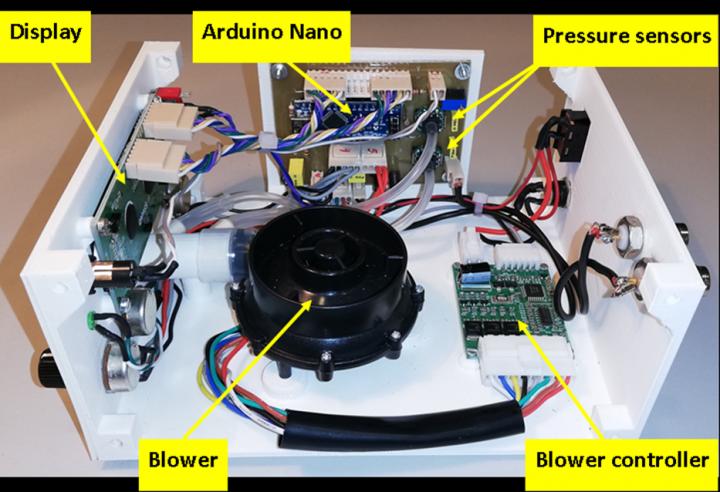 Professor Farré said:
"Our tests showed that the prototype would perform similarly to a conventional, high-quality device when providing breathing support for patients who, although with great difficulty, can try to breathe by themselves. This low-cost device could be used to treat patients if commercial devices are not available, and it provides clinicians with a therapeutic tool for treating patients who otherwise would remain untreated."
12 healthy volunteers wore bands across their chests, to superficially mimic the obstruction of upper airways and resultant breathing difficulty that happens from COVID-19. The volunteers wore face masks over their noses.
The team also carried out respiratory "bench testing", where lung modelling is used to assess how well the ventilator supports the breathing of patients with different levels of airflow obstruction or restriction. The ventilator prototype was tested under 16 different simulated conditions, covering real-life settings where non-invasive ventilation is used in clinical practice.
The bench test showed that, across all simulated conditions, the prototype ventilator worked effectively to support the lungs to operate efficiently and there was no faulty triggering.
The team found that their prototype ventilator supported the spontaneous breathing rhythm, similar to the level of breathing comfort experienced by the participants with the expensive, commercial ventilator.
Professor Leo Heunks is an expert in intensive care medicine from the European Respiratory Society and was not involved in the study.
He said:
"World Health Organization data suggests that around 80% of people who get coronavirus recover without needing hospital treatment, but those who do develop severe symptoms can experience breathing difficulties, which is distressing and puts health systems under additional pressure.
"Low-cost solutions like the ventilator described in this paper could provide treatment for those patients, potentially improving outcomes and helping to alleviate pressure on health systems by reducing the need for more invasive types of ventilatory support."
Read the full journal article here.
Editor's Recommended Articles