Hydrogen fuel cell RCVs will take to the streets in seven European cities this year as part of an EU-funded project to assess the viability of this technology to decarbonise waste fleets: Geesinknorba is supplying the H2 RCV to partner city Aberdeen
In May 2019 a shiny new RCV was delivered to Milieudienst Groningen in the Netherlands by Geesinknorba. The company has supplied several vehicles to Groningen, but this one was special. It is powered by hydrogen, one of only a few such vehicles in operation in the world.
The city of Groningen is in the process of transitioning to an emissions-free fleet, and it is also one of seven European cities participating in the EU-funded HECTOR project to deploy hydrogen fuel cell RCVs in a four-year trial of the technology across Europe.
Hydrogen fuel cell vehicles (FCEVs) use compressed hydrogen to create electricity to power the vehicle. The only emissions are water and heat. It is a beguiling concept, potentially helping to reduce greenhouse gas emissions, improve air quality, and reduce global dependence on fossil fuels, but it is also expensive and reliant on infrastructure that is, in large part, yet to be built. HECTOR (Hydrogen Waste Collection Vehicles in North West Europe) is the latest in a string of European projects laying the groundwork for commercialising hydrogen transport.
The project was approved in January 2019. It is coordinated by European association HyER (Hydrogen Fuel Cells and Electro-Mobility in European Regions) and supported by €5.5m in funding from INTERREG North West Europe. It is targeting RCVs because of their contribution to local air quality issues. The project will test the vehicles under normal operating conditions, some in city centres, others in rural areas, collecting a variety of waste factions to enable the project to collect data on a range of operational contexts.
The seven pilot cities include Groningen and Arnhem in the Netherlands, Duisberg and Herten in Germany, Touraine Vallée de l'Indre in France, Brussels in Belgium, and Aberdeen in Scotland. The first vehicles are expected to be in operation by summer 2020
Aberdeen has been a hydrogen pioneer since 2012 when the city took the decision to target hydrogen as an alternative to fossil fuels. The city started with ten hydrogen buses. It now has 15 more on order, a fleet of 40 hydrogen cars, hydrogen vans, two hydrogen-diesel dual-fuel road sweepers, and two Geesinknorba dual-fuel RCVs.
HECTOR takes the next step towards making RCVs cleaner. The primary objective is to reduce carbon emissions and other harmful diesel pollutants. However, the project will also consider the reliability of the technology and vehicle efficiency. If this is not on a par with diesel, it will be considered a failure.
Aberdeen wants to become the centre of excellence for hydrogen. It is already one of the leading cities in Europe. Only Groningen in the Netherlands has more hydrogen vehicles on the roads. The city chose Geesinknorba to supply the hydrogen fuel cell RCV, partly because of the company's experience with electric and hydrogen vehicles − Geesinknorba has been working on sustainable solutions for waste collection for more than 15 years − and partly because of the performance and reliability of its vehicles. There are currently around 20 Geesinknorba vehicles in the city's fleet and eight more on order, including the HECTOR RCV.
Geesinknorba's André Lagendijk explains that Aberdeen's hydrogen RCV will be based on Geesinknorba's tried-and-tested Li-On Power Pro electric vehicle. A GPMIV split with Li-On Power Pro body will be mounted on a Mercedes Econic chassis converted to hydrogen, with a storage capacity for 15kg of H2. It will have a range of 155 miles (250 km), enabling it to travel greater distances than an electric vehicle.
The RCV will use Aberdeen's existing fuelling infrastructure, which means it will be fuelled by 'green hydrogen'. This is produced from renewable sources, unlike 'grey hydrogen', which is produced from fossil fuels such as natural gas and still accounts for most of the world's hydrogen production. All the HECTOR partners will use green hydrogen where possible to maximise emissions savings.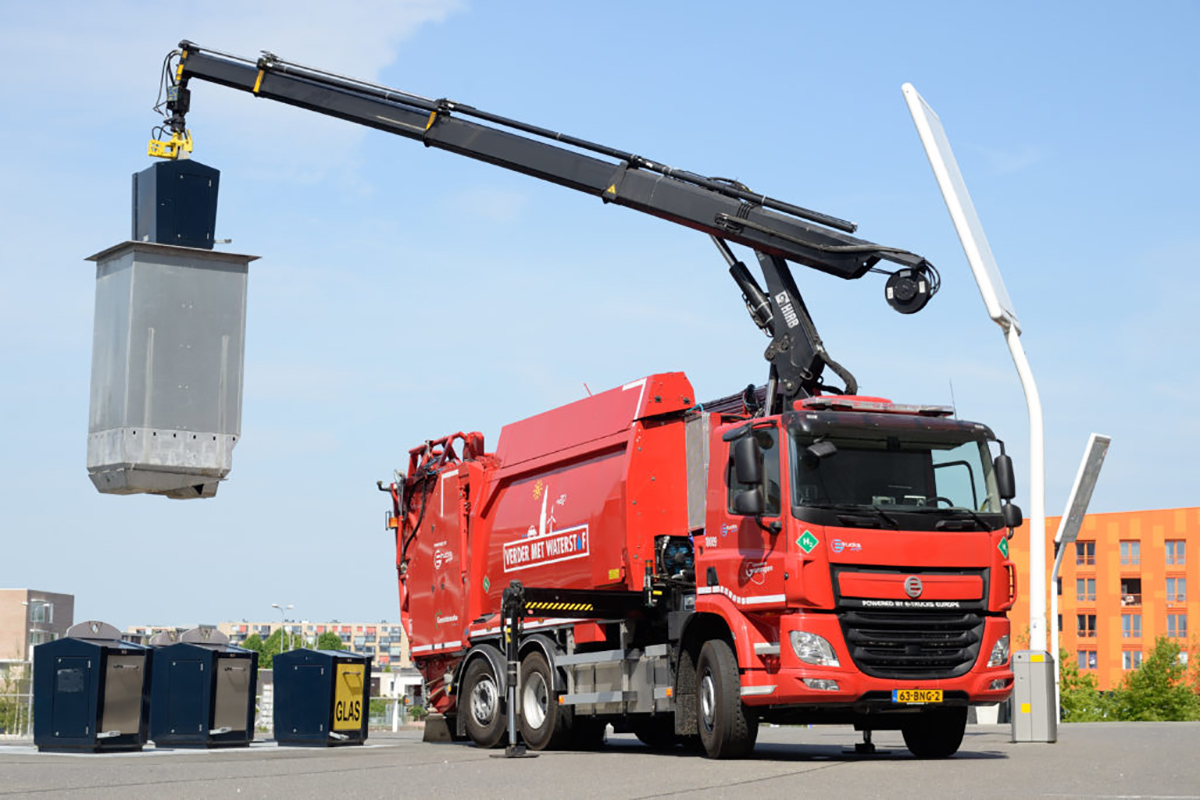 The costs savings are more problematic – for now. Both hydrogen and fuel cells are expensive, but more widespread adoption will drive costs down. This is already happening in Aberdeen, which built two refuelling stations and now has one of the largest hydrogen car fleets in Europe. And Europe's hydrogen network is growing. In Germany, H2 Mobility Deutschland is aiming for 100 stations in Germany by the end of the year and is averaging one new station every two weeks. In the UK, the Office for Low Emission Vehicles announced £23 million in 2017 to support the roll-out of refuelling stations and FCEVs. Other countries are also investing in hydrogen infrastructure and for many authorities and regions it is the preferred solution.
However, solving transport's dependence on fossil fuels will require a mix of technologies. For example, electric is ideal for people living in inner cities. Most vans in the Aberdeen fleet are electric as they don't do more than 50-75 miles per day. It is only once vehicles start travelling more than 100 miles per day that alternative fuels need to be considered. Aberdeen's buses do around 200 miles, and its RCVS also need the extra range.
It is in longer range that hydrogen really comes into its own, agrees Lagendijk. 'This is not an either/or situation. Hydrogen RCVs, with a potential range of up to 800km, could be ideal for suburban and rural collections. This is where we see the future of this technology in the waste sector. For other applications, electric remains a proven solution, and battery development is moving at such a pace that I expect to see a lot more electric vehicles on the road in the near future.'
There are other solutions as well, such as CNG, and Geesinknorba can provide CNG RCVs for those who want them. Ultimately, each fleet operator will have to make a decision based on their individual requirements. Suburban and rural operators may want to keep a close eye on HECTOR. Should hydrogen RCVs prove their worth, this could be a potential solution for the long-distance fleets of the future.
Geesinknorba Group
Tel: +44 (0)1443 222 301
Please note: This is a commercial profile
Editor's Recommended Articles