Professor Dr Apichart Vanavichit, at the Rice Science Center, explains how DNA technology can create a high-quality Thai Jasmine Rice
Products of the poor
Hom Mali rice has been widely grown in one of the poorest land on the largest lowland rain-fed paddy field in the Northeast of Thailand. With its low soil fertility and lack of irrigation system in the Northeast of Thailand, low productivity contributed to high price. As a consequence, the short supply of Thai Rice has often been cited as the primary cause of intentional product admixture.
Export performance
Jasmine rice is one of the world's most iconic fragrant rice and important export product from Thailand, since the rediscovery of the local landrace named Thai Hom Mali Rice about 56 years ago. From 2010-2019, Thailand exported 1.4 MT on average of the Thai Hom Mali Rice rice which accounted for 18% of the total volume. Thai Hom Mali and Basmati rices have been the most expensive white rice in the world. Cooked Thai Hom Mali rice imparts the natural aroma with its soft, tender, and excellent aftertaste. There is no doubt the Thai Hom Mali rice has won five times the World's Best Rice Competition since 2009. The main reason could be how Thailand designs effective quality control measures on the Thai Hom Mali Rice started from seeds to serving.
Setting up the National Hom Mali Rice Standardisation
As such, Thai Hom Mali rice has been entangled in adulteration by lower quality white rice with similar physical appearance at both local and international markets. Contaminations can take place unintentionally and intentionally. The first source of contamination is originated by farmers' saved seeds. Shared combined harvesters have been the second major cost of unintentional contamination.
Post-harvest contaminations were more complicated because many stakeholders including local milling, exporters, and importers are involved. To mitigate such deceptive practices, Thailand Ministry of Commerce (MOC) established the national standardisation for the Thai Hom Mali Rice under the brand name "Thai Hom Mali Rice" for export. Genetic purity of at least 92% is agreed on as the minimum threshold for the premium quality of Thai Hom Mali Rice based on unintentional contamination on farming practices.
Why genetic purity is the gold standard for quality control in rice
Thai Hom Mali Rice, officially named as Khao Dawk Mali 105 (KDML105), was genetically purified from one of the local landraces of Jasmine rice in 1959. From the original version, RD15 was developed further from KDML105 by mutation breeding via gamma irradiation.  The two varieties are considered the Thai Hom Mali Rice as their grain quality is indistinguishable.
DNA Technology
The application of DNA technology to regulate authenticity of Thai Hom Mali rice has been widely recognised as the key to support the regulation of standardisation for export. With high accuracy, specific molecular markers for the Thai Jasmine Rice were deployed to determine its genetic purity and admixtures. The DNA Technology Laboratory has developed its in-house state-of-the-art single-grain molecular techniques at low cost for quantification of genetic contamination.
The service was open to all rice exporters to acquire official certificate of authenticity of the Thai Hom Mali Rice. The DNA Technology Laboratory can only provide the most accurate solution to the problem. Since 2012, DNA Technology can provide more than 54,472 Jasmine rice samples, totally 10.5 million polymerase chain reactions, were performed. A new facility was set to provide up to 50,000 samples yearly enough to accommodate 2 million tons of premium Thai Hom Mali Rice for export (Figure 1).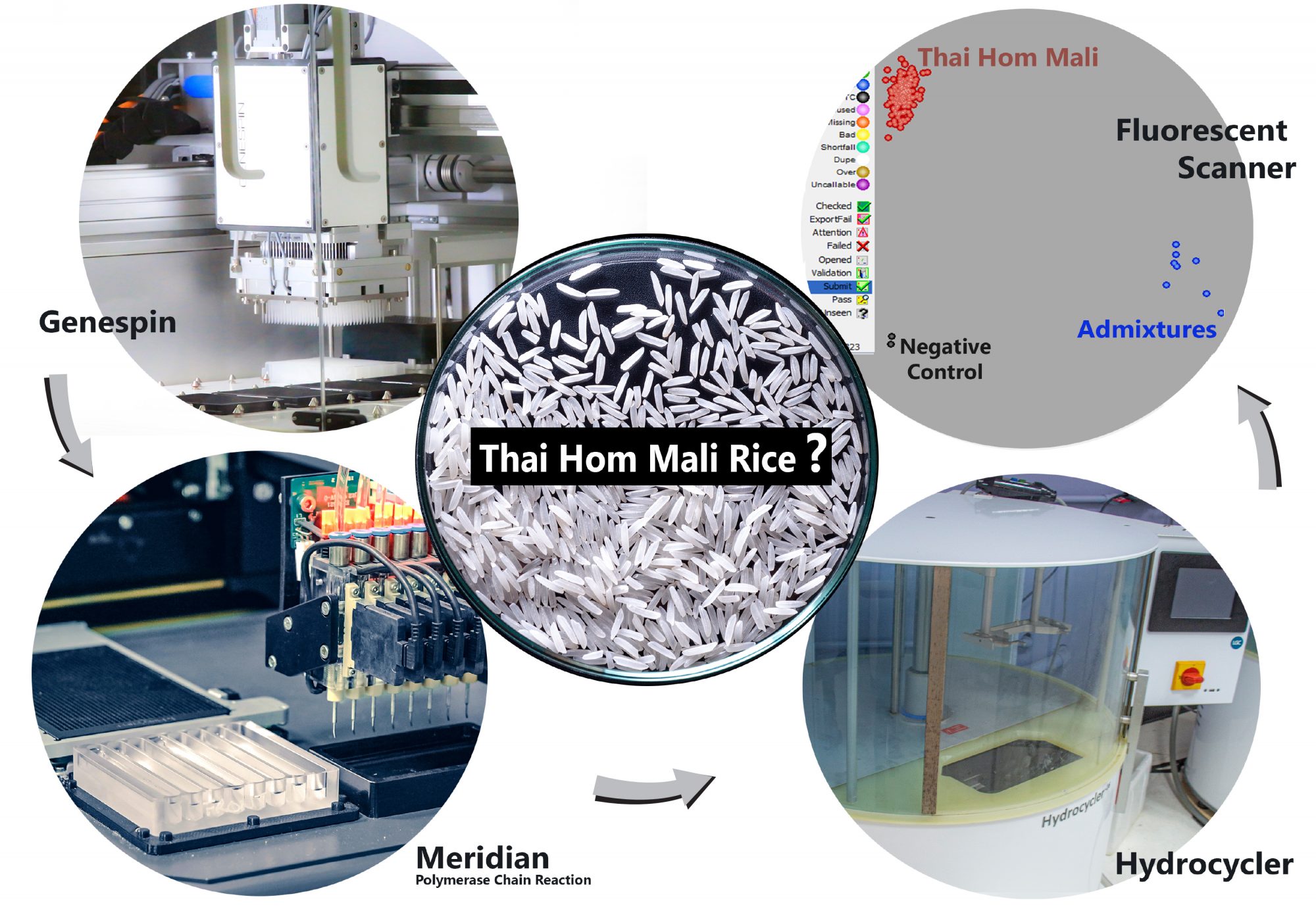 Post-auditing Systems of Thai Hom Mali Rice
To deploy DNA Technology in a competitive export platforms of Thai Hom Mali Rice, the Department of Foreign Trade (DFT, MOC) has improvised post-auditing systems involving on local millings and exporters using sensitive DNA Technology in full-scale. Farmers sell their rice paddy to certified local millings for processing. The certification was implemented and authorised by provincial governments and subsequently granted "Thai Hom Mali Rice" Thailand trademark by the DFT for the right to export (Figure 2).  Exporters on the other hand can be audited by the DFT to directly buy Jasmine rice from farmers for processing and export under the national brand.
DNA Technology play vital tools for local millings and exporters in the determination of genetic purity of the harvested rice from farmers before processing. In order to monitor the authenticity of the Thai Hom Mali Rice, the DFT frequently sampled export-ready rice from exporters' warehouses or even on the shipments and rushed for 24-hours auditing for rapid purity test provided by the laboratory. Even at customers' shelve in export markets, Thai Hom Mali Rice can still be monitored by Thailand international consulate offices for determination of genetic purity to prevent admixture outside Thailand.
Economic Impacts
Such a strict regulation of quality assurance program resulted in improved genetic purity of Thai Hom Mali Rice. In 2012, the genetic content above 92% of the Thai Hom Mali Rice was accounted for 56%. Eight years later, the percentage was improved to 66% (DNA Technology Laboratory). The economic impacts of such a DNA-based auditing scheme was studied on the hypothesis that improved genetic purity affects export price and volume.  During the eight years period between 1992 to 2000, the export volume has increased annually at 279,000 tons with the combined eight-years export incomes of 86,117 million Baht more than before implementing the DNA-based auditing system. Farmers' income was also increased annually to 1,280 million Baht or 11,521 million Baht in the eight years span.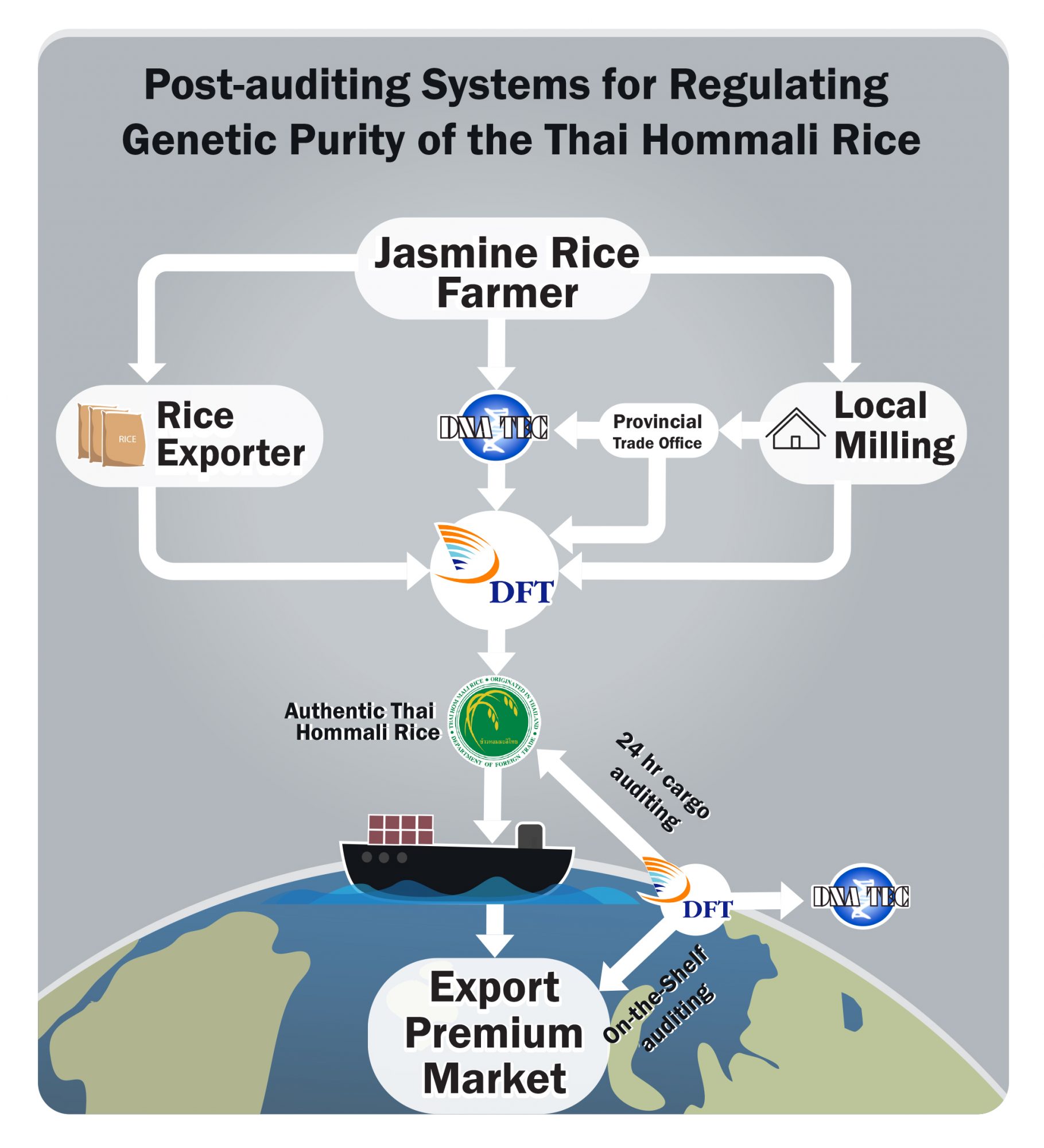 The Next Vision
The DNA-based post-auditing systems are improvised on different classes of exporting premium Thai rice including pigmented Riceberry, Aromatic-soft, and Soft rices. However, customers are also looking for cheaper and faster technologies to determine genetic purity practically tested on outdoor and on-farm conditions. In response to the new needs, DNA Technology Laboratory has now acquired new molecular technologies for even more accuracy, very high throughput, and at low cost to serve exporters and improve competitiveness of the premium Thai rice in global markets.
References
Vanavichit A, Kamolsukyeunyong W, Siangliw M, Siangliw JL, Traprab S,Ruengphayak S, Chaichoompu E, Saensuk C, Phuvanartnarubal E,ToojindaT,and Tragoonrung S.2018.Thai Hom Mali Rice: Origin and Breeding for Subsistence Rainfed Lowland Rice System. Rice (2018) 11:20.
Tragoonrung, S. 2018. The 10 Years DNA Technology Laboratory. http://dnatec.kps.ku.ac.th
DNA TECHNOLOGYLABORATORY PROVIDING GENETIC PURITY TESTING OF ALL BIOLOGICAL SUBSTANCES AND FOOD STUFFS
 *Please note: This is a commercial profile
Editor's Recommended Articles