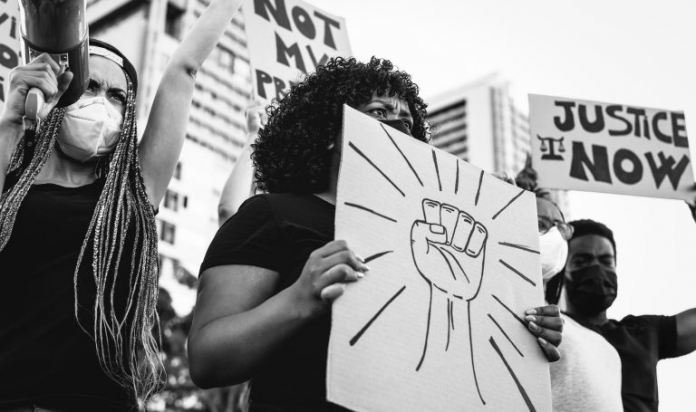 Worldwide national crises and political unrest can threaten any organisation, no matter how healthy it is, here's how to deal with it within your company:
The COVID pandemic thoroughly demonstrates just how unprepared most organisations are for dealing with the unexpected.
Organisational infrastructure and/or enterprise architecture are the first places people look for emergency preparedness. But, these components need to be agile and adaptable when dealing with an event like political unrest. 
In this article, we will explain how your organisation can support your employees during any unexpected crisis. 
What is Political Unrest?
According to researchers, political unrest or political instability is one of the few terms that is hard to cover in a single definition. However, many political scholars identify any civil unrest as a sign of political instability. 
For organisations like yours, the exact definition of political unrest may seem a rather pointless debate about semantics. As far as the business world is concerned, any civil movement that disrupts organisational continuity and threatens the future of the company is considered political unrest. 
A social media report may prepare you for some bad PR or a potential product recall, but the disruption caused by political unrest can be difficult to predict. 
Some recent examples of political unrest include:
The 2020 United States presidential election and the resulting January 6th storming of the capital

The murder of George Floyd and the associated Black Lives Matter protests

The 2016 United Kingdom European Union membership referendum (Brexit) and the fallout thereafter
One report found that COVID-19 had disrupted at least 80% of businesses from normal operations.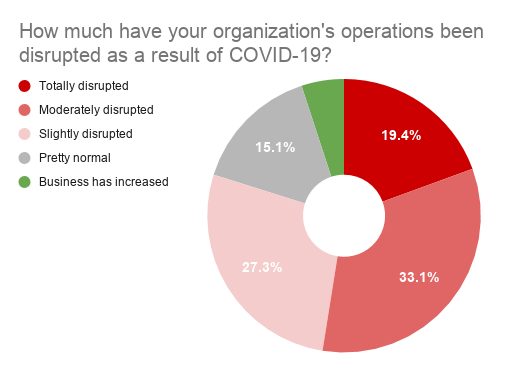 How to support employees during disruption and uncertainty
Crisis events like political unrest can destabilize everyday life–this makes it difficult for your business to function. While the situation is not ideal, your organisation team can take several steps toward supporting your team in times of need.
Be transparent, communicate your plan to employees
When a crisis occurs, your team members may be worrying "what is political unrest?". Your organisation can be their guide–every employee must be informed about current events and that the company has a plan of action. 
High-paying affiliate niches are effective at communicating a message with clarity. Leadership must borrow a similar attitude when conducting organisation-wide dialogue. Clear and open communication must take place between management and employees. Perhaps using your small business VoIP system.
Leadership must be honest about what they know and what they don't know yet. They should also communicate what's being done to find out more information. 
The keyword here is "action". A response plan should be more than only a discussion. Research from Gartner showed that when organisations took action in response, employee satisfaction increased by nearly 40%. 
Build a network of teams
Part of any crisis management should involve a plan to build a network of teams. During an event like political unrest, time is of the essence. By delegating executive responsibilities to a network of teams you will be empowering your team and fostering a culture of collaboration and transparency.
According to McKinsey, most organisations will want to focus on four domains: workforce protection, supply chain stabilisation, customer engagement, and financial stress testing.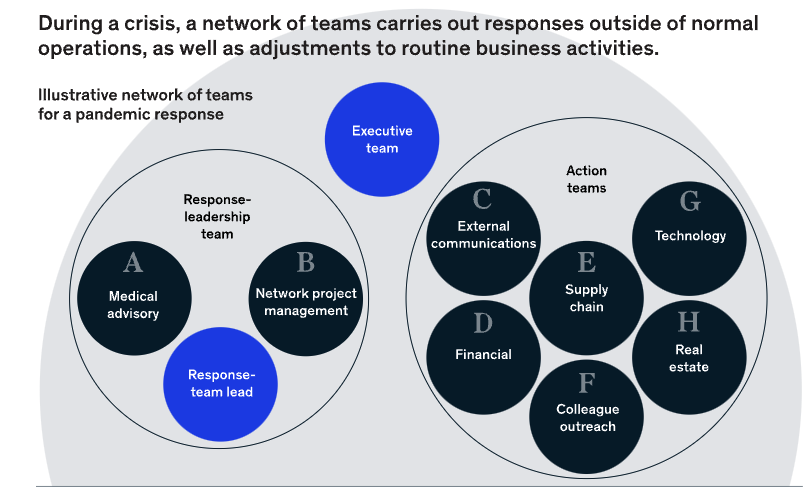 Leaders must show empathy
When any crisis or pandemic breaks out, people's first instinct is to worry about themselves and their families. Leadership needs to acknowledge their employee's fears and anxieties. 
Use regular meetings on your hosted VoIP phone system to discuss wellness and run a pulse check on every team member. Some people will respond to uncertainty in different ways than others. It will be up to the organisation to ensure every single team member has the support they need.
During this time, you will want to advocate for flexibility. Look to areas like your customer support department and take a page from the best practices for call centre management. This means facilitating and/or encouraging employees to take advantage of opportunities like remote or hybrid work as well as flexible office hours.
Set out expression policies
Your organisation will need to set out clearly outlined expression policies for all intra-company communications.
Clear expression guidelines start with specific goals and prohibited activities, language, and behaviours; this goes for any communication whether it is emails, team chat, or even a virtual fax line. Define things like what is political unrest and how it can be discussed. Any disciplinary measure should also be transparent. 
This is also a time to reiterate the company's culture and values. Leadership must make known the organisation's official take on current events and reinforce that all internal and external messaging must follow suit. 
Expression policies should also outline what's permissible as far as friendly political debate goes. The organisation must be reasonable about freedom of expression but also be clear about where the line is drawn. 
Once your expression policy is laid out, it's up to you to constantly communicate and remind every employee of the rules. All stipulations must be enforced consistently across all departments. Any infractions must be disciplined swiftly and without prejudice. 
Create a safe space for conversations
In some ways, it would be easier to simply ban any political discussion; however, that would be a huge mistake–and frankly, a fascist tactic. Part of being there for the team is letting them know the communication door is open at all times.
Encouraging two-way, face-to-face communication is one way to make sure team leaders and team members understand one another. Other safe spaces should be created for discussion on current issues. 
Informal roundtables and regular small group meetings are a great way to facilitate an open dialogue throughout the organisation. It's important to clearly define the goals and purposes of these meetings to all employees.
First and foremost is to encourage a productive and open conversation. This gives everyone a chance to voice their concerns and needs. People can share experiences and increase company-wide understanding of just what's going on in the world.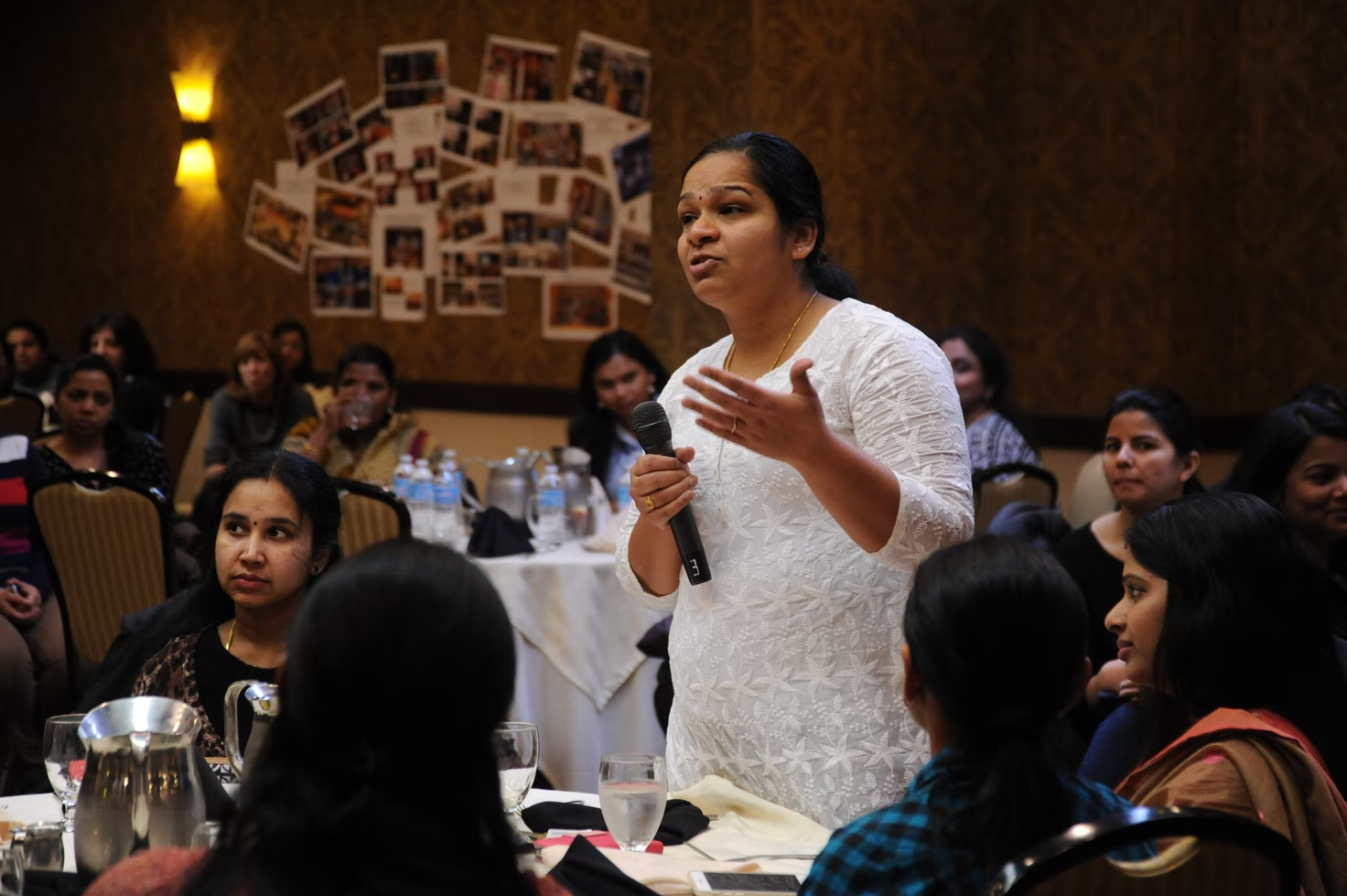 A few standard rules are a must: 
No recordings or screenshots of any kind.

Listen attentively and don't interrupt.

This is not a debate, it is a conversation.
Company-wide safe spaces will provide an environment to engender empathy, camaraderie, and understanding. Additionally, they can also help leadership gain ideas to alter and improve current plans of action.
Lead with calm and optimism
During times of crisis like political polarisation and unrest, operations aren't working so smoothly. Business performance is on the decline and team members are trying to put out fires everywhere–at the same time the current events are weighing heavily on their minds.
As a leader, it's up to you to strengthen and maintain the psychological capital of your employees. That is, you are the one they look to for hope and a positive outlook. According to a McKinsey report on leadership, the most effective leaders during a crisis are those who possess "deliberate calm" and "bounded optimism."
Deliberate calm demonstrates leaders who are well-grounded and humble. These leaders can calmly assess a situation and begin taking effective action.
Crisis leadership will also benefit greatly from bounded optimism–not boundless. This means keeping a positive attitude but staying rooted in the reality of the situation.
Support your HR teams
While many in the company will be asking questions like "what is political unrest?", some departments won't even have the time to ponder the answer. HR will be relied on more heavily than most departments. The heavy burden and rapidly increased workload can quickly fatigue even the most prepared teams. 
You monitor your customer services with KPIs like call centre agent metrics. If only tracking team wellness was so easy!
Instead, regular wellness meetings between HR leadership and staff are a must. Make sure your HR team isn't lost in the shuffle and has flexible working options when necessary–and if anyone is close to an overload, insist they take some time off for recuperation. 
Avoid leadership burnout
Last but not least, as leaders, we can often ignore the red flags and warning signs for our health. You will be looked up to by all in the organisation for direction. That can be a big enough weight on one's shoulders without a national crisis.  
Apache Hive documentation can guide any IT team in dealing with big data. For leaders in crisis, there is no such guide. Just like anyone else in business, leaders need to maintain a semblance of work/life balance. You know you're breaking point better than anyone else–don't wait until it's too late.
Step away from all the noise when you can. Time away can help you clear your head and slow things down for a moment of clarity or reflection. Breaks will allow you to come back invigorated and ready to help your organisation reach its vision. 
Delegate as much as you can and encourage a collaborative process. And by empowering others, you will lighten the load and likely increase action velocity throughout the company.
Preparing for political unrest and instability
What is political unrest? It's a disruptive inevitability that creates a culture of stress and anxiety for all. But the reality is that organisations like yours need to be prepared for more future crises including civil unrest and political instability. 
With the right thought process and plan in place, your organisation will be able to handle any situation life throws at you. And always remember, it's up to leadership to put the needs of your employees first. When done effectively, they will reward you with a collaborative and problem-solving approach. 
This piece was written and provided by Jessica Day – Senior Director, Marketing Strategy, Dialpad
Editor's Recommended Articles