Robert Whittle, Project Assistant at LSE IDEAS, dissects what Hong Kong's national security law means for the future of Taiwan
China's controversial National Security Law (NSL) for Hong Kong has prompted an array of denunciations from democratic countries across the world. Spearheaded by the UK, all members of the G7 countries jointly expressed their concerns regarding human rights violations from the new law and urged China to reconsider their implementation of the new NSL in Hong Kong. Yet, the UK, along with their G7 allies, have been inopportunely unsuccessful in deterring the national interests of Beijing in Hong Kong. Hong Kong is essentially part of the mainland now and it calls for G7 coalition partners to take stock of what China intends to do next.
Meanwhile, with Hong Kong now under firm control of Beijing policymakers, China-watchers have speculated what political implications can be drawn from Hong Kong's NSL to the experience of Taiwan under the 'One Country, Two Systems' model. The international reaction to Hong Kong's NSL, particularly that of the UK and the US, is highly relevant for determining China's confidence and approach to future foreign policy on Taiwan.
Hong Kong NSL counter-policies and the significance for Taiwan
Upon the announcement of the new NSL, UK Foreign Secretary Dominic Raab announced the extension of the arms embargo on Hong Kong that it had on mainland China since 1989. Raab also announced the suspension of the extradition treaty the UK has with Hong Kong and a lifeboat policy that lays out a generous UK citizenship fast track scheme for Hong Kong citizens eligible for a British National Overseas passport. The UK continues to condemn China's new NSL in Hong Kong through the UN and other international forums. Despite only garnering backlash from China, Britain's efforts to dissuade Beijing have fallen hard on deaf ears.
For the US, their most critical move was in officially recognising the 'One Country, Two Systems' model for Hong Kong as no longer in effect. Donald trump's subsequent Executive Order 13936 essentially directs US government agencies to eliminate preferential treatments given to Hong Kong as compared to Mainland China. The US also passed the Hong Kong Autonomy Act. Citing human rights concerns, the US cancelled their extradition treaty with Hong Kong and ended cooperation with the Hong Kong police.
With the US and UK enacting these policies in reaction to the Hong Kong NSL, it would not be wrong to suggest that despite the overwhelming international pressure, Beijing is transforming Hong Kong into a new special economic zone in China, sharing similar administrative practices found on the mainland.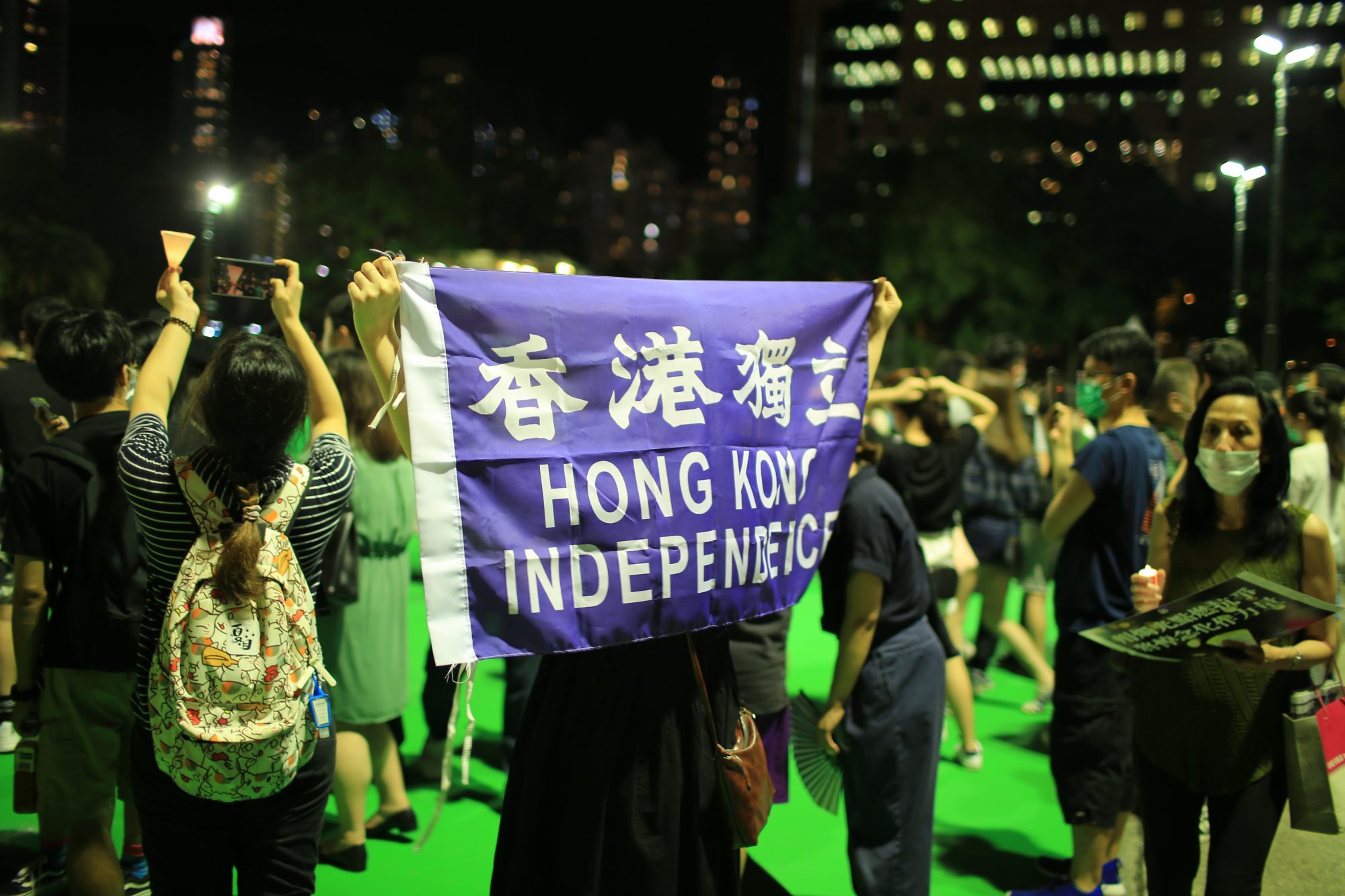 China is now entering an era of new, assertive, and bolder foreign policy, posturing internationally with their diplomats expressing 'wolf-warrior diplomacy'. Even though China's increased foreign policy assertiveness has been brewing for some time now. China's assertiveness is now growing, as the Chinese Communist Party (CCP) recognises a strategic opportunity via the Covid-19 pandemic. With policymakers around the world now distracted with the coronavirus pandemic and global economic recession, this fusion of chaos has provided ample cover for Chinese officials to turn up the dial on Taiwan. As of recent, China has been employing an abnormal barrage of aggressive rhetoric on Taiwan, accompanied by increased military provocations in Taiwanese air and naval space.
With both sides now showing to have played their diplomatic cards, the new international arena on the radar is Taiwan – how will both the US, UK and their allies respond to a potential escalation of tensions in the cross-strait relations? Hong Kong's security law sent a very clear message about China's long-term plans and Taiwan is now the new big question for western policymakers concerned with China.
A renewed focus on Taiwan
In a speech marking 40 years of improved cross-strait relations, Xi Jinping reaffirmed China's desire for peace reunification with Taiwan. In this, he outlined how Beijing "reserved the option of taking all necessary measures" in retaking the island nation and protecting it from separatist activities. Adding to the increased tensions over the last couple of years were President Tsai Ing-wen's DPP victory in January 2020. The victory marked an evolving trend of increased pro-independence feeling amongst the Taiwanese population, whose youngest voters strongly identify as Taiwanese, as opposed to Chinese. Yet, Tsai's commitment for an independent Taiwan through de-sinfication, largely legitimises China's anxieties and recent sabre-rattling. Furthermore, the growing links between the 'Milk Tea Alliance' activists in Taiwan, Hong Kong and Thailand, puts into perspective the shared anti-CCP grievances even at the grassroots level. At least for the Taiwanese side, the national conversation is overwhelmingly in support of retaining Taiwan as an independent entity.
Likewise in Beijing, Xi Jinping appears to be unwavering in his ambitions to someday reunite the country and quash any idea of President Tsai advocating for a independence legacy for Taiwan. With the two sides firmly confident in their national ambitions, it calls upon China to weigh up the costs of intervening to break the deadlock.
International preparedness to the Taiwan question
The obvious guarantor in any Taiwanese protection plan against mainland China lies with the US. The US' and UK's reaction and counter-policies to the Hong Kong NSL implementation is incredibly significant in deterring future Chinese action on Taiwan. As for the UK reaction to the NSL and considering that Hong Kong's political apparatus is supported through both sides adhering to the Sino-British Joint Declaration, the relatively low-risk response from the UK is disappointing, yet unsurprising.
Even back when Prime Minister Margaret Thatcher negotiated the agreement with Deng Xiaoping's China, Thatcher considered it a tremendous political victory that she could secure Hong Kong's political and economic future as a market economy. If Deng preferred full autonomy over Hong Kong, there would be little that Britain could do to deter him, given the decline of Britain's empire and reduced military capacity. Even now, the UK's capacity to respond to China's aggression is highly limited. The UK has, and must continue to search for a multilateral response to China's recent aggressions.
While little can realistically be done to restore Hong Kong's autonomy, a potentially bold and internationalist US led under a Biden administration should look to garner support with European and Asian allies to bolster their commitments to China's most pressing foreign policy venture: Taiwan. Hong Kong was an initial testing ground for China flexing their muscles against a disoriented western coalition – China's moves towards Taiwan asks what policy response a western coalition would take.
China's implementation of the Hong Kong NSL has led to a catastrophic eruption of economic and political consequences for the Chinese territory. This begs the question then what is next in store for Taiwan and how China may look to weigh up the costs of further escalation. The US should take the lead on providing aid and cooperation to Taiwan, ensuring that Taiwan can build a politically resilient democratic system in the face of Chinese pressure.
Moreover, given Tsai's new political mandate, the US should work with ASEAN members to support Taiwan's New Southbound Policy in order to reduce a heavy economic overdependence with China and to diversify their trading relations in the region. And finally, the US should take the lead in consulting with fellow G7 and regional partners to establish clear red lines and policy positions on Taiwan's status and on cross-strait relations.
Yet, US influence in the internal affairs of Taiwan should not become overbearing. The US has had a historical and cautious relationship with Taiwan, but in the midst of growing Chinese assertiveness, the US needs to rally coalition partners to pre-establish a foreign policy response to Taiwan. The purpose of this is to make clear to China the obvious costs for cross-strait escalation and to avoid the diplomatic chaos that caught the international community off guard when China introduced the Hong Kong NSL. Thus, a consistent, measured and clear Taiwan policy from coalition partners is needed in order to facilitate China's rise peacefully and prudently.
Editor's Recommended Articles