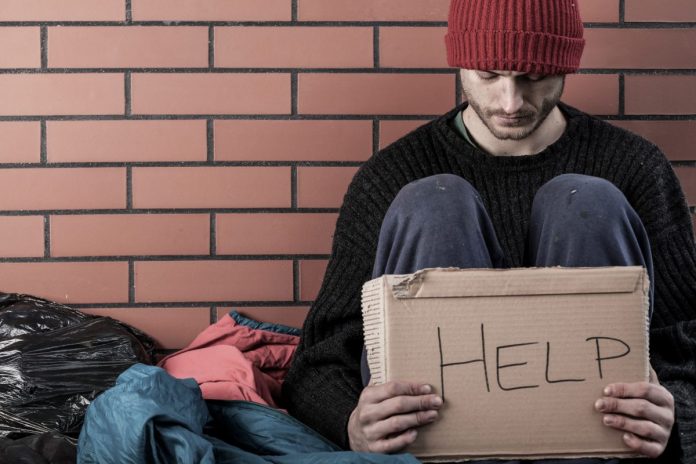 According to new research, official figures do not paint a true picture of the number of people at risk of homelessness.
High rents, cuts to housing benefits, and increasing debts are some of the difficulties pushing many people across the UK into abject poverty. It is unsurprising that the group most affected by welfare reforms has been low income families and individuals. These people are not only struggling to make rent, they are also suffering fuel poverty, with some forced to endure the cold weather without heating.
Worse still is the fact that in this day and age many cannot afford to feed themselves and rely on handouts from foodbanks. The number of people using these services has risen substantially over the last twelve months. In December, Scotland reported over 10,400 people using these services, in particular children.
Increasingly, stories of people living in poverty across the country are coming to the forefront. It might be expected that during this time the number of people finding themselves homeless would increase, but official statistics have alluded that these figures have in fact levelled off.
However, new research has suggested that this is not the case.
The analysis, which was carried out by academics at Heriot-Watt University, the University of New South Wales and the University of York, on behalf of charities the Joseph Rowntree Foundation and Crisis, found that councils in England are changing the way in which they deal with homelessness. Increasingly, "informal" approaches are taken, and areas such as financial assistance, debt advice, help to stay in a tenancy, family mediation or forcing social housing tenants into private rentals are recorded in separate figures. This is giving the true nature of the problem a skewed impression.
During its research, the charities found that nearly two-thirds of councils believe headline figures about homelessness do not reflect the truth of what is happening on the ground locally.
In fact, according to the research the number of people facing homelessness has not levelled off—as suggested by government figures—but has risen by nine per cent in the last year.
Additionally, since 2009-10, the figure has increased by more than a third. This means the number of cases currently stands at 280,000—more than four times the official homelessness figures.
The report, which drew on information collected from nearly half of English councils, showed that housing benefit cuts and sanctions are pushing people into homelessness. Furthermore, more than half of councils believe the situation will become worse over the next two years.
Councils also raised concerns about bedroom tax and how it will impact people going forward, as well as cuts to local welfare assistance.
A lack of affordable housing is also partly to blame, and with the government cutting payments from developers, this is only going to get worse. If people are not given housing benefit, and cannot find affordable housing in their area many will face homelessness.
Just as worrisome is that increasing numbers of people are being forced out of their local area in a bid to find affordable housing. Almost one in four (24 per cent) of placements during last year were "out of the area". This shows a 26 per cent year-on-year increase.
Poverty is becoming a serious issue across the UK, and one that the government needs to tackle. It is all very well removing benefits in a bid to reduce welfare bills, but failing to help people to survive does little good for anyone.
Jon Sparkes, chief executive of Crisis, said the report revealed "the true scale of homelessness in England, which headline figures no longer reflect".
He added: "Council officials are clear that benefit cuts and sanctions are taking a dreadful toll on people's lives, with rising numbers facing the loss of their home at a time when councils are being forced to cut services. This is a desperate state of affairs."
However, Homelessness Minster Kris Hopkins claimed the figures were misleading, stating that "statutory homelessness remains lower than in 27 of the last 30 years."
He added: "The figures include those who councils have helped to avoid being made homeless, as well as those accepted as homeless – and shows the wide range of options available to help prevent homelessness in the first place."
The government certainly seems to have made some effort to tackle the issue. Over £500m has been made available to local authorities and the voluntary sector prevent homelessness.
Additionally, Crisis also received £14m to "help around 10,000 single homeless people find and sustain accommodation in the private rented sector".
However, if there has been a significant increase in the number of people facing homelessness, then one has to wonder if what is being done is enough, and if welfare reforms brought in by the current government help anyone. What is clear is that government needs to act, and fast, to prevent the number of people facing homelessness from rising further.