Here, Mark Clements, MD PhD, paediatric endocrinologist, clinical investigator, and chief medical officer at Glooko Inc. takes part in a Q&A regarding his perspectives on remote clinical trials and data management tools
Clinical trials have used connected digital products to collect patient-generated health data for the past two decades with a compound annual growth rate in the usage of such products of more than 34%. (1) While that growth increased rapidly already over the past five years, the trend came into even greater focus in 2020 with the onset of the global COVID-19 pandemic.
With the arrival of the virus, many clinical research trials – as high as 80% – came to a sudden halt because trial centres had to cease hosting trial participants for on-site data collection due to safety reasons. (2)  In response, a  vast  number  of  clinical  trials  were revived by the use of connected digital products for remote data collection, the  use  of  real-world  data  and  real- world evidence, and the capabilities of modern  clinical  research  platforms. Without such platforms many – if not most – of the impacted trials would continue to be at a standstill.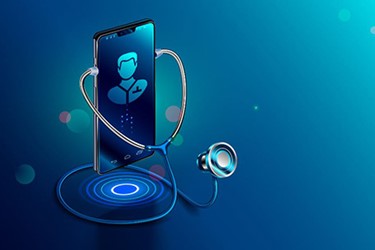 Mark Clements, MD PhD, paediatric endocrinologist, clinical investigator, and chief medical officer at Glooko Inc. is an expert. His focus includes connected digital products, real-world evidence, and clinical research platforms in support of CROs and life science companies. The following is Q&A covering Dr. Clements' perspectives on remote clinical trials and data management tools:
How has the arrival of the pandemic impacted the acceptance of telehealth visits and remote patient monitoring and, by extension, the decentralised/virtual clinical trial model?
There has been a massive increase in telehealth visits with the arrival of the pandemic, but even just before the pandemic, there was evidence that the thinking of physicians was evolving regarding the utility of patient-collected data. (3) For example, in the U.S., Stanford Medicine's 2020 Health Trends Report (released Jan 2020) shows 80% of doctors believe self-reported data from patients' health apps is clinically valuable, and 83% said there is clinical value in data received from wearable devices.
Additional reasons for physicians' changing attitudes are due to the following: (3)
Wearables have proven to be accurate, reliable and useful, e.g. A Fitbit used for measuring blood oxygenation.
High profile research demonstrating promise and utility of wearables, e.g. Apple Heart Study.
Recent technology developments whereby data management systems can reliably flow patient-reported data directly into an electronic data management, enabling doctors to view all relevant patient data via a singular portal like diasend® by Glooko.
In response to the pandemic, there is ever-rising demand  for  remote  data collection from clinical researchers for randomised controlled trials (RCTs), including decentralised/virtual clinical trials. (3) In March of 2020 in the U.S., the FDA issued guidelines, recognising the barriers to conducting in-person RCTs safely during the pandemic. Researchers were encouraged to consider alternatives for patient assessments and data collection in RCTs, including remote data collection and remote patient monitoring via appropriate technologies and phone or video visits. (4)
With Glooko's clinical research platform and its capabilities for remote data collection and management, we have mitigated risk during the pandemic and have created broad openness to the decentralised trial model, thereby introducing a major shift in how trials are run.
In your opinion, what are the capa­bilities of Glooko's clinical research platform that have enabled in-person RCTs to either convert more visits to remote visits or to transition to an entirely decentralised/virtual trial model?
The platform is truly 'research grade' and capabilities include:
Protocol design.
Site selection and patient recruitment.
Data collection.
Patient monitoring and study management.
Data export.
Ability to support product lifecycle across all phases of clinical research.
(Phases 1, 2, 3 &4)
GDPR and HIPAA compliant able to securely collect and protect sensitive personal and health information and importantly, certification as FDA 21 CFR, Part 11 compliant, recognising the system meets the criteria under which electronic records are considered trustworthy for use cases such as clinical research.
What are you seeing with regard to regulatory authorities, researchers, and healthcare professionals recognising the value and importance of real-world evidence (RWE) for CRTs?
During the pandemic, researchers have been using RWE in clinical trials, for example, to offset the burden and challenge of recruiting trial participants by facilitating the creation of synthetic control arms and standard-of-care arms. (5) Pandemic or not, the use of RWE benefits include:
Helping researchers understand many aspects of diabetes care, including the benefits of earlier behavioural and therapeutic interventions, which cannot be understood from conventional RCTs. (6)
Making it possible to conduct longitudinal research in ways that are faster and less costly than what is possible with conventional RCTs. (6)
Using the RWD to replicate, extend and confirm the evidence generated by RCTs. (7)
Extending the results of RCTs to patient populations that are usually not well represented in RCTs. (7)
Providing outcomes and perspectives that are truer to how patients actually use medical devices than is possible with data generated in the highly controlled environment of a CRT. This is particularly important for categories where there is regular and significant patient interface with the technology, e.g. diabetes (e.g. CGM, insulin pumps, etc.) where treatment and monitoring may be occurring every 5 minutes.
In summary, clinical research platforms are able to provide rich sets of RWD that are invaluable for researching a wide range of interventions, variables, and specific patient populations.
And Glooko is the only diabetes-specific clinical research platform enabling remote data collection and offering the world's largest repository of real-world diabetes patient data, with more than 20 billion data points.
References
Caroline Marra, et al. "Quantifying the use of connected digital products in clinical research," npj Digital Medicine (2020) 3:50.
IQVIA Q2 earnings call, 2020.
"HCPs finally embrace the patient-reported-data revolution," Medical Marketing and Media, 10/15/2020
"FDA Guidance on Conduct of Clinical Trials of Medical Products during COVID-19 Public Health Emergency," March 2020(Updated 9/21/2020)
"How to Leverage Real-World Data as COVID-19 Transforms Clinical Trials," Sarah A. Alwardt, Targeted Oncology, 10/27/2020, 9(14):75
"Improving diabetes treatments and outcomes with insights from real world data," Elizabeth Adamson, Naomi Boxall and Matthew Reaney, IQVIA Blog, 6/7/2020
"Using RWE research to extend clinical trials in diabetes: An example with implications for the future," John D. Seeger, et al, Diabetes, Obesity & Metabolism, April 2020, 22(Suppl. 3): 35-44
*Please note: This is a commercial profile
Editor's Recommended Articles