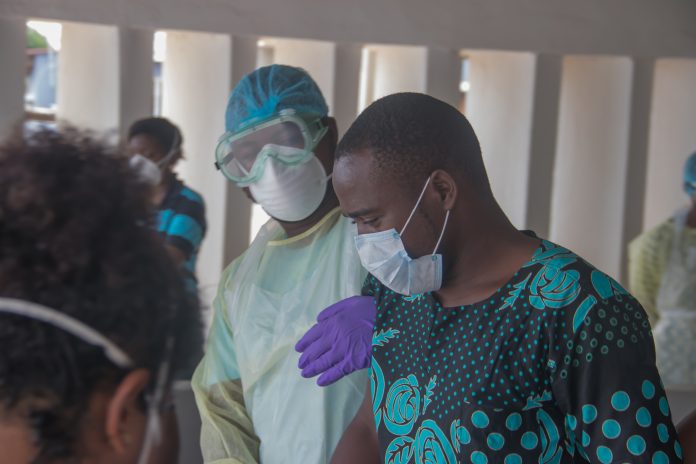 Open Access Government was privileged to speak with Dr Mary Stephen again, Public Health Expert at the World Health Organization African Region, about suppressing the spread of COVID-19, remaining vigilant and effectively tackling any resurgence
In the July 2020 edition of Open Access Government, we spoke with Dr Mary Stephen, Public Health Expert at the World Health Organization African Region about the ongoing COVID-19 outbreak since it was first reported in China during December 2019.
Since then, WHO has been encouraged by South Africa's declining COVID-19 trend, but it is still crucial to remain vigilant and be prepared to effectively tackle any resurgence, Mary tells us in this brand new interview. While restrictions have been eased and economies opened up, public health measures, including handwashing, wearing face masks in public places and physical distancing will not go away soon.
In this vein, Mary concludes by offering her thoughts on the hope that a vaccine will bring to all people. Mary also calls on all Africa countries not to be complacent, remain vigilant and continue to implement preventative measures before a vaccine becomes available.
How is WHO greatly encouraged by the ongoing measures to suppress the spread COVID-19 in the Africa Region?
In Africa, we have seen a different trend compared to what is happening in Europe and the United States (U.S.). We have not seen an exponential increase in the number of cases; what we saw was a gradual increase but cases have started coming down in most of the countries in Africa since July 2020. WHO African Region is encouraged by the efforts put in place by governments in response to COVID-19 in terms of the quick action taken. Governments quickly expanded their capacity for the implementation of public health measures like surveillance and its decentralisation to the lower levels of the health system, the expansion of testing capacity, contact tracing and facilities for treatment.
There is pretty much a good level of compliance in the WHO African Region with preventive measures, such as physical distancing, wearing face masks and handwashing. If you move across countries in Africa, many people are actually wearing face masks which is encouraging, so the measures put in place have really helped to avert the predicted huge disaster on the continent. There have been many predictions from different modelling including the WHO African Region at the beginning of the outbreak because Africa has a weaker health system than Europe or the U.S. but the countries here have managed well so far.
This does not mean that now is the time to celebrate, and we are not stopping these preventative measures until everybody is safe. We live in a global world and the fact that our countries are now opening up in terms of their economies and international travel, means that the risk of a second wave is high in Africa. The countries in the Region need to continue being very vigilant in terms of implementing public health interventions, as well as compliance with preventative measures in place for general populations.
Also, one of the trends we see with the decreasing number of cases in the Region is, the facilities that several countries have established for the treatment of COVID-19 have fewer patients than we saw previously. Most countries in the Region are starting to close some of those community facilities for the treatment of COVID-19.
While new COVID-19 infections have been declining in South Africa, why is it important to remain vigilant and be prepared to effectively tackle any resurgence?
Countries must continue to enhance their preparedness and readiness capacity because it is not a one-off thing. If African countries build the capacity now, they can use it not just for COVID-19 but for other outbreaks. An advantage African countries have concerns their previous experience in responding to outbreaks and already having some capacity in place, such as screening international travellers. Expanding laboratory capacity quickly meant the WHO African Region countries had something on the ground from the response to previous outbreaks. They have to continue enhancing and making use of the outbreak to 'build back better' their preparedness capacities.
Despite President of South Africa, Cyril Ramaphosa announcing the easing of restrictions, why must public health measures, including handwashing, wearing masks in public places and physical distancing remain in force?
We need these measures because COVID-19 spreads as a result of interactions between people and when you open up economies and ease restrictions, people interact more often. As economies open up, we should be ramping up the compliance with preventative measures within the general populations such as wearing a mask, hand washing, maintaining physical distance and avoiding any unnecessary mass gatherings. Surveillance and laboratory capacity will help us to track and test any new trends of cases, whether there are additional deaths or you are seeing something strange happening in the community. So the ability to pick out those cases early enough is very important. This is why we need surveillance and other public health interventions to continue working in a very sustained way, that is the ability to test, isolate and contact trace to mitigate the potential resurgence of cases.
What are your concerns about complacency when it comes to important measures like social distancing?
COVID-19 has been an unprecedented outbreak and we haven't seen anything like this apart from the 1918 flu pandemic. The outbreak is prolonged, and getting more protracted as people have been at home during lockdown and they are now getting tired of it, that's why. Especially in Africa, we have found that there have not been so many deaths and we see that cases are coming down, people are letting down their guard when it comes to preventative measures. We need to be just as vigilant as we were at the beginning of the outbreak. We can see what is happening elsewhere and can learn the lessons from what happened earlier in 2020, so we don't find ourselves in the same situation again.
Looking ahead, what are your thoughts about the importance of research taking place for a vaccine and the hope this could bring to the African Region and the rest of the world?
We need a vaccine to interrupt and control the transmission of COVID-19, so we need to continue with the research. In particular, we need the vaccine to be available for those in low-and middle-income countries via the COVAX facility. At the WHO African Region, we look forward to phase three trials and having an effective vaccine available for all people. Until then, we have to continue with what we know concerning what works to limit the spread of this virus: the public health interventions and preventive measures employed by general populations.
Thank you, I thoroughly enjoyed listening to your responses, but is there anything else you would like to say in closing?
We are calling on all the countries in Africa not to be complacent, remain vigilant and continue to implement public health measures before we get a vaccine.
Editor's Recommended Articles