YUDU Sentinel discuss NHS Tayside choosing a new system and app to improve incident response and introduce digital documentation
The Tayside Health Board delivers health care services to 420,000 residents in Scotland for the areas of Angus, Dundee and Perth and Kinross. When the contract for their mass notification system was due for renewal in 2019, the Risk & Resilience team reviewed the available options.
When it comes to incident response, ease of use is vital
While major crisis events are fortunately infrequent, problems arise when a system suddenly needs to be operated. A system requiring extensive training is easy to forget, and hesitations can be extremely serious.
One of the Trust's most important considerations was that the chosen system be simple-to-use, so staff intuitively know what to do without relying on frequent training.
Introducing digital documentation
Another key objective was to move away from paper-based systems and effectively deliver digital documentation and action cards via a mobile app. The system needed to be able to distribute vital content internally across the Trust, ensuring key information was at users' fingertips when needed.
Creating a central resource of vital information
The team set out to ensure the app could be further embellished as a key resource for the Trust regarding incident management and business continuity. They planned to include custom content in the app covering major incident response, business continuity, adverse weather, CBRNe Hazmat and their Protected Persons policy.
The aim was to make the app a hub of vital information and therefore very useful to the staff due to the evergreen nature of the content. Realising the more useful the app resources became, the greater the adoption rate would be amongst the staff and the more resilient the Trust would become in managing incidents.
The importance of trust in incident communications
The team knew that trust in communications is essential for immediate action. Making it vital that app, email and SMS notifications were branded to NHS Tayside, minimising suspicion that messages were false or a phishing attempt. They wanted notifications to be immediately read, trusted, and actioned by staff.
Choosing YUDU Sentinel
After a competitive process, the team selected YUDU Sentinel to replace their previous provider. Sentinel Product Owner, Charlie Stephenson recalls:
"I remember we pushed the system live on a Friday and onboarding training was planned for Tuesday. By Monday afternoon 500 staff had already been added and a test mass notification complete, a testament to the intuitive design of Sentinel underlining how simple it is to use."
Usability is the core DNA of the YUDU Sentinel development team gained from the experience of building over 1,000 apps for clients around the world. A core objective in any design is reducing training to the minimum.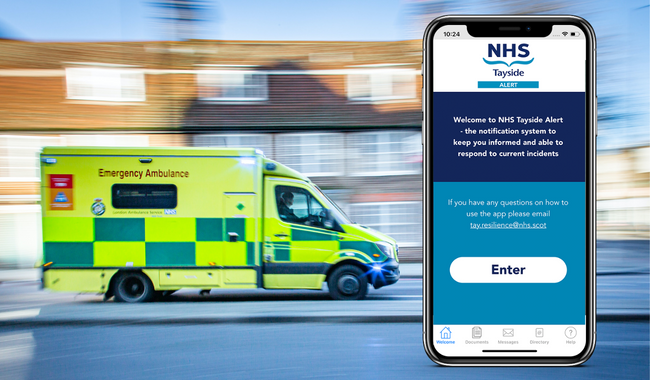 Using the Sentinel Digital Document module
The NHS Tayside team have since explored how best to take advantage of other Sentinel modules, most important perhaps is the document module.
There is a great deal of misunderstanding around digital documentation. The acid test is whether digital documents are easily accessed.
During a major incident, mobile and broadband networks can become overloaded or temporarily unavailable, limiting the ability to access the right document. This is a vulnerability of digital that can be easily overcome if all information is already downloaded to the user's phone.
To be resilient this is what the Trust needed. Their native apps contain offline action cards and critical documents ready for any incident.
The custom home page in the app was designed for the Trust to provide quick navigation to all the critical information.
Building resilience to cyber and ransomware attacks
Cyber and ransomware attacks on NHS and other Public Institutions remain a major threat and can cripple effective incident response. For this reason, nearly all mass notification systems are independent of normal communication channels as these may not be available.
Sentinel takes this resilience a step further, while most providers host all clients on the same system, Sentinel hosts each client on an entirely separate system to stop the infection spreading, if one Sentinel system is attacked, the others remain unaffected.
Improving comms with a contacts directory
The Sentinel app is home to all important phone numbers and contact details of staff and support services for NHS Tayside. These are updated in the background to ensure they're always up-to-date and ready to use. Having the details of who to call, SMS or email in an emergency significantly improves the speed and relevancy of communications that is so vital in the early stages of an incident.
As GDPR compliance is critical to the Trust, the Sentinel app ensures these contact details cannot leak to social media platforms, which would breach GDPR rules.
Evolution through experience
A special part of the ongoing relationship between NHS Tayside and Sentinel teams is the willingness to share ideas and experiences that feed into the agile development program.
Since its inception, Sentinel has been designed by listening to expert practitioners and experience from the field. Charlie Stephenson is a certified Scrum Professional and runs agile sprints where good ideas from users can be adopted into the platform.
"We need to listen at all times to be the best in the business", Charlie commented, "we are serving some of the most important and demanding clients in the Public Sector and as a UK SME we are proud to have developed such a versatile and effective solution."
Please Note: This is a Commercial Profile

This work is licensed under a
Creative Commons Attribution-NonCommercial-NoDerivatives 4.0 International License
.
Editor's Recommended Articles